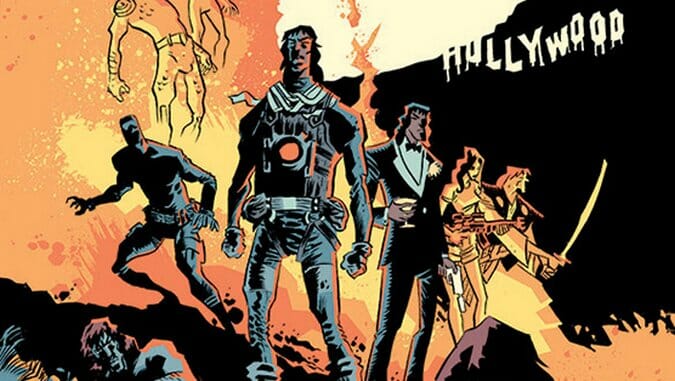 Writers: Matt Fraction and Michael Chabon
Artists: Fábio Moon and Gabriel Bá
Publisher: Image
Release Date: January 28, 2015
"No memory of the past means no fear of the future," Casanova ponders on the first page of Casanova: Acedia #1. The former trans-dimensional super spy is amnesiac, living under the name Quentin Cassiday and working for someone he calls "the old man," who appears to be abundantly wealthy with many secrets of his own. Occult rituals and sinister figures loom in the background, a sharp contrast to the overly pulp science-fictional elements from bygone volumes. Also: limousines, doomsday cults and a fraught sequence involving a swimming pool and ruined Louboutins.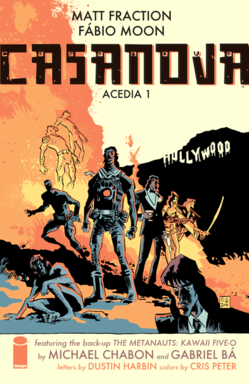 Even without the Hollywood sign on the cover, Acedia #1 hammers all things California into the aloof action of Casanova. (The subtitle is Latin for "sloth," as each of the volumes of Casanova translates to one of the Seven Deadly Sins). The previous volume, Avaritia (greed) ended dramatically with several characters betrayed, arch-nemesis Newman Xeno (possibly) ceasing to exist, and a particularly nasty impalement. If this debut issue is any indication, Acedia marks a substantial change in style, even for a series defined by massive tonal shifts. This isn't to say that this new volume doesn't tie in with all that's come before; one revelation here even suggests a long-teased connection plotline from several volumes before.
Avaritia embraced the harrowing emotional fallout from the dimension-spanning, violence-drenched narrative of the first two volumes. Its ending brought closure to a number of arcs (at least as much as any series incorporating parallel-universe versions of several characters can achieve), but at times the series read like writer Matt Fraction was aggressively preventing tropes from developing to force the series in a new direction. Universes were destroyed (to the caption "Sound Of Spatiotemporal Holocaust"), supporting characters died in agonizing ways and lead character Casanova Quinn escaped to a new universe. And here we are.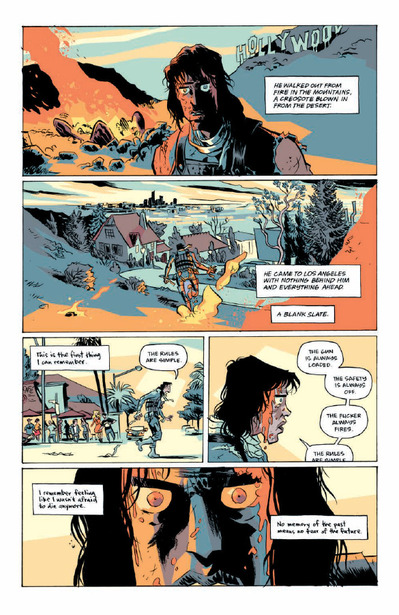 Fraction's writing both draws on what's come before and constantly seeks to deviate from it, striking the right balance between familiarity and surprise. Fábio Moon's art also straddles the wonderfully kinetic surrealism of the title's past with the glitz and hedonism of Los Angeles. Whether framing action in Casanova's shadowy office, a swimming pool at the tail-end of a decadent party or a library invaded by a series of assassins with physics-defying headgear, Moon submerges the reader into his singular world. The library sequence juxtaposes bravura spatial design and visceral combat with neatly self-aware narration, as the protagonist swaps words from idioms ("the elephant of surprise") in a nice bit of bookish musing.
Michael Chabon and Gabriel Bá provide an 8-page backup feature, The Metanauts. Chabon ruminates on celebrity, glamour and identity; there's also a blissfully cynical rock journalist, who seems to be something of a guide to this particular storyline. Though the references to Sasa Lisi, and the familiar setting of timeline 919, suggest that this arc will dovetail either with the actions of Acedia or the aftermath of Avaritia. Right now, The Metanauts feels like a beginning; it could go any number of places from here.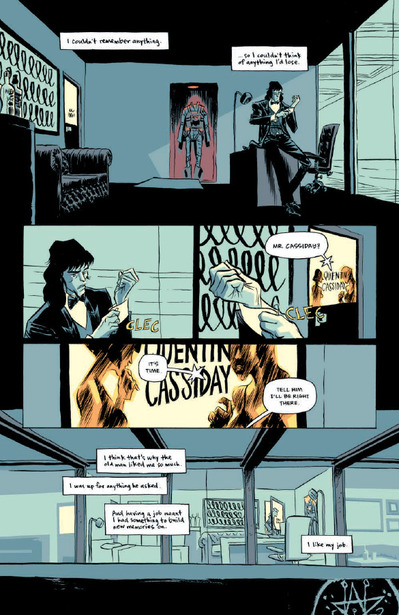 Two years have passed since Avaritia concluded, and that gap echoes in the timespan Casanova has spent in Hollywood with this issue. Despite this lag, the entire creative team still works like an oiled machine; that includes Dustin Harbin's lettering, which neatly evokes multiple narrators, and Cris Peter's colors, which go a long way to enhance the moods of the story through diffuse yellows and aqua-blues. The first issue of Acedia has plenty to reward longtime readers of the series; it also serves as a natural entry for new readers to get a sense of the series. From any perspective, it's a welcome return.