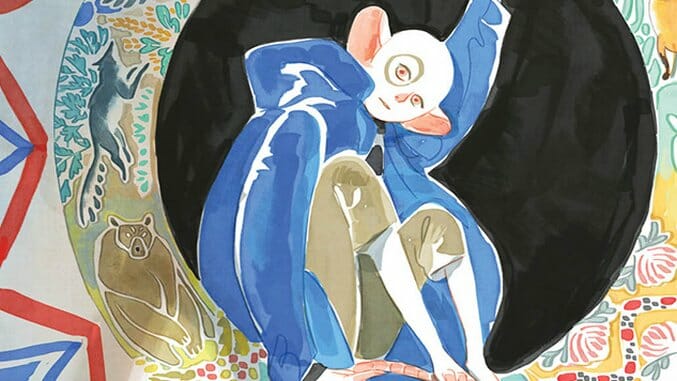 Combining the lithe, aggressive action of Hiroaki Samura's Blade of the Immortal with the richly-detailed spaces of Moebius' Blueberry, Spanish cartoonist Emma Ríos made a name for herself drawing comics for such BOOM! and Marvel projects as Hexed and Dr. Strange: Season One. Though she worked alongside such notable writers as Mark Waid, Nick Spencer and Greg Pak early in her career, her collaboration with Kelly Sue DeConnick set a new benchmark for her unique art. Together the two created Pretty Deadly—a sword-fight-filled western comic styled after Japanese revenge movies like Lady Snowblood. Recently, Ríos shifted from illustrating to scripting for the ambitious Mirror, a new comic from Image whose debut chapter releases today.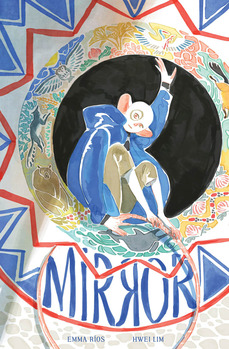 A collaboration with Malaysian cartoonist Hwei Lim, Mirror is a science-fantasy story set under Image's 8House umbrella, which includes a collection of challenging, adult fantasy miniseries inspired by European and Japanese sources. Focusing on a number of human-animal hybrids and the theme of captivity, the book gives readers a glimpse at a wonderfully complex world of machiavellian wizards and twisted science, promising a new perspective on the already-dense 8House fantasy multiverse.
To mark the series' launch, Ríos and Lim were kind enough to answer our questions about the process of working together.

Paste: How did you first become involved in the shared universe of 8House?
Emma Ríos: Brandon [Graham] and I were already talking about [the Image anthology series] Island and [Ríos' contribution] I.D. when he mentioned 8House. He was already thinking about Arclight, his book with Marian Churchland, and I remember talking a lot about fantasy influences and old anime from the '80s with him, and about the idea of Island and 8House to become some kind of safe haven in comics, a community of creators with similar approaches to the medium.He asked me straight out if I'd like to be part of it and I immediately thought of Hwei.
Paste: Mirror was originally solicited as part of 8House, but now it's being presented as a related, but distinct, series. Why the change in solicitation, and how does that change Mirror's relationship to the other series?
Ríos: Although some of the books are more connected than others, all the stories in 8House were created as independent miniseries, not as part of the same one. They have a few hazy elements in common from brief conversations we may have had at the beginning, but each team just interpreted them at will because the premise has always been "total freedom."
Hwei and I were already thinking about the possibility of continuing Mirror as a stand-alone series after finishing the 8House mini. Our previous schedule ended up changing quite a lot so finally, Image—who's always been very supportive with us and with this little book from the beginning— suggested moving to an ongoing series from the start because they thought it would work better that way.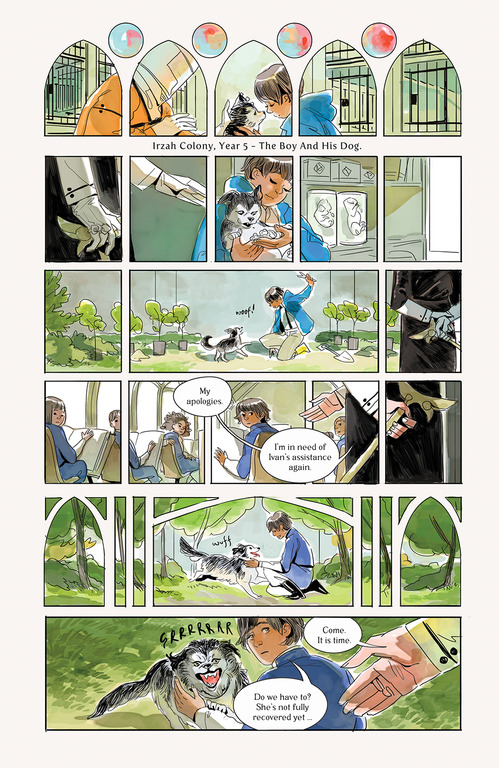 Mirror #1 Interior Art by Hwei Lim
Paste: And at what point in the process did Hwei Lim come aboard?
Ríos: Hwei and I know each other from having been invited to pair together for a comic workshop in Japan in 2008. It was organized by the Asia-Europe Foundation ASEF and the program was called Lingua Comica. We became best friends there and we got to know and understand each other's work really well.
I have never written for somebody else before and actually never thought much about it, because I like to write and draw my own stories. But I adore Hwei and her stuff, and she really can see through what I do as an artist myself. Moreover, we've been looking for a chance to collaborate together again on a book for all these years, and 8House looked like the perfect chance for us. I don´t think I would have agreed to participate if she hadn't been onboard from the start.
Paste: How does that relationship between the existing 8House stories affect how and what you're writing? Are you hesitant to include certain elements because of what you've already seen in other 8House series, or are you motivated by those other series?
Ríos: The relationship with the other books is basically motivation and inspiration because of how excellent the books are and how much everybody is putting into them. None of the teams has really worked together going back and forth.
8House works like a multiverse linked by a general feeling to it without actually any guide or rule to coordinate between the stories—it doesn't even share a timeline or a proper world. It's like a brainstorming of ideas to build stuff from—the mind-invading aliens in Arclight, the planetoid corpses in Kiem, the noblemen and magical courts in Yorris or From Under Mountains—Arclight too—with all of them actually being really different from each other…
I think we may actually have included stuff partially inspired by those too, but also with a very different approach. And I guess the hybrid animals would be our most direct contribution to the party.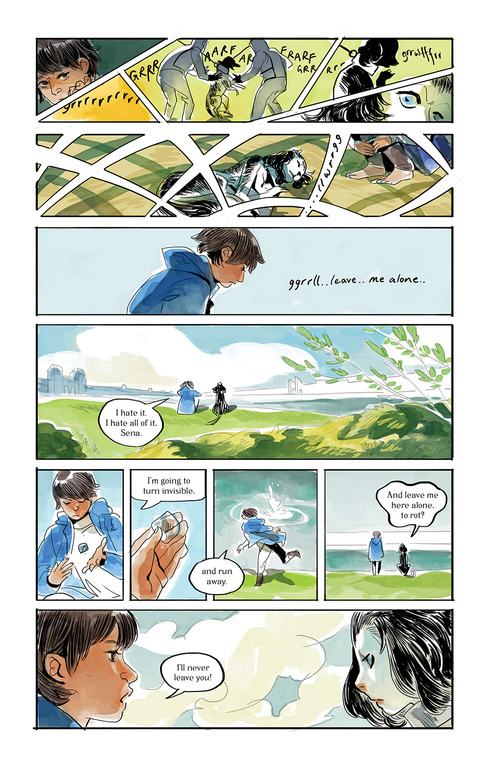 Mirror #1 Interior Art by Hwei Lim
Paste: On Pretty Deadly, you and Kelly Sue DeConnick have an unusual work process. Unless I'm mistaken, I've heard her talk about you two producing the series a scene at a time. How is that process similar or different from how you're working with Hwei?
Ríos: Both books are very collaborative, but the process for each is actually very different. Kelly Sue and I do work scene by scene, letting the art and the writing retro-feed each other. But for a few comments on plot, or specific cases, we normally stand back from what the other is doing and follow communicating and proposing stuff slowly over the pages. Kel sends me a script, prose-like most of the time, and I do rough pencils so we can talk about it. I do the final art while she reworks the script so [letterer] Clayton [Cowles] and [colorist] Jordie [Bellaire] can understand what's on the pages, and then even if I define more or less the position of the dialogue, Kel and Clayton work harder later on those while I coordinate with Jordie. Then all the team revises everything together.
In the case of Mirror, due to its elusive narrative, there's a lot of planning before and after because the info is hidden on purpose. Moreover, we're using the characters' voices as the only catalysts for exposition, world building or plot. The world being made up, and sci-fi, we need to adjust and reveal the info carefully. I work on the plot and characters, and on defining the setting, then I send Hwei a draft with notes and write a proper script, working my own layouts to understand how it works for me, but without sharing the thumbnails with her so she can modify whatever she needs and make it her own. Then she sends me rough thumbnails with dialogue and we both work hard together on both. Then she does the final art and I work on the backmatter, and finally we put everything together and re-revise until both of us are happy.
Paste: How is writing for others different from writing for yourself?
Ríos: The main difference is that when I work alone, writing the script prose-like is enough, and then I develop, twist and change the structure straight into thumbnails. Then there's the weight of responsibility, working with somebody else you truly connect with is more relaxed in terms of sharing the pressure. Alone, I tend to overthink every step and decision like a paranoid.
Paste: Do you think writing for Hwei has taught you anything that you can apply to your solo work?
Ríos: Absolutely! As I was mentioning before, when preparing the script I draw small thumbnails for myself because being an artist, I tend to think hard on images and rhythm. Also because I need to figure out if I'd be able to solve the problems myself in the space defined for each scene to develop, and try to give Hwei some extra to decompress or introduce anything she feels would improve the flowing of the narrative if she needs it. The magic happens when she sends me her thumbnails later and I can compare them with my own. That's the moment when you can analyze not only your own doing, but hers too, and learn like crazy from the solutions each one of us took for definition and development.
Besides, Hwei is so imaginative when it comes to page designs and final art, too. Her layouts and apparent simplicity are so different from my craziness that the only thing I can think of now is trying to get much more refined and moving as an artist. I'm very lucky.
Paste: Most of the writing I've seen from you has been shorter material, like your Island story I.D. What draws you to the shorter form?
Ríos: I think I like to plan things in advance as a whole as much as possible, and I like that stories can finish. Ending stuff is important. The development is interesting, but the ending has to strengthen all that feeling and make everything mean something worth remembering. Mirror is an ongoing story though, with two arcs already planned that will come out during the whole year. We'll see how long it can become.

Mirror #1 Interior Art by Hwei Lim
Paste: What are some of the challenges you've found in moving to that longer format?
Ríos: I'm still figuring it out, I guess. Sometimes I think I'm kind of writing a role-playing campaign, or just making up a history book, because of how I'm defining the setting (geography, society, politics…) and the characters' nature in order to have further interactions for whatever plot we want to develop come more naturally. This is working rather well for us and I'm very happy with how instinctively the world is expanding, from the isolated Irzah asteroid to the whole scenario beyond in The Synchronia, our System of Planets. Also the conflicts we're approaching are actually coming up like mirrors of the mirror, delightfully. Today you've caught me in a rather optimistic mood, heh, some other times I just want to hide under the bed.
It's definitely scary, but the trick for me is having time to think, to build and solve the puzzles in your head and to enjoy it. In my case, I wouldn't be able to improvise a script within a week, and then another one, and another one… I definitely need to write without pressure and lots of previous work done. Also, I have Hwei—whose own solo stuff is magnificent—to talk with about everything straight: my fears, my hesitation. I can count on her knowing she's not going to hold back. That's the best support I could have.


Artist Hwei Lim was also kind enough to answer our questions about Mirror.
Paste: One of the things that struck me about the first issue of Mirror was the way you laid out pages. What's your process for designing the page? Do you have certain rules that you follow?
Hwei Lim: I read the script and kind of imagine it as a movie almost, and then look at the page each scene is contained in and piece it together with the word balloons and all. I don't have any real rules for composing a page except for trying to keep the viewer's eye moving naturally from one panel to the other. As I draw I'll also think about how to frame some scenes, I guess as a way to hint at stuff without showing it directly.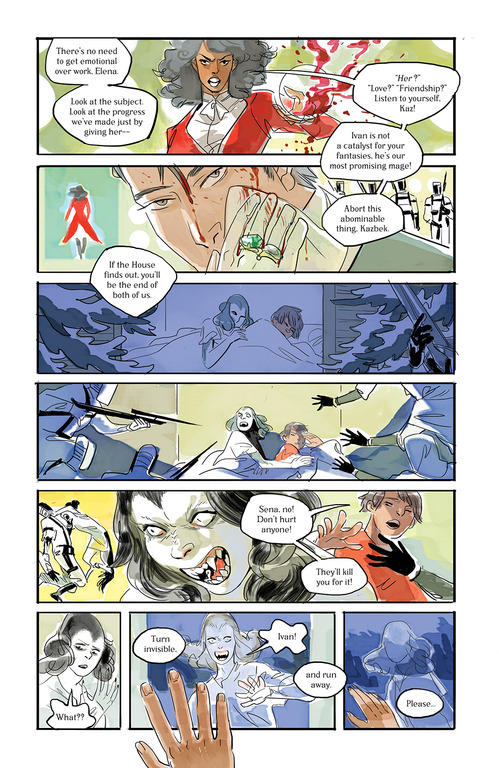 Mirror #1 Interior Art by Hwei Lim
Paste: I also really loved the the texture of Mirror; it's very soft, and the colors are a little watery. Can you tell me a little about what tools you're using to draw the book?
Lim: I draw and paint in Photoshop with a tablet and a bunch of custom brushes, as if I'm using watercolor—draft pencils, pencils, layers of light to dark colour.
Paste: In the book's backmatter, you and Emma switch roles. What was writing for her like? What challenges did that present?
Lim: Worrying at first, haha. I didn't feel familiar with the characters as we were just starting out, and was afraid when writing the backmatter scenes that I'd write them very off-model, very different from what Emma envisioned them to be. But I think in the process of writing and rewriting both main and backstory from our different points of view, we managed to expand each other's idea of this universe somehow, and the characters' roles and personalities and motivations kind of fleshed out more as well. So I think writing for Emma, and showing her my idea of what had happened to this world in the past, and seeing how she presented it, her idea of why these characters could have become the way they were, gave us a starting point to really talk back and forth about everything in the story.