Graphic Novel with Same Name & Premise as Danny Boyle's Yesterday Released Online for Free
Art by Jérémie Royer/Manolosanctis
Comics
News
Yesterday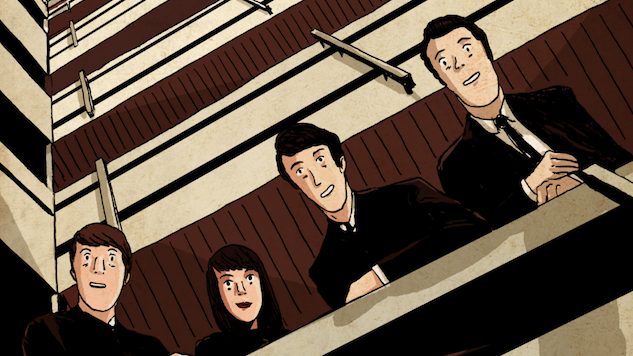 We know you're re-memorizing cuts from Sgt. Pepper's in anticipation of the nearing release of Danny Boyle's Yesterday, but you might want to close out of your Genius tabs in favor of reading something more interesting: a 2011 graphic novel with an eerily similar premise that was just released online for free.
David Blot's graphic novel of the same name, drawn by Jérémie Royer, follows a French New Yorker who is transported to 1960 and becomes the world's biggest pop star after recording The Beatles' hits before the band is formed. Though unaffiliated with Blot's book, the Boyle adaptation mirrors the premise, but instead centers on a struggling British musician who realizes he's the only person on Earth who remembers the band.
Though the similarities are unavoidable, Blot has not made any public comments about (or taken any legal action against) the film and its Richard Curtis-penned script, but Variety notes that the author doesn't appear to have sold the rights to his story.
Blot noted in his Facebook post announcing the free release that Yesterday was published in September 2011 as the first installment in the Adventures of John Duval & The Futurians series, but quickly went out of print after its publisher folded while Blot was writing the second volume.
Looks like Blot has high hopes that another publisher will commission the rest of the series and, as he concludes, "we'll be able to tell the rest of the story."
You can find the graphic novel here and check out Yesterday in theaters on June 28 to decide for yourself if we have an imposter in our midst.
To read 4 Free : YESTERDAY The Graphic Novel; 2011 : https://t.co/cBbOmI2WQKpic.twitter.com/Q30SxLuRve

— David Blot (@davidblotclub) June 25, 2019