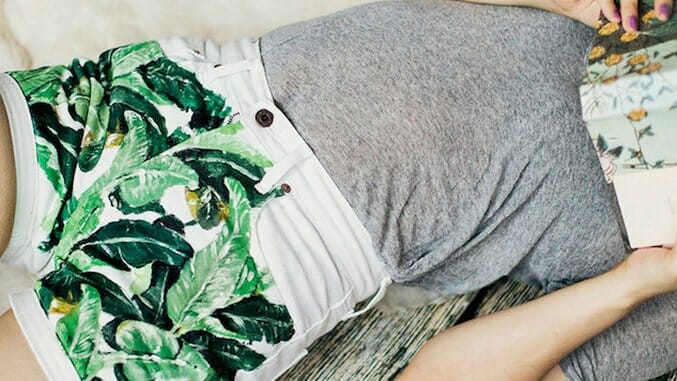 Ready to revamp your closet? There's no need to shell out a small fortune to update your denim for the spring season. Most of the newest trends are incredibly easy to copycat from the comfort of your cozy bedroom. Grab a few pairs of your favorite well-worn jeans (or jackets), a pair of scissors, a few little bonus items, and get ready to whip up some DIY denim for a fraction of what you'd pay off the rack.
1. The raw hem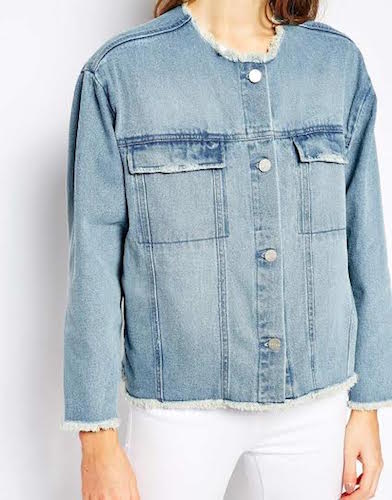 Photo via
ASOS
One of the easiest looks to recreate is the raw hem, which involves simply hacking off the ends of your favorite pair of jeans to create those perfectly imperfect frayed ends. Just take a pair of scissors and cut away, then wash and dry them for the finished look. This works best on true denim (100% cotton is best—think Levi's 501s rather than Forever 21 jeggings) and works well on everything from traditional jeans to denim jackets and dresses.
2. Patch it up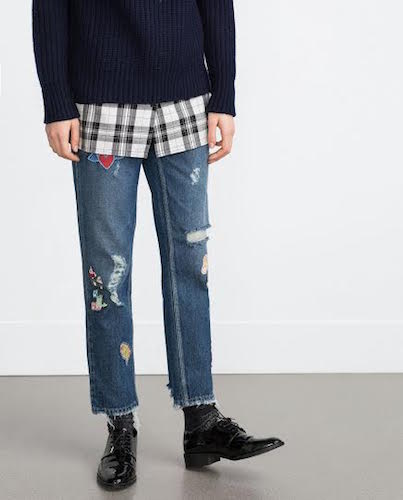 Photo via
Zara
If you have a denim piece that seems to be holding on for dear life, this is going to be the resurrection spell you needed. Just get a bunch of iron-on patches—you can find vintages ones at thrift shops or on eBay, or go for more modern versions on Etsy—and apply them all over your jeans or jacket for a totally customized and super cool result. It's a pretty clever solution for concealing holes or rips, but you can always go this route regardless of the condition your denim is in.
3. Make a denim collar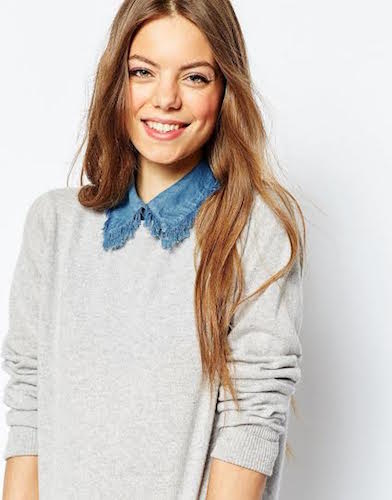 Photo via
ASOS
My favorite recent layering trick has been to cut off the collars of thrifted button-ups and wearing them as a little layering piece. It gives you the perfect finishing touch without all the added bulk of wearing a full shirt.
To create your own denim collar (technically called a "dickey," though the term is pretty much completely out of style), put your collared denim shirt on and make a mark on it halfway from your neck to your shoulder, on each side. Then, decide how low you want the collar to come down, and make the mark in the center front of the shirt. Remove the shirt, then make another mark about 3 inches down the back of it. From there, you're going to cut the shape of the dickey out (it'll look like a denim bib with a collar, basically). You can certainly hem the edges, but I typically just leave it raw because I don't want to be bothered. If you've done it right, you should be able to easily layer it under everything and everything; if you have trouble making the collar stay put, just turn to your trusty double-sided tape to keep it in place!
4. Create a pair of kick flares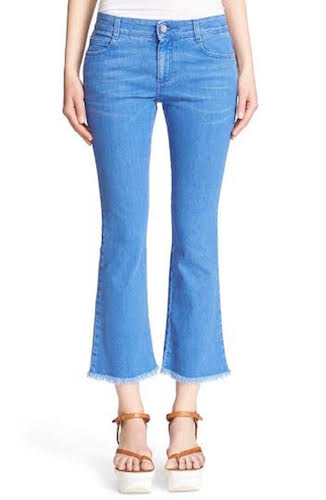 Photo via
Nordstrom
Cut off a pair of your old flared jeans to create this season's incredibly on-trend "kick flares," which are basically just a cropped version of everyone's favorite 70s silhouette. It's similar to the shape of culottes, but tends to be ever-so-slightly more wearable. You'll probably have to go the raw hem route with the finish on these, but that just gives you two trends in one!
5. Grab the bleach (or black dye)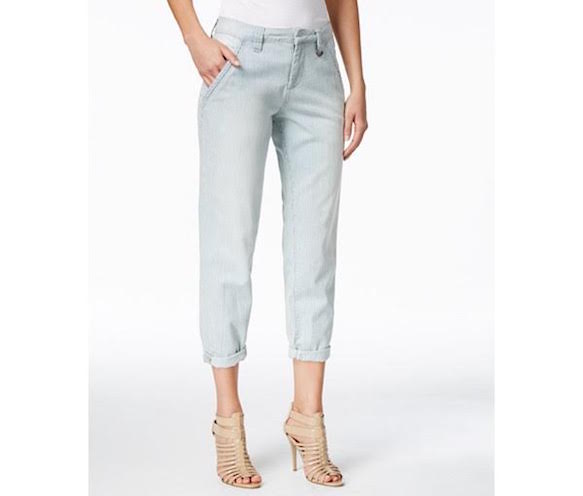 Photo via
229_-MP229&LinkshareID=J84DHJLQkR4-T0xvM01axT_uLTUXq0Gtdg">Macy's
This is a great go-to solution for denim that might fit well, but has a weird dye job—like bad whiskering at the top, or highlights in all the wrong places. Fill a bucket with cheap bleach or black dye (Rit is and always will be the best), follow the instructions and within a couple of hours, you'll have a new and much more versatile piece of clothing.
1. Fill a bucket with cheap bleach (NOT the colour-safe stuff).
2. Use a clip hanger, the sort you get bras on, and attach to the denim item. Lower the bottom few inches into the bleach.
3. Every 20 minutes lower the denim in a bit further. This will make the dip dye effect.
4. When you're finished, wash the skirt in white vinegar to stop the bleaching process.
6. Use your denim as a canvas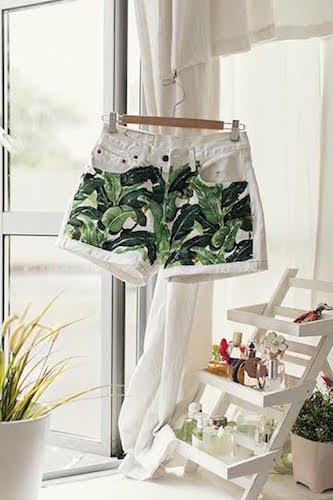 Photo via
Park and Cube
Grab your paint and fulfill at least a tiny portion of your art school dreams with this denim DIY. Park and Cube has the best tutorial on this technique out there, and her leaf-printed shorts will have you racing to the store to stock up on fabric paint.
7. Patch denim with more denim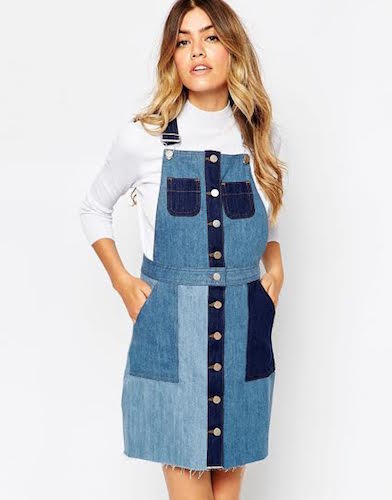 Photo via
ASOS
Patchwork denim makes a style statement that isn't too over-the-top, and works well almost any iteration of the fabric you can think of. It's super easy to source the additional denim material from the thrift store (just grab a bunch of 99 cent pieces from your local Goodwill) or just use old pairs that don't fit or need a new life. This video tutorial will walk you through how to stitch them together, and then voila! You'll have a custom-made pair of patchwork jeans. I particularly enjoy this DIY on a pair of flared denim or an a-line denim skirt, which gives you that perfect instant 70s vibe.
8. Send a message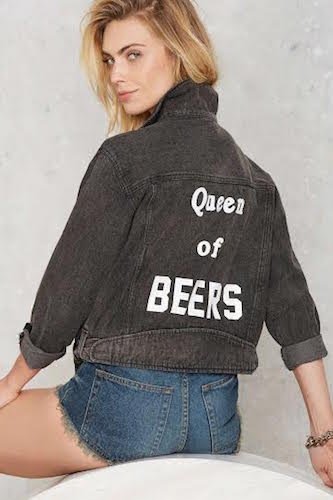 Photo via
Nasty Gal
If little embroidered patches aren't enough of a style statement for you, you can just iron on letters on the back of your denim jacket. You can say something super bold (Jennifer Lawrence recently wore one that had "perv" stitched on it), or you can sit comfortable at the more mild end of the spectrum and iron on your favorite phrase, song lyrics or movie reference.
9. Achieve the perfect ripped knees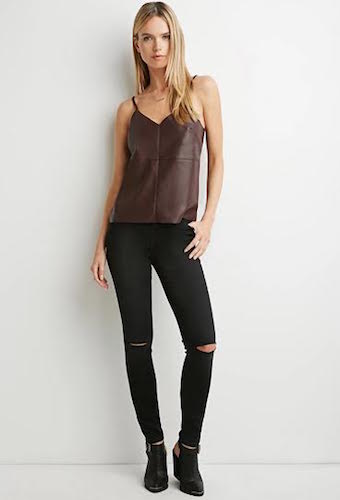 Photo via
Forever 21
There are a thousand and one tutorials out there if you want to learn how to DIY distress your jeans, but I find that many of them overlook the trick to getting those perfectly ripped knees. If the rips are placed too high, your knee will bulge out in a less flattering way; too low, and it looks like you missed the mark.
If you want to go for the sliced look and not a huge open gap, the best way to do it is to put your jeans on (don't skip this part!) and mark where the middle of your knee is on your jeans when you're standing up straight. Then, take them off and stick a piece of thick cardboard down the leg. Take an boxcutter or other sharp knife and cut a three to four inch slice, leaving some room on either side of the cut. Wash and dry your denim and that's it! They're done.
10. Embellish away!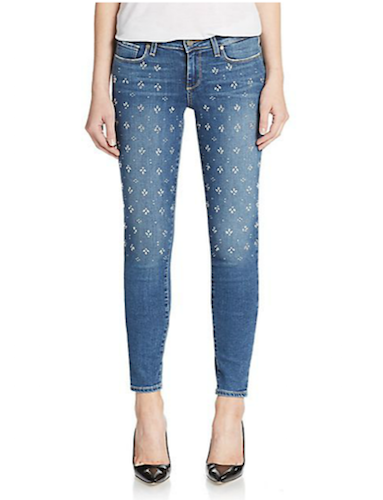 Photo via
Saks Off 5th
Street style photos always seem to showcase a bunch of women wearing denim with incredible embellishments, from pearl-encrusted jeans to all-over glitter. You can hand-sew sequins, pearls, lace, crystals and more to really spruce up your style. I particularly like the contrast of a well-worn pair of jeans with something really glitzy and glamourous.
Which denim DIY are you dying to try? Tell us below (and snap a pic of your success)!