From the same people that give us Free Cone Day each year, Ben & Jerry's knows precisely how to grab an audience: Attach overly delicious treats with our favorite television shows, movies, musicians and actors.
The trend started with Cherry Garcia in 1987 in honor of the now late great Grateful Dead frontman Jerry Garcia, and the most recent addition is an ode to 30 Rock's leading lady, Liz Lemon.
So hold on to your taste buds—we complied a list of 15 great Ben & Jerry's flavors that get their title from some of our pop culture favorites.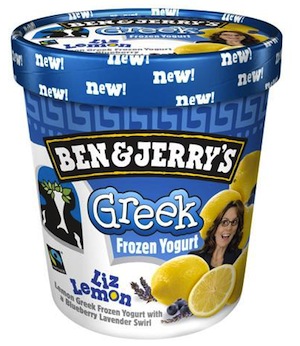 15. Liz Lemon Greek Frozen Yogurt with a Blueberry Lavender Swirl
To honor the series finale of 30 Rock in January, Ben & Jerry's announced their newest themed flavor named after Tina Fey's food-obsessed character Liz Lemon. The frozen treat is a mixture of fruity flavors consisting of lemon Greek frozen yogurt with a blueberry lavender swirl. Liz Lemon Greek Frozen Yogurt is also dedicated to the early education organization Jumpstart, which serves children in low-income neighborhoods. Fey is a longtime supporter of Jumpstart and played a part in securing a portion of the proceeds to benefit the organization.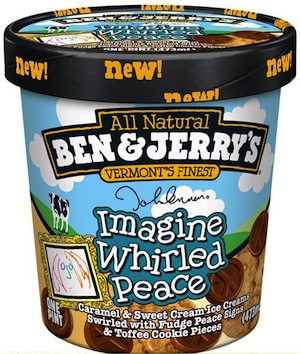 14. Imagine Whirled Peace
In 2008, the Vermont duo created an ice cream to celebrate the life and activism of John Lennon. Based on the legendary musician's songs "Imagine" and "Give Peace a Chance," this flavor is a blend of caramel and sweet cream ice creams mixed with toffee cookie pieces and fudge peace signs that symbolize the former Beatle's outlook on life. The container description states: "We hope this whirly mixture of toffee cookies and fudge peace signs enlightens your bellies and souls and makes you ask what you can do to promote peace in your lives."

13. Willie Nelson's Country Peach Cobbler
This ice cream inspired by country crooner Willie Nelson is the epitome of down-home southern cooking. The concoction combines peach ice cream with pieces of cinnamon-sugar shortbread and completed with a peach swirl. Part of the proceeds benefits Farm Aid, the charity concert co-started by Nelson.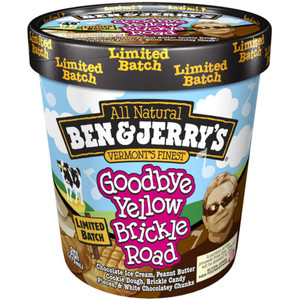 12. Goodbye Yellow Brickle Road
Elton John's honorary flavor came about as a celebration of the iconic musician's first-ever performance in Vermont in 2008. Named after his 1973 album and song "Goodbye Yellow Brick Road," the ice cream included chocolate ice cream, peanut butter cookie dough, butter brickle and white chocolate chunks. Proceeds also benefitted the Elton John AIDS Foundation. Unfortunately, Goodbye Yellow Brickle Road was only created as limited batch and is currently discontinued.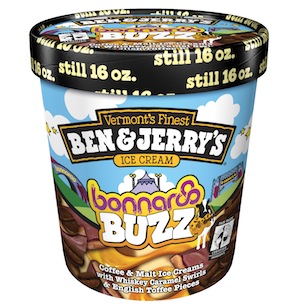 11. Bonnaroo Buzz
As the only music festival with it's own ice cream, Bonnaroo Arts and Music Festival serves as the inspiration for this coffee-caramel creation, Bonnaroo Buzz. Introduced in 2010 during a concert at The Bowery Ballroom in New York, the flavor combines coffee malt ice cream with whiskey caramel swirls and English toffee pieces. The chosen charity to benefit from this dessert is the Bonnaroo Works Fund, which supports various local, regional and national non-profits. Even if you can't attend the summer event in Manchester, the description informs that "now your tastebuds can enjoy can the 'Roo-phoria all year round."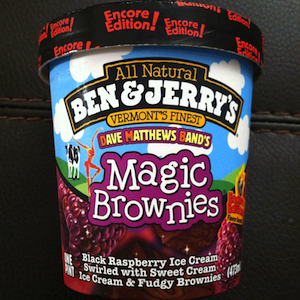 10. Dave Matthews Band's Magic Brownies
Originally creating One Sweet Whirled in 2002, Dave Matthews Band and Ben and Jerry's re-teamed in 2005 to make the initial Magic Brownies that contained vanilla ice cream with swirls of raspberry and brownies. For the Encore Edition in 2007, the flavor was kicked up a notch to present an even tastier treat. With a very tongue-in-cheek title, Magic Brownies is a swirl of black raspberry ice cream with sweet cream ice cream and chunks of fudgy brownie throughout. Portions of the proceeds of both flavors were given to Ben and Jerry's foundation to fight global warming with half donated to www.saveourenvironment.org. Magic Brownies is currently discontinued.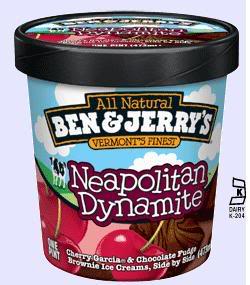 9. Neapolitan Dynamite
As a part of the 2Twisted! series, the classic ice-cream flavor received a new title after the popularization of 2004 film Napoleon Dynamite. The treat combined two Ben & Jerry's staples: Cherry Garcia and Chocolate Fudge Brownie. This mixture of cherry and chocolate ice creams with cherries, fudge flakes and brownie chunks also had a previous life under a flavor titled Jerry's Jubilee. This flavor is no longer available.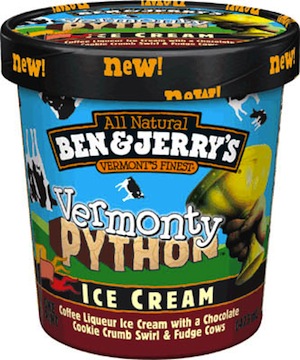 8. VerMonty Python
Ben & Jerry's paid homage to the classic cult film Monty Python and the Holy Grail with this coffee Liqueur-based dessert. With a swirl of a chocolate cookie crumbs, the ice cream also included cow-shaped fudge pieces as a nod the hilariously idiotic catapult scene. The description also referenced memorable quotes from the film: "This is a ripping goodlavor, really, so buy it quickly now & run away, silly person, or we shall taunt you a second time!" VerMonty Python was discontinued in 2009.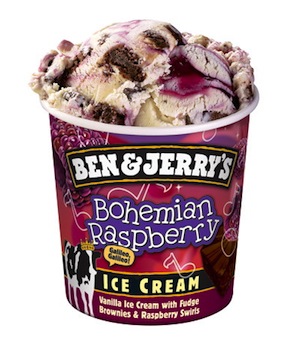 7.Bohemian Raspberry
Dedicated to rock band Queen, the U.K. branch of Ben & Jerry's created a new flavor titled Bohemian Raspberry in 2007. The ice cream is composed of a vanilla base with fudge brownies and, of course, raspberry swirls. Hinting back to the source of the title, the ice cream company's cow mascot dons a crown and is shown uttering the lyrics "Galileo! Galileo!" on the packaging as a reference to the anthem "Bohemian Rhapsody." This ice cream raises money for the Mercury Phoenix Trust, which fights AIDS worldwide and was set up in memory of lead singer Freddie Mercury.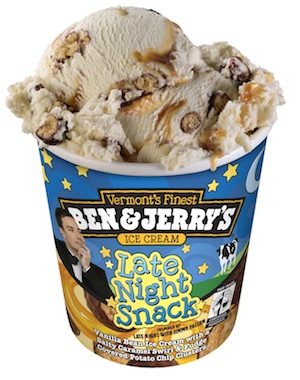 6. Late Night Snack
It all started with a musical skit Jimmy Fallon performed with South African group Ladysmith Black Mambazo on his late-night NBC talk show. Along with The Roots, the group performed a number aptly titled "Ladysmith Snack Mambazo" about cravings for Ben & Jerry's ice cream. During a celebration for the second anniversary of Late Night with Jimmy Fallon in March 2011, Ben Cohen and Jerry Greenfield appeared on the broadcast to announce their newest salty/sweet creation. Attempting to fulfill all of our late night longings, the flavor includes Fair Trade vanilla bean ice cream with a salty caramel swirl and surprisingly tasty fudge-covered potato chip clusters.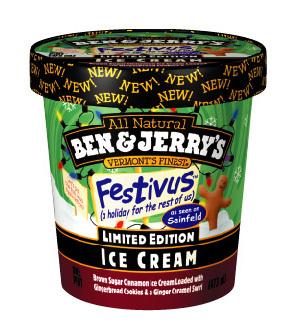 5. Festivus
Ben and Jerry's introduced the celebratory flavor Festivus as a limited batch in 2000. Based on the alternative December holiday created on Seinfeld, the ice cream for the rest of us included brown sugar-cinnamon ice cream mixed with gingerbread cookie chunks and a ginger caramel swirl. Festivus was available for only one year and sadly resides in the Ben & Jerry's graveyard.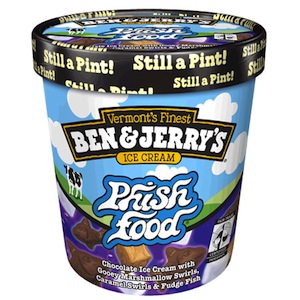 4. Phish Food
Created in 1997 and still selling strong today, this dessert honors the legacy of the four-piece jam band Phish. The psychedelic ice cream has a chocolate base swirled with gooey marshmallow, caramel and fudge-shaped fish. The description also contains a personal message from the Vermont natives: "Ben was our neighbor through the woods & we're fond of ice cream. So we teamed up to create Phish Food. A portion of our royalties from this flavor goes toward environmental efforts in Vermont's Lake Champlain Watershed. Enjoy!"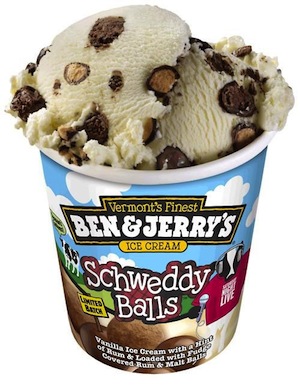 3. Schweddy Balls
Saturday Night Live fans applauded the ice cream company's limited batch release of this dessert in 2011. The inspiration for this flavor comes from the classic '90s sketch with Alec Baldwin, Molly Shannon and Anna Gasteyer on the soft-spoken talk radio show "Delicious Dish." With another connotative title, Schweddy Balls consists of vanilla ice cream "loaded with" two types of balls: fudge covered rum balls and milk chocolate malt balls. In a press release, Baldwin provided this statement about the dessert: "For a long time, I thought that 'Here Lies Pete Schweddy' would end up on my tombstone. Now, thanks to Ben & Jerry's, the goodness of the Schweddy family recipe won't go with me to the great beyond."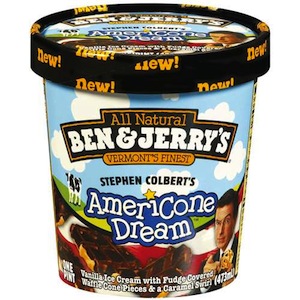 2. Stephen Colbert's AmeriCone Dream
Known for "dueling" with fellow dessert-honorees Willie Nelson and Jimmy Fallon, Stephen Colbert began his reign, or so he thinks, of the ice-cream world with the release of his patriotic flavor in 2007. Described on the containers as "sweeter than the Bill of Rights, colder than Valley Forge & with twice as much caramel as the Louisiana Purchase," AmeriCone Dream is a perfect mixture of vanilla ice cream with fudge-covered pieces of waffle cone and a caramel swirl. Proceeds are shared with The Stephen Colbert AmeriCone Dream Fund, which benefits various charities for children, veterans and environmental causes.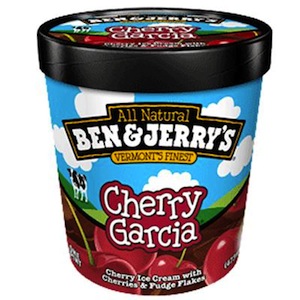 1. Cherry Garcia
As a tribute to Grateful Dead frontman Jerry Garcia, this dessert was the first Ben Jerry's flavor to be named after a pop-culture figure when introduced in 1987. Compared to other component-heavy choices, Cherry Garcia has a somewhat simple formula: cherry ice cream combined with cherries and fudge flakes. Considered to be the most famous of the Vermont's finest family, the fan-favorite flavor continues to be widely available in Ben & Jerry's scoop shops and local markets nearly three decades later.