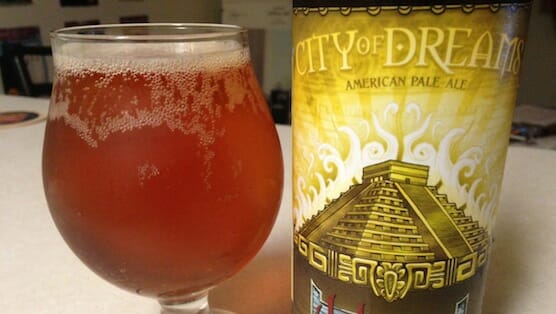 In the few times I've written about St. Louis craft beer culture here at Paste, I'm afraid that 4 Hands Brewing Co. has probably been a little bit left out of the conversation. I attribute that to their philosophical positioning in the city's blooming craft beer scene as much as anything—they're sort of right in the middle. Their aesthetic is not like that of say, Urban Chestnut, with its focus on superbly crafted classic styles from Britain and Belgium. Nor are they quite as out there as Perennial Artisan Ales, whose every other beer is Belgian, fruit-infused, sour or barrel-aged. 4 Hands does have its own identity, but it's just a little bit harder to pin down.
They are in some respects a quintessential "American craft brewery," with a lineup of regular offerings that runs the gamut from oatmeal brown ale to Belgian session ale and rye IPA. It's almost as if their decision was to offer "typical flagships," but put a defining twist on each one. The limited release stuff gets significantly more ambitious, from saisons aged with prunes or pears to a smoked, maple syrup porter.
This summer's City of Dreams, though, is a classic American pale ale, through and through. Backed by two of the most recognizable American aroma hops, centennial and amarillo, but also containing the newer and hype-worthy El Dorado hop, it's a well-balanced but hop-forward brew that shows off the "sensible" Midwest brewing style.
In terms of aroma, this beer is classically West Coast in character, with lots of pine, orangey citrus and wildflowers, but also a definite impression of honeyed malt. You pick up the hops, obviously, while also being aware that this pale ale isn't likely to be completely defined by them.
And it's not. The malt character is very nice, heavy on the biscuit and breadiness but not over the top. Hops are on the more conservative side here, although my bottle may be a tad on the older side. I get more fresh orange flavors and the telltale grassiness that I always associate with amarillo hops. Interestingly, these hops flavors grow more assertive as the beer begins to warm a bit.
City of Dreams is certainly not something you haven't seen before, but there's always room for another solid pale ale in my life. I would have liked to get a bit more of the El Dorado hop's varietal presence in there, but ultimately I was left with something comfortably familiar.
Brewery: 4 Hands Brewing Co.
City: St. Louis, MO
Style: American pale ale
ABV: 6.6%
Availability: Limited, 22 oz bottles