The general consensus among most whiskey drinkers is that age equals quality, at least up to a certain point. The longer a whiskey, specifically bourbon in this case, sits in new charred oak barrels, the more flavor it imparts from the wood, the more complex it becomes, and the better it drinks. Legally, there is no minimum age requirement for a whiskey to be called bourbon – although in order for it to be labeled "straight bourbon" it must be at least two years old.
The average age of most whiskey available from major brands is somewhere in the neighborhood of six years, although some, like Jim Beam White Label, are younger and others, like Elijah Craig, are older. There are those who feel that any bourbon aged longer than 23 years will become over-oaked and lose its appeal, while others seek out that intensely woody flavor in the same way that certain single malt drinkers crave excessive peatiness. On the flip side, you can often tell when you're drinking younger bourbon from an upstart distillery. The flavor is weaker and lacks the nose and palate you generally associate with properly aged bourbon.
The bottom line, however, is to drink what you like, how you like it. Just because bourbon is old doesn't necessarily make it good, although it will, more often than not, make it more expensive. Many of the major brands of bourbon and rye offer older expressions that cost a bit more, but are worth the extra expense. Some highlights that you might be familiar with include Eagle Rare 17 Year, Sazerac Rye 18 Year, and Elijah Craig 23 Year. What follows is a list of five older bourbons from well-known brands that you might not be aware of, but are worth seeking out.
Wild Turkey Master's Keep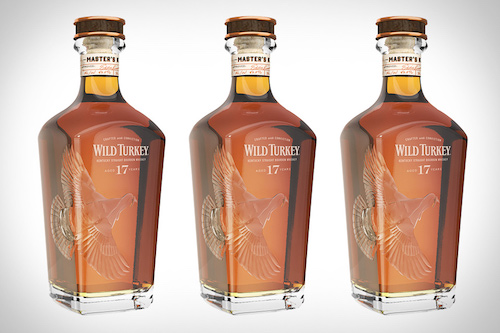 Photo via Uncrate
I've long been a proponent of Wild Turkey, which, due to pop culture and rock and roll clichés, has earned the reputation of being a harsher, less refined drink. I'm sure the company doesn't completely shy away from that image, as it's certainly become part of the Wild Turkey mystique. But the fact of the matter is that Wild Turkey, particularly 101, remains one of the better inexpensive bourbons available.
Master's Keep, however, is a whole different animal. At 17 years old, this bourbon is the oldest expression of Wild Turkey available in the USA. Master's Keep is the brainchild of Eddie Russell, son of the legendary Jimmy Russell, and current master distiller at Wild Turkey. In 1997, the company had a surplus of bourbon and Eddie decided to ship some barrels to a friend's stone warehouse. They later returned to Wild Turkey's wooden warehouses, where they continued to age. The bourbon is bottled at a very drinkable 86.8 proof, and the color is on the lighter side, due to the time spent in the stone warehouse where cooler temperatures limited interaction with the wood. This is unlike any Wild Turkey I've ever tasted, and it's outstanding. The nose is mild and sweet, and the palate is slightly sugared with vanilla and caramel hints. The bottle and packaging of this limited edition bottle are beautiful; this is bourbon that is well worth the $150 price tag.
---
Jim Beam Signature Craft 12 Year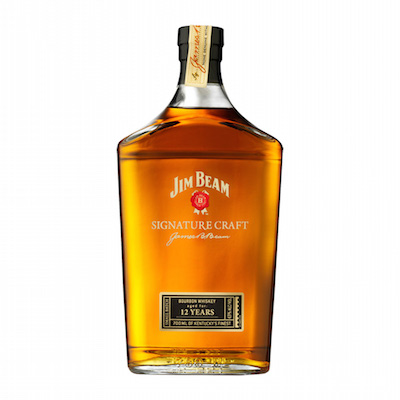 As mentioned in the introduction, your typical bottle of Jim Beam is only about four years old – and that's not meant pejoratively. Nine times out of 10, I'll take a shot of Jim Beam to go along with a beer at my local watering hole over pretty much anything else available. Jim Beam remains one of the best no-frills bourbons you can buy. But master distiller Fred Noe has been experimenting and having some fun with the Signature Craft series, introducing expressions like Quarter Cask, Oat, and High Rye, some of which have been covered here previously. The 12 Year is instantly recognizable as Jim Beam, with its nutty nose and pleasantly mild mouth-feel. Of course, the flavor is deeper and richer than White Label, and at $40, it's not that much more expensive. So why not pick up a bottle of this instead of a handle of regular old Jim Beam next time you hit the liquor store? You won't be disappointed.
---
Bulleit 10

Bulleit, part of the Diageo portfolio, has surged in popularity over the past few years, especially among the cocktail and mixology crowd. This high rye bourbon (rye makes up almost 30% of the mash bill) is a go-to choice for many people ordering whiskey at bars these days, perhaps due to that spicier character, or perhaps due to the "craft" image the brand has subtly hinted at. Regular Bulleit is aged for six years, and it's fine bourbon, but the ten-year-old is something really special. The nose is lovely, all butterscotch and oak, and the flavor is spicy and bold. With Bulleit 10, you can definitely taste what a few extra years in a barrel can do for a particular whiskey. And at around $45, it's still an affordable bottle.
---
Michter's 10 Year Bourbon and Rye

Michter's is an interesting case. Joseph Magliocco and Richard Newman resurrected the brand in the 1990s after it ceased operations in the late '80s. The Michter's that many know and love today, myself included, is sourced whiskey, which rubs some people the wrong way – probably the same people that don't want to drink anything that comes from the MGP distillery in Indiana. To each his own, but I'm more concerned with the quality of the liquid than any backstory. And Michter's consistently delivers with its American whiskey, sour mash, straight bourbon, and straight rye expressions.
There is no age statement on these bottles, but the brand has a bourbon and rye with a 10-year age statement that are really fantastic. Both are bold, rich, and complex, full of the flavor and character that defines superb whiskey. The rye has a pleasant spicy kick, and the bourbon is slightly honeyed but never cloying. At the moment, these bottles can be hard to find, so if you see one sold for about 75 bucks, I would advise you to grab it. The company plans on releasing a new batch of 10-year rye sometime this fall, as soon as master distiller Willie Pratt sees fit. Michter's has also released 20 and 25-year expressions of its rye and bourbon, but these are pretty hard to find – and when you do, they'll set you back at least $500 a bottle. In a few years, Michter's will be releasing its own whiskey, distilled on site in Louisville and continuing the tradition and recipe that has brought them success and accolades so far.
---
I.W. Harper 15 Year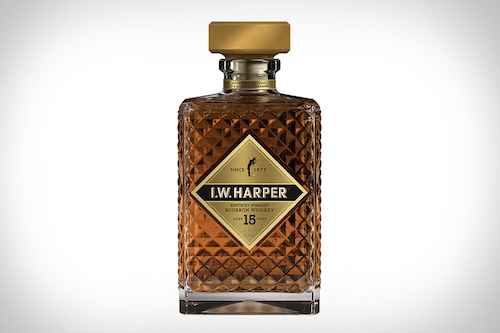 Photo via Uncrate
For about two decades, I.W. Harper has been unavailable in America, but the storied brand was recently resurrected stateside by Diageo. I.W. Harper Kentucky Straight Bourbon Whiskey carries a 15 year age statement, and it has been around the block a few times – distilled at the New Bernheim Distillery, aged at the Stitzel-Weller warehouses, and bottled in Tennessee. This bourbon hits the sweet spot, with a syrupy, almost caramel-like mouth-feel and a warm, pleasant burn that fades away rather quickly. This is another aged whiskey that cannot be mistaken for its younger sibling, in this case the I.W. Harper Kentucky Straight Bourbon Whiskey with no age statement. It comes in a highly stylized retro decanter-style bottle. At $75, it's not cheap, but this is a quality bourbon that is perfect to bring out on special occasions… or just a quiet Monday night.
---