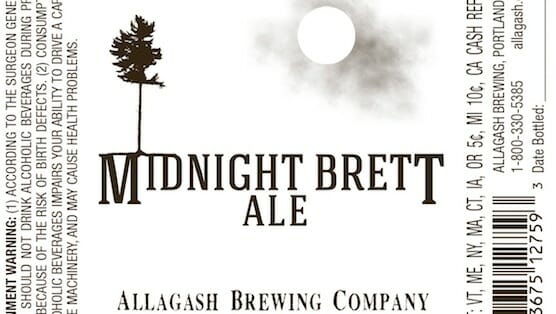 Back in the mid '90s, when the majority of the then-fledgling craft beer scene made their claim to fame by exploring State-side spins on German and British beer genres, Allagash founder Rob Tod decided to venture into rare Belgian styles. Belgians are now all the rage, with adventurous micro-breweries concocting wonderful takes on those historic brews. But Allagash was one of the Belgian pioneers in American craft beer. They released the Allagash White, a Belgian wheat beer, in 1995 to wild acclaim that really hasn't ebbed as the beer has aged. And almost 20 years later, the Portland, Maine-based brewery unveiled the polar opposite of their inaugural beer—at least from a color perspective.
The Allagash Midnight Brett pours a deep chocolate brown, which evokes thoughts of rich espresso, with a slight, milk chocolate-colored head that fades into a thin film that laces the glass. Nuttiness floats on the nose, alongside a hearty dose of raw wheat and rye malt, with hints of black cherry and roast, partnered with a touch of funk from the wild Brett yeast. Yet unlike other wild ales, the funkiness feels more like a subtle homage than a straightforward James Brown cover band. The funk is subtle, in part, because the fermentation occurs in stainless steel tanks, rather than the typical bacteria-laden wooden casks.
There are elements of musty horse blanket—a descriptor that never sounds as good as it tastes—with reinforced fruit notes of sour cherries, both of which become more pronounced as the beer warms. The creamy mouth feel hints at the relatively aggressive 7.3% ABV, but the slightly tart, dry finish reinforces that this ale is a decidedly subdued entry into the Brett genre. Make no mistake, as the other limited-release sour beers in their line demonstrate, they know how to blare the trumpet of bold flavors. But with this one, they simply decided to play it a bit quieter, with more emphasis on the "midnight" rather than the "brett."
Unlike the White, which has become the brewery's flagship regular release, the Midnight Brett will continue to be a limited-release beer (first bottled in May 2013), released periodically whenever it's ready.
Brewery: Allagash
City: Portland, Maine
Style: American Wild Ale
ABV: 7.3%
Availability: Limited release on draft and in 375ml bottles