Great, Now the Government Shutdown Is Ruining Craft Beer
D.C.'s Atlas Brew Works is suing the Trump administration over the shutdown
Photo by Adam Berry/Getty
Drink
News
Atlas Brew Works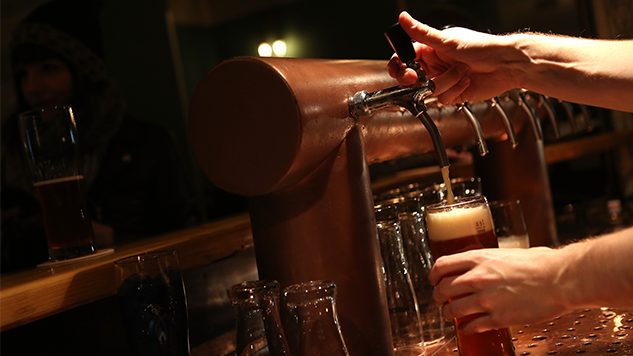 The least we were hoping for was that we could drink our way through this government shutdown.
However, one D.C. craft brewery's story highlights how brewers are especially threatened by the lack of government funding for "non-essential services," leading us to question the administration's judgment for the umpteenth time. Beer is surely essential—nearly ranking up there with the housing voucher requests, immigration hearings and other myriad disrupted services. And to those involved in this particular case, this is a matter not just of brews, but of free speech.
On Tuesday (Jan. 15), Atlas Brew Works sued the Trump administration over the continuing government shutdown, claiming that that it harms their free speech rights, CNN reports. Atlas' court filing explains that the brewery must have "certificates of label approval" in order to sell their beer across state lines and comply with federal law. The Treasury Department's Alcohol and Tobacco Tax and Trade Bureau has not been processing these applications during the shutdown, and thus the brewery has been unable to acquire the necessary approval for their seasonal apricot IPA "The Precious One."
"We see our labels as a form of speech, that's how we speak to our consumers," Justin Cox, founder and CEO of Atlas, told DCist. "We're unable to exercise that right without approval from the federal government."
Attorney Alan Gura, who filed the lawsuit on Atlas' behalf, told DCist, "What the government should not say is, 'We're not even going to look at [your label]. We don't have funding to review your label, so if you publish it, it's a crime.'" The complaint itself further states, "The right to free speech is not a favor that the government affords Americans when political circumstances allow."
The Brewers Association, which caters to small and independent craft brewers, issued a warning on Jan. 2 about how the TTB's lack of funding would affect breweries. Their message said that even after the government returns to business as usual, there could be a backlog of applications, so the labeling and permit process could still be lengthened. This may spell disaster for Atlas, as their suit states that the first 40 barrels of The Precious One have been in a tank at their brewery since Jan. 3, taking up space that could be filled by their next seasonal beer. With the expiration date looming 120 days away, the company only has so long to sell their seasonal wares. The ongoing shutdown is threatening their profits and their production schedule.
"The shutdown is really hitting our local community as we are located in the seat of the federal government," Cox explained to CNN. "Our friends and neighbors are stressed, and frustration is growing into anger. Everyone just wants to get back to work."
Atlas themselves are working to support the furloughed federal workers in their area, as per American Craft Beer. They've teamed up with DC Brau, Mess Hall, food writer Nevin Martell, app development agency 3Advance and 3 Stars Brewing on PayItFurloughed.com, through which donors can fund beers for unpaid government workers. All they have to do is flash their federal identification at one of the participating venues (including Atlas) to enjoy a free drink.