6 Iconic Music-Inspired Beers to Sip on Record Store Day
Photo by Fábio Alves/Unsplash
Drink
Lists
beer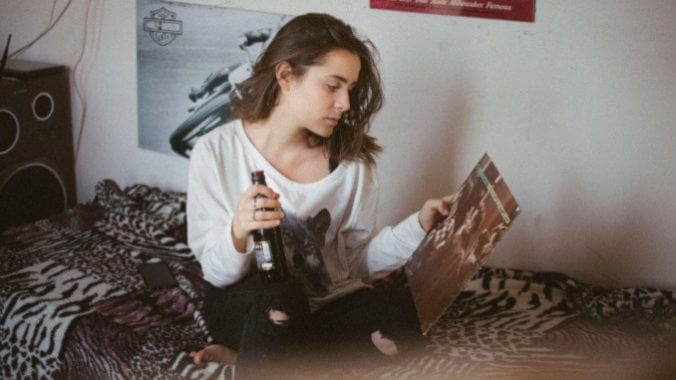 Beer and music are expressions that are intrinsically similar: They require experimentation, honing your craft and ultimately bringing people together. Whether it's getting the band together to write and jam or patrons talking community-based activism over a few Pilsners, beer and artists have a way of connecting people to something bigger than themselves. Enter the music-inspired beer.
The trend of breweries working with musicians to create one-of-a-kind, tunes-inspired beers or official collaborations isn't new, but it has grown over the last decade or so. From more well-known bands brewing their own beers with hometown breweries to smaller indie brands partnering with underground metal bands, these beers are capturing the essence of the music and connecting directly to audiences. 
---
1.
Dogfish Head Brewery x Flaming Lips
Dragons and YumYums
It would be a tall order to put together an article on music-inspired beers without mentioning Dogfish Head Brewery, which has participated in dozens of official collaborations over the years with artists ranging from Grateful Dead to Miles Davis. 
"I've always been a firm believer that when beer and music are combined, it can exponentially amplify both your drinking and listening experiences," says Sam Calagione, co-founder of Dogfish Head Brewery. "This idea, and the fact that I'm a huge indie music fan, is what inspired us to begin collaborating with musicians… This year proudly marks Dogfish Head's 8th consecutive year as 'The Official Beer of Record Store Day!'"
A favorite of Calagione's is their collaboration with The Flaming Lips, Dragons and YumYums, a pale ale made with dragon fruit, first released in 2019. Calagione says of the partnership, "Not only did we work with the band to create Dragons & YumYums, a pink, tart, tropical pale ale, but we collaborated with them on an exclusive Record Store Day vinyl featuring two new songs inspired by the beer and its ingredients."
---
2.
Castle Island Brewing Co. x Zildjian
Resonant Groove
Legendary drum company Zildjian and Castle Island Brewing Company teamed up in 2021 to put out Resonant Groove, a hazy IPA with a heavy hand of Zappa hops and notes of mango, mint and passionfruit. It was so popular they did an Encore version, this time with "Vic's Secret" hops, in honor of Zildjian's sister brand Vic Firth, for an extra bright, tropical profile.

Adam Romanow, Founder and President of the brewery, felt the synergy right away. "There's such a natural chemistry between beer and music," said Romanow. "Zildjian has been an anchor of the music scene for four centuries… getting the opportunity to work with them was incredibly special, [and] Resonant Groove was a super fun beer to make. We took a fairly classic New England IPA base and layered on top of it a ton of Zappa hops."
---
3.
Forgotten Boardwalk Brewery's St. Vincent-inspired Beer
The Johnny
Forgotten Boardwalk, the music-obsessed Cherry Hill NJ-based taproom, has created a variety of music-inspired beers, including Madam Marie for NJ legend Bruce Springsteen and the boardwalk fortune teller that predicted his fame, as well as an official partnership with The War on Drugs.
If you're familiar with St. Vincent's work, a.k.a. Annie Clark, you're probably aware of her creative multitudes. She seems to take shape in a new way every time she puts out new music. Queer- and women-owned Forgotten Boardwalk paid homage to her excellent storytelling with an annual release as part of a larger series "exploring the many personas of St. Vincent." The Johnny, a tart rosé ale made with strawberries, raspberries, hibiscus and rose petals, is just one iteration. 
"The beer… inspired by St. Vincent is really the marquee of my musical beers," said Jamie Queli, owner and CEO of Forgotten Boardwalk Brewery. "St. Vincent is a shape-shifting, guitar-shredding, musical vixen that is never the same character twice. I developed the beer and named it 'The Johnny' based off of a recurring character on her albums. [It's] a tart rosé ale… modeled after a beverage that Jimmy Hendrix drank in his heyday: Mateus wine. The first release of the beer was meant to complement St Vincent's Daddy's Home." This summer's release is fashioned after Masseducation.
---
4.
Berliner Berg x Esben and the Witch
Dull Gret IPA
We're going a little more indie and international for the next beer with Berliner Berg's Dull Gret IPA, a collaboration between Brighton-born band Esben and the Witch and Berliner Berg, located in, you guessed it, Europe's craft beer capital of Berlin, Germany. The Belgian IPA features spicy cloves, Belgian yeast (what else?) and Slovenian hop "Styrian Wolf," which produces blueberry notes and a complementary bitterness. 
One of the best parts about this beer might be the story behind it—a feminist battlecry in the best way—described by a spokesperson for the brewery: "In 1563, Peter Brueghel painted a vision of an unruly woman leading a female army to pillage hell. She is Dull Gret. This is Esben and the Witch's vision, a call to arms, a tribute to the women out there who dare to go against the grain despite the battles they encounter along the way."
---
5.
Run the Jewels x Collective Arts Brewing
Get It
Collective Arts Brewing and Run the Jewels collaborated on the launch of Get It. Run the Jewels is no stranger to collaborations, with a history of partnerships with Brooklyn Brewery and Beer Kulture at Green Bench Brewing Co. This latest launch, Get It, is a dry-hopped blonde ale made with Citra hops and is described as tropical and fruit-forward with a citrus twist.

Collective Arts was the next obvious choice, as they have a history of celebrating both visual and performing artists among their portfolio, including an Amplified Voices label series featuring artwork that "promotes a sense of hope for a safer and more inclusive future."
---
6.
Misfits x Decadent Brewing Company x Knucklebonz
Fiend Lager
The Misfits once sang of being the fiend club, and now they have their own beer to drink there. Partnering with the music merchandising crew at Knucklebonz and New York-based Decadent Brewing Company, Misfits created Fiend Lager. This music-inspired beer is a "crisp, crushing, chilling" lager at 5.78%, the perfect horror punk show accompaniment. It will launch later this month.
Note: The author has worked with Dogfish Head and Forgotten Boardwalk Brewing in a public relations capacity in the past.
---
Jennifer Henry is a New England-based freelance writer focused on food + drink, travel, wellness, climate, and culture.