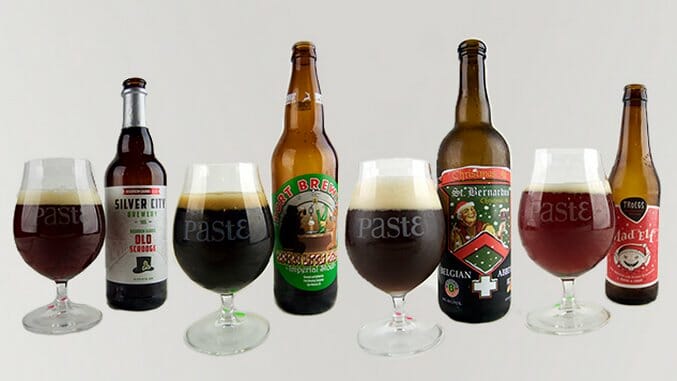 Also check out our Let's Talk Beer Styles: Christmas Beers companion piece, where we dive into the history of Christmas/winter seasonal beer styles.
The first holiday season I was at Paste was in 2014, and we tasted 31 Christmas beers. By the time the holiday season rolled around in 2015, our beer coverage and press contacts had expanded greatly, and we blind-tasted a much more robust 71.
Well, it's another year later. And now we have 104. Dear lord, people.
As these blind tastings continue to grow larger and larger, and we hear a wonderful array of feedback from both breweries and readers, I find myself reflecting on a few things. First, how fortunate we are to have an opportunity to do this. And second, how much I've learned about tasting in the last few years. If I came into Paste with a pretty experienced palate, it's now a palate that has been drilled with military or scientific rigor. Over the course of 2016, I've probably blind-tasted nearly 1,000 beers in the name of "work" … and 247 IPAs in August alone. It's dizzying, or maybe that's just the booze.
The Christmas/holiday beer tasting, though, is one that predates my time at Paste, and it's the tasting that probably means the most to the people who founded this company. As a group of guys who are uniformly passionate about big, malty, boozy, Belgian-y beers, they look forward to this one all year round. So let's get into it.
---
A Note on Beer Acquisition
Like every other blind-tasting at Paste, we acquire these beers in a variety of ways. Most are sent in directly by the breweries when we send out a call for that style. Others we're able to purchase directly because they're available in Georgia. In the end, we're at the mercy of press contacts and seasonal availability. Sometimes, we simply can't get a beer that we know we should have. This year (and last year as well), one of those beers was the great Corsendonk Christmas Ale from Belgium, which for some reason still hasn't arrived in the Atlanta market as I type this. Others, like Scaldis Noel, we were only lucky enough to acquire on the last day of tasting. For whatever reason, perhaps due to lack of demand, the classic Belgians in particular seem to not be arriving in our market as often as they once did.
---
A Note on Beer Selection For This Tasting
There's no other way to say it, so I'll just say it: The beers in this tasting don't make a whole lot of sense. In past years, we limited it only to "Christmas" beers that specifically featured the holiday. That, however, would eliminate the likes of Sierra Nevada Celebration or any of the other beers featuring "snow" and "winter" themes … so we expanded the criteria. Ultimately, I accepted anything with holiday or winter theming, or even specific mentions of them in the beer description. If it was described as being for the holidays or winter on the package, then it's in this tasting. The end result is rather schizophrenic, but we'll be back to tasting a single style next month (non-barrel aged imperial stout!).
---
Rules and Procedure
— There was no ABV limit for this tasting, for obvious reasons. And for the reasons explained above, there was no limit on which styles were acceptable.
— There was no limit of entries per brewery. The beers were separated into daily blind tastings that approximated a sample size of the entire field.
— Tasters included professional beer writers, brewery owners, multiple professional brewers and beer reps. Awesome, style-appropriate glassware is from Spiegelau.
— Beers were judged completely blind by how enjoyable they were as individual experiences and given scores of 1-100, which were then averaged. Entries were judged by how much we enjoyed them for whatever reason, not by how well they fit any kind of preconceived style guidelines. As such, this is not a BJCP tasting.

---
The Field: Christmas/Winter Beers #104-31
The biggest trend I've noticed in these winter tastings for the last few years is that it has become harder for the "standard" winter warmers and Christmas ales to stand out. Sure, many of them are tasty, and serve their purpose, but any time we have a specific style that makes up a vast chunk of the entries, it's harder for one to really catch the attention of the tasters or rise above. There are a whole lot of spiced beers here; brews that taste like ginger snaps or snickerdoodles or oatmeal raisin cookies. A handful of those types of beers were able to rise into the top 30, but a lot of them are here in The Field. And you'll no doubt notice that many of the big Belgian ales and barrel-aged beers made the final, but observe that not ALL of them did. Although objectivity in rating is difficult when comparing so many different types of styles, we tried our best to treat them all alike.
The beers below in The Field are simply listed in alphabetical order, and are thus not ranked. I repeat: These beers are not ranked.
Alaskan Brewing Co. Winter Ale
Bell's Christmas Ale
Bell's Winter White Ale
Boneyard Beer Co. Backbone Chocolate Espresso Stout
Boulder Beer Co. Killer Penguin
Boulder Beer Co. Slope Style Winter IPA
Brew Kettle Winter Warmer
Brooklyn Brewery Insulated
The Bruery 9 Ladies Dancing
Canton Brewing Co. Winter Beer
Capital Brewery Schwarz in a Box
Capital Brewery Winter Skal
Coronado Snowy Plover Winter IPA
Double Mountain Fa La La La La
Drake's Brewing Jolly Rodger Winter Warmer
Elysian Brewing Co. Bifrost Winter Ale
Evolution Southern Pecan Pie Imperial Brown Ale
Fat Head's Holly Jolly Christmas Ale
Fiction Beer Co. Wintry Emblem
Fort Collins Brewery Sled God
Fremont Brewing Co. Bonfire Ale
Fremont Brewing Co. Winter Ale
Full Sail Brewery Session Fest
Full Sail Brewery Shortest Day CDA
Full Sail Brewery Wassail
Full Sail Brewery Wreck the Halls
Golden Road Back Home Gingerbread Stout
Grand Teton Brewing Co. Coming Holiday Ale
Great Lakes Brewing Co. Christmas Ale
Great Lakes Brewing Co. Bourbon Barrel Aged Christmas Ale
Great Raft Brewing Awkward Uncle
Harpoon Brewery UFO Winter Blonde
Heavy Seas Winter Storm
Highland Brewing Co. Cold Mountain
Indeed Brewing Co. Old Friend
Iron Hill Reindeer's Revenge
Karbach Yule Shoot Your Eye Out
Lakefront Brewery Brandy Barrel Spiced Winter Lager
MadTree Brewing Thundersnow
New Belgium Accumulation
New Belgium Anne Francoise
New Holland Brewing Cabin Fever
Ommegang Lovely, Dark and Deep
pFriem Belgian Christmas Ale
Point Beer Snow Pilot
Red Hare Brewing Berry Belgian Waffle
Revolution Brewing Co. Fistmas
Rogue Ales Santa's Private Reserve
Rogue Ales Yellow Snow IPA
Saint Arnold Sailing Santa
Sam Adams Hopflake
Sam Adams White Christmas
Sam Adams Winter Lager
Samuel Smith Winter Ale
SanTan Brewing Co/ Winter Warmer
Schlafly Christmas Ale
Sebago Brewing Slick Nick
Second Self Beer Co. JunIPA
Shmaltz Brewing Hanukkah Beer
Sierra Nevada Christmas Jam
Silver City Brewery Wonderland Winter Lager
Sixpoint Global Warmer
Sixpoint "Old Ale"
Smuttynose Smistletoe
Summit Winter Ale
SweetWater Festive Ale
Third Street Brewhouse Sugar Shack
Troegs Blizzard of Hops
21st Amendment Fireside Chat
Two Brothers Brewing Co. Peppermint Porter
Two Roads Brewing Co. Holiday Ale
Uinta Brewing Rise & Pine
Warped Wing Esther's Little Secret
Wormtown Brewery Blizzard of '78
Yards Poor Richard's Tavern Spruce
Next: The finals! Christmas/winter beers #'s 30-1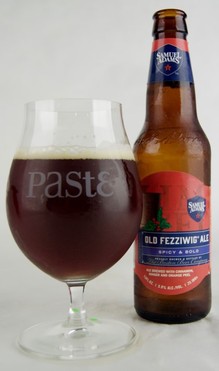 30. Samuel Adams Old Fezziwig
City: Boston, MA
ABV: 5.9%
The verdict: Sam Adams has been making this winter seasonal for a long time … since 2001! Do you realize what an eternity that is in the world of craft beer, especially for a yearly seasonal? Most beers, even successful ones, DO NOT make it that long without getting updated and replaced by changing tastes, and yet Old Fezziwig still manages to keep plugging away. Of all the Boston Beer Co. holiday seasonals (four in total), it's the most old-school and inherently approachable. Crisp grain and caramel maltiness mingles with light dark fruit notes of cherry and raisin, ending in touches of ginger and nutmeg-like spice. Just a touch of sweetness, but dry overall, it's a very drinkable, food-friendly, old-school Christmas ale. This is exactly the sort of beer that is likely to be overlooked by beer geeks because it's been around for so long, and it's exactly why we do these tastings blind. It's an excellent example of what an American beer geek means when he says "Christmas ale."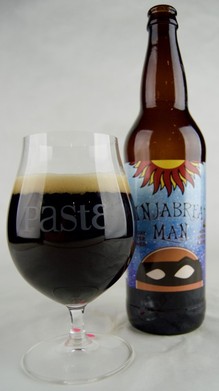 29. Asheville Brewing Co. Ninjabread Man
City: Asheville, NC
ABV: 5.6%
The verdict: This is how you do the "Christmas cookie"-style spiced beer right—it's all about balance of spice intensity, the underlying beer and residual sweetness. ABC knows how to make a porter already, considering that they have a whole yearly line of various "Ninjas," which helps put this beer on a solid footing. You get pronounced cinnamon and gingerbread on the nose, which is sweet, fragrant and inviting—distinctly different from some of the gingery Christmas ales that initially smell like spicy ginger ale/ginger beer. Cocoa notes make for an excellent supporting player, as does the "velvety texture" noted by one score sheet. A kiss of sweetness that avoids being cloying puts it right where it needs to be.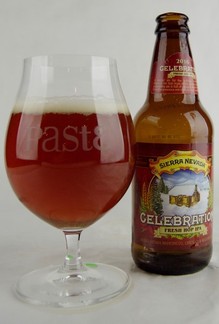 28. Sierra Nevada Celebration Ale
City: Chico, CA
ABV: 6.8%
The verdict: One of the true classics of the genre, Sierra Nevada Celebration is always hanging around the periphery of the finals—it seems like each year it still manages to find its way in, even as the competition gets tougher and tougher. It's hard to believe that this beer has been around since 1981, which at the time made it legitimately one of the very first American IPAs on the market … as a Christmas beer! Weird, right? Tasting our way through 104 beers this year, it was really easy to see the impact of Celebration—many of the other hop-forward winter beers are seemingly made in its image, and you can understand why. Its calling card is an impeccable balance between malt and hops: Toasted bread and light caramel maltiness offers a touch more malt sweetness and body than in most modern IPAs, supported by plenty of grassy, piney, old-school American hops. It's a living representative of craft beer history that is still a pleasure to drink.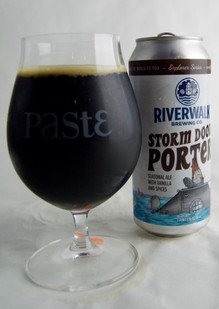 27. RiverWalk Storm Door Porter
City: Newburyport, MA
ABV: 6.3%
The verdict: This winter seasonal was so well-liked by its audience that it's apparently becoming a year-rounder this year, which I suppose will probably disqualify it from future lists. Still, this is another beer that pulls off a tough task: Making something that feels like a "dessert beer" without coming off as either overly sweet or artificial. It's a big porter with cinnamon and vanilla, and the fact that it doesn't immediately taste like horchata is your hint that they knew what they were doing. It's a full bodied, very creamy beer that many of the tasters assumed was a milk stout of some kind, thanks to the creamy, velvety texture. Substantial roast gives plenty of coffee impressions, but the hints of vanilla round it out nicely and add richness and moderate residual sweetness. You really don't see many breweries using vanilla beans this deftly, to the point that they probably have people in the tasting room asking for "more vanilla" in future batches. We like it just the way it is.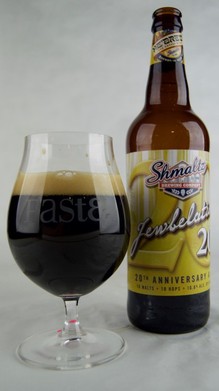 26. Shmaltz Jewbelation 20
City: Clifton Park, NY
ABV: 16.8% (!)
The verdict: Good god. At almost 17% ABV, they're not kidding when they label this one as "strong ale." This beer is a celebration of booziness, and you're going to need a certain ability to tolerate intensity to appreciate it. It has the sort of booze profile that actually starts to contribute bitterness, not from hops but from the alcohol itself. Matching the alcohol presence is the size of the mouthfeel, which is extremely thick and chewy—Sam Adams Utopias-like. Like a dram of potent port wine or sherry, it flows down your throat and you can immediately feel it warming your chest. There's definitely "winey-ness" to this one; a vinous fruity quality that makes it feel like a liqueur or cordial you'd drink out of one of those tiny crystal glasses. If you've just come back in from shoveling your driveway for an hour, this is what you open up. Just make sure you've got like, half a dozen people to share it with.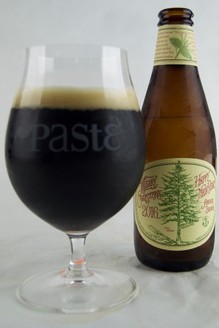 25. Anchor Our Special Ale 2016, aka Anchor Christmas Ale
City: San Francisco, CA
ABV: 6.5%
The verdict: I called Sierra Nevada Celebration a classic of the genre, but if we're talking about American Christmas beers, then Anchor Christmas is the genre. The original American Christmas beer has been around since 1975, and is different in recipe and label every single year. And real talk here: We don't always love Anchor Christmas on a yearly basis, but this is the best damn batch of this stuff in recent memory—certainly since I've been doing these tastings at Paste. This year's beer seems a bit beefed up in terms of malt presence, with a touch of roast and nuttiness that isn't always present. Thanks to the dark, berry-like fruitiness, deep caramelization and very subtle spicing, you might even mistake it for a Belgian Christmas ale, albeit one with considerably cleaner-fermenting yeast. Regardless, Our Special Ale 2016 is an exceedingly well balanced, beautifully executed beer, and Anchor should be proud that they made something like this 42 years after making it for the first time.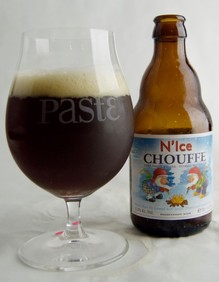 24. Brasserie d'Achouffe N'Ice Chouffe
City: Achouffe, Belgium
ABV: 10%
The verdict: N'Ice Chouffe doesn't quite get the automatic mention that St. Bernardus does when you say "Belgian Christmas ale," but this one is a real sleeper. In fact, the first tasting sheet makes an immediate Bernie comparison: "Like Abt. 12, but subtler, more balanced." The rest of us don't necessarily agree with the "more balanced" portion, because this one is definitely a rich, sweet, slow sipper of a beer. The nose is full of candy-sweet maltiness and fruity esters—think cherry, but also something tarter like Granny Smith apples. On the palate you get more spice and a touch of yeast-driven funk to add complexity, but this is still a very sweet, very rich take on Belgian dark strong ale. Red fruitiness, spice and molasses lead the way. It tastes like the candied fruits you'd get in a loaf of panettone.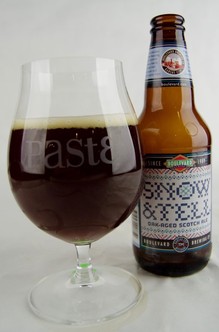 23. Boulevard Brewing Co. Snow & Tell
City: Kansas City, MO
ABV: 6.3%
The verdict: Boulevard deserves props on this one for designing a Christmas beer that reflects hallmarks of the style while still being a unique concept. Snow & Tell is based around the framework of a scotch ale, although at 6.3% ABV, it might be more accurate to call it a "Scottish ale" or an 80/90 shilling. Regardless, the brewery was clearly trying to enhance drinkability by going on the lower side of the ABV spectrum, and the resulting beer still packs a lot of character into a slightly smaller frame. Nutty and bready malt are supported by just a hint of smoke, making one think of a winter fire. There's no actual spicing in this one, but you'd be forgiven for thinking there was, as the malt complexity and slightly spicy hop profile give it a hard-to-place exoticism. Interesting stuff.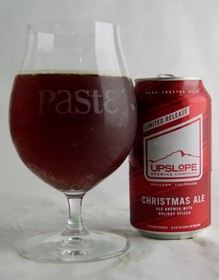 22. Upslope Christmas Ale
City: Boulder, CO
ABV: 8.3%
The verdict: This is an American Christmas beer that I think tends to fly under the radar, but it's also one that has performed well in previous Paste tastings, so I wasn't surprised to see it score highly again. It's a nuanced, more subtle take on Belgian dark strong ale than almost all the other offerings, either from Belgium or the U.S.A. With a slightly lower ABV, Upslope's Christmas Ale offers many of the same elements of flavor you find in the classic Belgians, plus superb balance, with a lower threshold of assertiveness—i.e., it's less likely to put you on your ass after a single beer. Fairly significant residual sweetness and dried fruitiness is tempered by a heavy dose of baking spices and classic Belgian abbey ale esters. It reminds me of nothing so much as a lighter version of Saint Bernardus, and what better compliment can you possibly pay to a Belgian Christmas ale than that?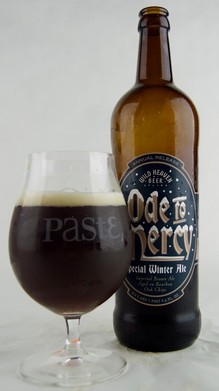 21. Wild Heaven Beer Ode to Mercy Special Winter Ale
City: Avondale Estates, GA
ABV: 8.2%
The verdict: This is a holiday variant of Wild Heaven's year-round coffee brown ale, Ode to Mercy, which is additionally treated with "bourbon-soaked oak chips." This more modest alternative to "barrel-aging" gives the resulting beer a very subtle background structure of wood, vanilla and caramelization that is quite different from the decadent flavors you're usually getting out a barrel. They're a supporting player to the base beer, which features nutty malt and a very pronounced note of spicy coffee. There's something about the coffee character of this particular brown ale—spicy, herbal and a touch vegetal—that is quite distinctive, and something I've not tasted in many other coffee beers. It's definitely the signature flavor, and a unique addition to the coffee beer canon.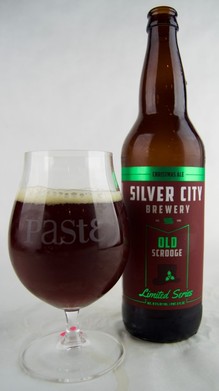 20. Silver City Brewing Co. Old Scrooge Ale
City: Silverdale, WA
ABV: 8.5%
The verdict: This is easily the brewery that made the two most surprising beers of this tasting. We've never had Silver City Brewing in a tasting before, but they showed up in a big way; emphasis on "big." This is the beer that Paste editor Josh Jackson flat-out refused to believe could possibly weigh in at the stated ABV level, because it tastes much bigger. In effect, it feels like an American-style Christmas ale or old ale, amped up in all dimensions. That it does so without getting cloying or artificial is what makes it so good—you get the decadence of malt and fruitcake, plenty of spice and no shortage of residual sweetness, but it never feels like a gimmick. As one score sheet reads: "Right on. Big, boozy, red-cheeked Christmas." Red cheeked indeed.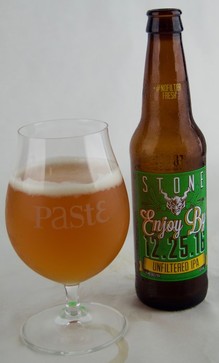 19. Stone Enjoy By 12/25/2016
City: Escondido, CA
ABV: 9.4%
The verdict: It's always a bit easy to forget that Enjoy By weighs in at 9.4%—it's usually such a straightforward hop bomb (and a fairly dry one), that it tends to drink like a considerably lighter IPA rather than a true American DIPA. That's certainly the case on the cleverly named "Enjoy By Christmas," which combines a substantial hop punch with impressive drinkability. This is notable for being an unfiltered batch of Enjoy By, although oddly enough it actually seems a bit less purely hoppy to us in the past—perhaps because there was another beer on the table that day that was also a hop bomb. Regardless, you get some very nice citrus on the nose, but also some more unexpected fruity notes—a berry/pine combination that reminds one of juniper, perhaps in deference to the holiday season? It's also a bit creamier in terms of mouthfeel than we remember, but Enjoy By does tend to change from batch to batch. All in all, an excellent choice if you're looking for hops rather than malt this season.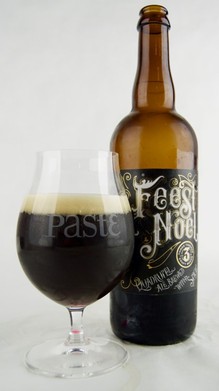 18. Three Taverns Brewery Feest Noel
City: Decatur, GA
ABV: 10%
The verdict: This spiced Christmas Belgian quad from Three Taverns is a perennial contender in these Christmas tastings, and it never fails to perform. Compared to some of the other classic Belgians, it's the spices that stand out on Feest Noel—cinnamon, cardamom and allspice are the holiday trifecta here. Strong carbonation creates a dense, foamy head that takes a long time to dissipate, preserving the aromatics. Booze is well hidden, and although this quad is on the sweeter and richer side, it finishes dry in the manner that you associate with the great Belgian strong dark ales. As we've said in previous years of tasting, it's an American quadrupel that really fits in well alongside the old-school Belgian recipes that inspired it.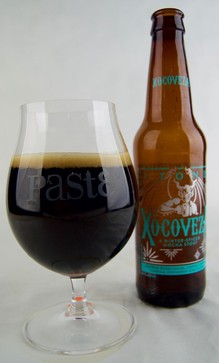 17. Stone Xocoveza
City: Escondido, CA
ABV: 8.1%
The verdict: Oh, hello there again, Stone. Welcome back. As we said last year when this beer also performed well, "Mexican hot chocolate" is a flavor profile that is hardly new or novel in craft beer stouts these days. What sets this particular one apart is the dual quality of both the base beer and the deft use of its spices. There's a really solid stout under the hood of this beer, packed with bittersweet cocoa and oily espresso flavors, which make an ideal framework for fragrant, sweet cinnamon, nutmeg and just a light touch of pasilla peppers that add a bit more dark fruitiness. This beer feels indulgent in a well-earned way. It's not the kind of thing you'd refer to as "sophisticated"—it's wish-fulfillment, crowd-pleasing beer that does so in a genuine way. It may well be the best dark beer that Stone makes all year.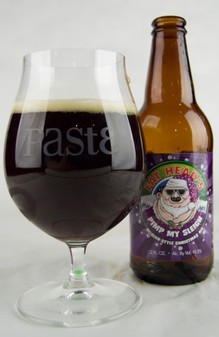 16. Fat Head's Pimp My Sleigh
City: North Olmstead, OH
ABV: 10.5%
The verdict: Fat Head's: Perennially underrated on a national level, perennially raking in awards at GABF and beyond. They're simply one of the Midwest's best breweries in any capacity, and they're the rare brewery that can seemingly do any style well. This is the first beer of its kind we've ever had from them—a spiced Belgian dark strong ale makes for quite a change of pace from the IPAs we've downed from them in the past. This one really revels in the dark fruit aromatics and flavors, with huge notes of raisin and fig. Multiple tasters also went out of their way to note black currants, which was a note unique to this beer. As for the spice, there's definitely some anise/licorice notes happening here, in a beer that is also notable for feeling every bit of its heft—very thick, very creamy. It has the mouthfeel of something you'd be saving for a special occasion.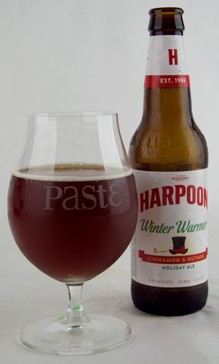 15. Harpoon Winter Warmer
City: Boston, MA
ABV: 5.9%
The verdict: This beer, and Harpoon in general, get a bad rap. No, they don't dominate via Beeradvocate and Ratebeer rankings, and perhaps their lineup can be a little dated at times, but damnit, they still perform well in blind tastings when the style and time are right. Harpoon Winter Warmer was the very first seasonal they ever brewed in 1988, and the fact that it's still being made 28 years later should tell you something. Indeed, this is really one of the beers that helped establish the entire concept of the American Christmas ale/spiced winter warmer. Every taster's notes read almost exactly the same: "Classic-style Christmas ale, gingerbread molasses cookies." From another: "The space between a winter warmer and bigger Christmas beer. Flavorful but easy drinking." It's simply a people-pleaser. Include it in a blind tasting, and we think you'll agree with us.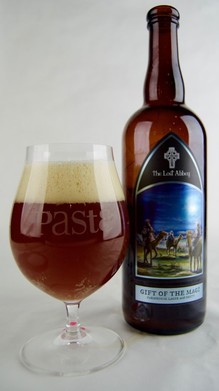 14. Lost Abbey Gift of the Magi
City: San Marcos, CA
ABV: 12%
The verdict: This is, in short, a very unusual beer. They call it a biere de garde, but it's initially fermented with lager rather than ale yeast. The beer is literally brewed with small amounts of frankincense and myrrh in honor of the holiday season, and is then finished with brettanomyces for bottle conditioning. So yeah, that is an odd cocktail. It's big, boozy and assertive, with red fruit and banana notes and a touch of herbal hops. The brett doesn't present with any real "funk" to speak of, given that it didn't perform the primary fermentation, but it does seem as if the pH is a bit lower than normal as a result. The booze is slightly shocking on an initial sip when tasting blind, but the beer improves as it warms and you subsequently reevaluate it. There's actually some unexpected hop bitterness here as well, which helps give it structure and keeps the final beer far from the sweet side—it's actually surprisingly dry, for 12% ABV. It feels calculate to be a very conscious deviation from what people are expecting in "Christmas beer," and it clearly worked on us.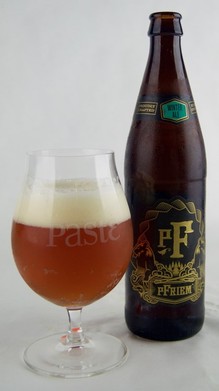 13. pFriem Winter Ale
City: Hood River, OR
ABV: 7.5%
The verdict: How weird is this: The hoppiest beer in this entire damn tasting doesn't say anything about "hops" or "IPA" on the bottle. You've never think so from the name "winter ale," but stick your nose in a glass of this stuff and prepare yourself for a serious hop bomb, and a damn good one too. Big, resinous, green grassy and pine aromatics dominate, chased by orange citrus and a bit of doughy malt. Balance is completely in favor of the hops on this one, though. It actually reminds me favorably of our 2015 American IPA blind tasting winner White Rajah, from The Brew Kettle in Ohio. As it warms up, you get a bit more fruit in the aroma, and a twist of something that might be a bit juicier and more tropical, but definitely don't go into this thing expecting some kind of typical winter warmer or spiced ale. It may not be labeled as IPA, but it was the best overall IPA of this tasting, and that's a fact.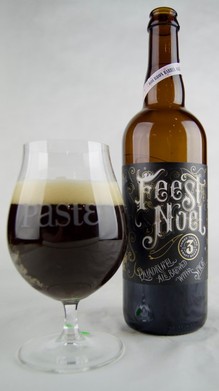 12. Three Taverns Brewery Bourbon Barrel-Aged Feest Noel
City: Decatur, GA
ABV: 10%
The verdict: Last year, it was the standard version of Three Taverns' Feest Noel spiced Belgian quad that stole our hearts, but this year it was the barrel-aged version that surged ahead on the score sheets. As we similarly noted last year, this beer takes on an unusual character when it's bourbon barrel-aged. Unlike so many other BBA beers, it doesn't take on huge dimensions of vanilla, sour oak, caramel, etc. Instead, bourbon barrels seem to amplify the spice profile of Feest Noel in a way that makes some tasters mistake what kind of barrel has been used. Looking at the tasting sheets, some thought this was some kind of red wine barrel-aged beer, while others thought it had more of a brandy character. Regardless, the result is a quad with prickly carbonation that takes on a spicy, almost cola or root beer-like bouquet. Cherry and raspberry-like red fruit and raisin mingle with winey alcohol and pronounced woodiness to create a very distinctive final product. Everything you get on the palate of this beer is festive.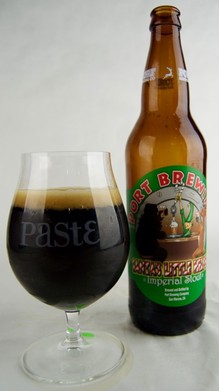 11. Port Brewing Santa's Little Helper
City: San Marcos, CA
ABV: 10.5%
The verdict: I rather admire that Port looks at the "winter seasonal" spot in their lineup and says "Spiced winter warmer? Screw that, let's just make a straight up Russian imperial stout." And that's what Santa's Little Helper is—an honest-to-god imperial stout that isn't barrel-aged, spiced or gimmicky in any way. And it's great! Thick, creamy and roast-forward, it's an excellent example of a classical RIS flavor profile, with heavy coffee, ashy roast, very dark, bittersweet cocoa and a touch of smoke that is supported by moderate-to-high hop bitterness. This is by no means a big, decadent, sweet stout—it stays dry despite the 10.5% ABV and definitely caters to lovers of roast. Writers often cite big, sweet stouts as being ideal to pair with desserts, but this is the beer you actually want for that purpose; a dryer, coffee-like roast with a flavor profile that complements your Christmas cookies but also counterpoints them rather than simply doubling down on sugar.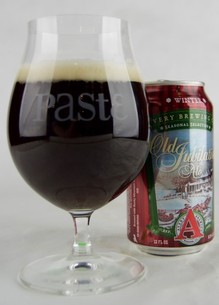 10. Avery Old Jubilation
City: Boulder, CO
ABV: 8.3%
The verdict: This is one of those beers you know is going to be in the tasting every single year, but you never quite know where it will end up in the rankings. It is such a solid concept and execution—a traditional English winter warmer/old ale/strong ale—that it always scores well, but just needs to hit tasters the right way on any given day to really shine. Clearly, that happened this time. It's a beer that is all about malt complexity—as the brewery puts it, "no spices, just a perfect blend of five specialty malts." The English ale yeast (presumably) does contribute some unique fruity and herbal esters, though, to match a wealth of molasses and toffee-driven malt—one of the tasters referred to it as "plummy." It's also in exactly the right ABV range to be warming without being overtly boozy, which makes it probably the most overtly approachable beer in the top 10. It's probably about time to anoint Old Jubilation as a holiday classic on the same level as Miracle on 34th Street, or at the very least, The Christmas That Almost Wasn't.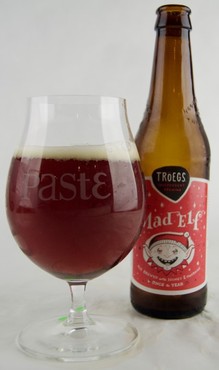 9. Troegs Mad Elf
City: Hershey, PA
ABV: 11%
The verdict: If you're on the East Coast, then you've probably been fairly intoxicated at Christmas thanks to Mad Elf. It came along at a time (2002) when "extreme beer" was much more of a novelty from American craft breweries, and it used that notoriety to claim a prominent spot in the consumer consciousness as a decadent, over-the-top holiday tipple. But the thing is this: It's still quite good, 15 years later. This is, in short, not a subtle beer. It hammers you with booze and with big Belgian yeast esters of banana and clove. Huge red fruit flavors (cherry, plum) and sticky toffee ride a tidal wave of booze and sweet caramel. Multiple tasters' score sheets actually use the word "sticky" on this one, and one contains the word "yowza." It tastes like something you could easily reduce into a syrup for topping a banana split sundae. Which is to say, it tastes like Christmas.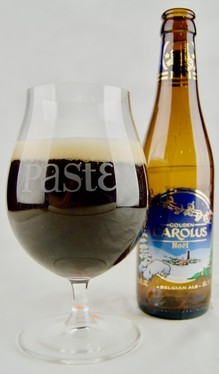 8. Brouwerij Het Anker Gouden Carolus Noel
City: Mechelen, Belgium
ABV: 10.5%
The verdict: Gouden Carolus Van De Keizer was actually our #1 Belgian quad, back when we blind-tasted 32 of them in May, so it's safe to say that we had some fairly high expectations for their Christmas beer. Compared to some of the other classic Belgian Christmas ales in the same style, it differentiates itself in a few interesting ways. The pH is noticeably lower, which gives the dark/dried fruit flavors more of a vinous character than in most of the others, and a correspondingly pleasant touch of vinegar-like tartness on the nose. It's by no means one-dimensional, though, boasting great malt complexity and an expressive Belgian yeast, along with a prominent anise note of spice. It also has more residual sweetness than some of the other classic Belgians, making this one a particularly slow sipper. It's a big, bracing Christmas beer that is best shared.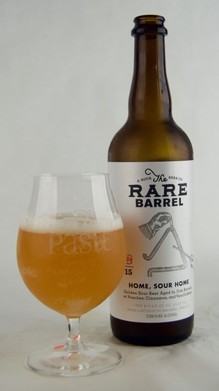 7. Rare Barrel Home Sour Home
City: Berkeley, CA
ABV: 5.8%
The verdict: Genuine sour beers were a rarity in this tasting, so a big thanks to The Rare Barrel for breaking up the field with a very unorthodox entry. This is a pretty darn unusual beer in terms of construction: A "golde sour beer fermented with brettanomyces and lactobacillus, aged in oak barrels with peaches, cinnamon and vanilla bean." That sounds like a combination of elements that could go pretty wrong, but here they go very right. The beer presents with big citrus and stone fruitiness and firm acidity—bright and tart, and with an underlying cinnamon/nutmeg-like spice that is quite subtle compared to the fruitiness and tang of acid. Almost all the tasters correctly identified the stone fruit quality in their tasting notes, although the vanilla bean was more difficult to find. All in all, though, Home Sour Home is a wonderfully complex, session-strength sour that provided an extremely welcome break from spiced beers in this tasting. We expect it would do well in just about any other category as well.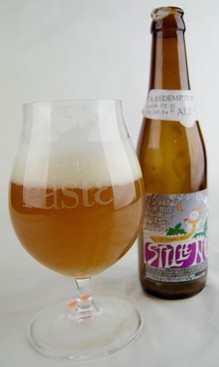 6. De Dolle Stille Nacht
City: Esen, Belgium
ABV: 12%
The verdict: Very fruity, very boozy—that's the De Dolle calling card. Unlike almost all of the other classic Belgian Christmas ales, Stille Nacht isn't a Belgian dark strong/quadrupel (which are more or less the same style, by the way). Instead, it's classified as a Belgian strong pale ale, and as a result the fruit flavors don't run quite as dark/dried as most of the quads. Instead, you get powerful impressions of citrus and especially peach/apricot stone fruit, and a massive nose of sherry-like booze. Medium-high residual sugar makes this beer seem similar to a lighter-colored Gouden Carolus Noel, in the sense that they're both high-ABV Belgian flavor bombs that revel in fruit and booze. It almost demands you allow it to warm up at least a tad after pouring to let those fruit flavors come even further into the forefront.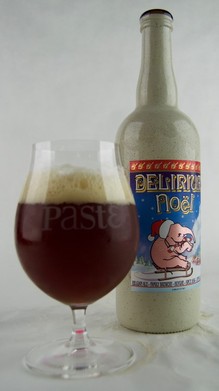 5. Delirium Noël
City: Melle, Belgium
ABV: 10%
The verdict: Compared to the De Dolle or Gouden Carolus Christmas beers that precede it, Delirium Noël is significantly more approachable, drier, and dangerously drinkable. The signature flavor and aromatics here are driven by the spices and especially by the estery Belgian yeast strain, which produces big notes of clove and banana, making the final product smell something like spiced banana bread. There's absolutely no missing that it's a classic Belgian ale if you have any familiarity with this type of yeast profile. Modest booziness and spice (ginger, cinnamon) round out a Christmas ale that actually has a little bit of hop bitterness that is absent in some of the others, which is another factor that helps it stay more dry than most. Our end impression is the same as it was last year: Compared to its big brothers, Delirium is a well-measured Belgian Christmas ale that is more about subtlety than blowing the doors off.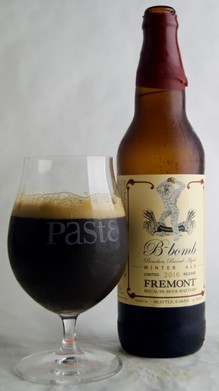 4. Fremont Brewing Co. Bourbon Abominable Winter Ale
City: Seattle, WA
ABV: 14%
The verdict: Last year's #1 beer from Fremont, the aptly named "B-Bomb," had another tremendous showing in 2016. We really can't praise the consistency of Fremont's barrel-aging program enough—their BBA stouts and winter beers are uniformly world class in execution, and they're monsters in any blind tasting setting. This is a huge, boozy beer that brings gigantic flavors to the party, but dare we say it's actually a touch less hot in terms of alcohol than you'd expect, when you see the 14% ABV written on the side of the bottle. It's a beer that falls somewhere in between style boundaries—not an imperial stout (although there's a bit of roast), not a barleywine (not enough hops); just an absolutely massive American strong ale. Dark and dried fruit flavors of prune and raisin are drenched in maple syrup/vanilla sweetness from the bourbon barrels, with whiskey flavors that are assertive but still well-integrated into the whole. "Drinkable" actually appears on one of the taster's score sheets for this 14% ABV beer. We're keeping an eye on that guy.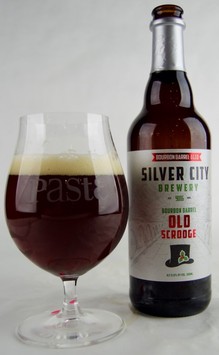 3. Silver City Bourbon Barrel-Aged Old Scrooge Ale
City: Silverdale, WA
ABV: 9.5%
The verdict: I said earlier that Silver City Brewing made the most surprising beers that were entered into this tasting: Case in point, right here. This barrel-aged version of their earlier Old Scrooge Ale is just hugely, massively flavorful. If Paste editor Josh Jackson had trouble believing that their other beer was 8.5% ABV, then he about had a coronary when he saw this one listed at a "mere" 9.5% ABV. It's seriously comparable, in terms of volume of flavor, with the Fremont barrel-aged beer immediately above it, and that beer is ostensibly 4.5% ABV stronger—how they pulled that off, I have no idea. Regardless, this beer is awash with intense dried fruit flavors of dates, prune and raisin, followed up by huge swells of oak, maple and vanilla, and a plethora of baking spices. It's exceedingly Christmasy—you could probably serve it warm in a big crystal punch bowl, except for the fact that everyone at your party would end up blacking out. Festal celebration, indeed.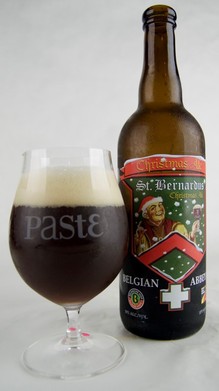 2. Saint Bernardus Christmas Ale
City: Watou, Belgium
ABV: 10%
The verdict: Hello Bernie, our old friend … year in and year out, this previous #1 winner remains one of the very best Belgian Christmas ales. You could set your watches by it, and it's especially impressive to see it continue to do so well on a yearly basis in a blind tasting environment, which removes the unwanted nostalgia factor. From one tasting sheet: "Big, creamy Belgian dark strong. Classic. Bready, with touches of licorice and spice." The hallmark of this particular beer is pretty much always balance. It's not the biggest in terms of ABV, or the most bombastic in terms of flavors, but it's always among the most balanced and perfectly calculated. From another score sheet: "The Real Deal." The bready malt character is to me one of the signatures of both Abt. 12 and St. Bernardus Christmas Ale; a lightly toasted, bread crust-like note that blends seamlessly with Belgian yeast esters less pronounced than say, the Delirium Noel. It's just delicious stuff.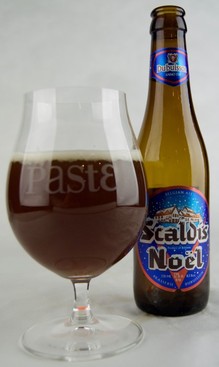 1. Scaldis Noël
City: Leuze-Pipaix, Belgium
ABV: 12%
The verdict: History repeats itself. Last year, Scaldis Noël edged out St. Bernardus, Delirium and a few others to finish at #2, the highest of all the classic Belgian Christmas ales. This year, it dethrones the barrel-aged stuff to capture the overall #1 spot. If I'm going to compare it to any of the other classic Belgians, St. Bernardus is probably the closest example … except it's a bit bigger, bolder and somewhat less balanced. Big, expressive Belgian yeast aromatics of banana and clove are a signature, but there's also plenty of black cherry/brown sugar on the nose as well. Residual sweetness is right in the middle, as is booze—big enough for one of the tasters to describe it in his notes as "Bumble Sized," but still drinkable enough to be on the dangerous side. On the palate, you get some nutty/toasted malt, toffee and tons of dark fruit, with plenty of spice: This is a beer with a high volume of flavor for folks who like to live large. It would probably age really well … but that's assuming you were ever able to save any for next Christmas, when it drinks perfectly well when fresh. This year, when you have friends over for Christmas, open up a few bottles of Scaldis Noël.

---
Jim Vorel is Paste's resident craft beer and whiskey guru. You can follow him on Twitter for much more drinks coverage.