This list is part of a Paste series of bottom shelf liquor and craft beer style tastings. Click here to view all entries in the series.
There was a time when pumpkin ales, as a phenomenon, WERE the "seasonal beer" market in this country. As the second great wave of craft beer expansion gathered steam in the 2000s, they were the first "seasonal beer style" encountered by many drinkers who were discovering better beer for the first time, myself included. And they promised an enjoyable, easygoing, accessible beer style that just so happens to coincide in many occasions with the American sweet tooth—a market that few food and drink-makers have ever lost money pandering to. All of these factors made pumpkin beer the undisputed king of seasonal beer styles, where it remained until the last few years.
Now, however, it would seem that things have begun to change. The 2015-2016 beer season was the first suggestion that perhaps the enthusiasm for pumpkin beer was now trending downward, rather than up. You can find a number of stories of increasing amounts of pumpkin beer ending up rotting on the shelves after the season was over, and breweries significantly decreasing pumpkin beer production. Producers such as Samuel Adams, who have had numerous pumpkin offerings in the past, streamlined their portfolio into a single pumpkin beer. "PSL" (pumpkin spice latte) mania may still be going fairly strong, but pumpkin beer's best days may now be behind it.
As much as I wish we could say this was upsetting news to us at Paste … we really can't. Because honestly, we're pretty tired of pumpkin beer as well, and with good reason! If you read these blind-tasting pieces regularly, then you know they've been going on for a few years. But pumpkin beer? That particular tasting has been going on for longer than "a few years." We've done it every single year since 2011. It's the longest-running tasting that Paste has ever done. Hell, the pumpkin beer tasting predates my own employment at Paste by three years. And we've even managed to increase the size this year to the make it the biggest pumpkin beer tasting ever, not because the style is expanding but because our press list continues to do so.
So with that said, 2017 may be our farewell to pumpkin beer. Barring unforeseen circumstances—perhaps Donald Trump will choose pumpkin beer as the official beer style of America, leading to massive boom in right-wing beer buying—next fall we'll wave farewell to this particular tasting and fill it with something we haven't already done … 7 times in the past.
So let's get to it! One last trip to the pumpkin patch! The final winner of the BEST PUMPKIN BEER title!
---
A Note on Beer Acquisition
As in most of our blind tastings at Paste, the vast majority of these pumpkin beers were sent directly to the office by the breweries that choose to participate, with additional beers acquired by us via locally available purchases and the occasional trade. We always do our best to reach out to breweries we're aware of that make exemplary versions of particular styles, but things always do slip through the cracks. We apologize for a few significant omissions that we couldn't acquire, either due to seasonality or market shortages. There will never be a "perfect" tasting lineup, much as we continue to try.
---
Rules and Procedure
– This is a tasting of pumpkin beers, largely determined by how the breweries chose to label their products. To be admitted, it had to be labeled as pumpkin/squash beer, presumably with spices. There was no specific ABV limit. When in doubt, we simply allow a brewery's marketing to define a beer's style, and expect them to stick to the designation they've chosen.
– There was no limit of entries per brewery, as we didn't want to handicap the breweries that choose to specialize in pumpkin beer. The beers were separated into daily blind tastings that approximated a sample size of the entire field.
– Tasters included professional beer writers, brewery owners, brewmasters and beer reps. Awesome, Paste-branded glassware is from Spiegelau.
– Beers were judged completely blind by how enjoyable they were as individual experiences and given scores of 1-100, which were then averaged. Entries were judged by how much we enjoyed them for whatever reason, not by how well they fit any kind of preconceived style guidelines. As such, this is not a BJCP-style tasting.
---
The Field: Pumpkin Beers #s 63-21
It's no secret that there are some less-than-pleasant offerings within the realm of "pumpkin beer." During the course of this tasting, we had a good number of sickly sweet or artificially flavored entries, which are almost never going to do well in a Paste blind tasting. On the better side of pumpkin beer, we experienced the usual wide range of approaches, from traditional spice-driven pumpkin ales to the boozy imperial variants and the outliers: Pumpkin porters, imperial stouts, Belgian ales and sours. Some of our favorite usual suspects made the top 20, while a few of them just missed the cut. Here's the top two-thirds of the entries.
As always, I'll remind you that the beers listed below are simply presented in alphabetical order, and as a result are not ranked. I repeat: These beers are not ranked.
Avery Brewing Co. Rumpkin
Blue Ghost Brewing Co. No Noggin Pumpkinhead Ghostman Ale
Bond Brothers Beer Co. Everything Nice
Breckenridge Brewery Nitro Pumpkin Spice Latte
Brewery Vivant Pumpkin Tart
Brooklyn Brewery Post Road Pumpkin Ale
The Bruery Midnight Autumn Maple
D9 Brewing Co. Latte Pumpkin
Deep River Brewing Co. Pumpkin Pie Porter
Devil's Backbone Brewing Co. Pumpkin Hunter
Dogfish Head Punkin
Dry Dock Brewing Co. Half Moon Pumpkin Ale
Due South Brewing Co. Isle of MaGourdo
Elysian Brewing Co. The Great Pumpkin
Elysian Brewing Co. Night Owl Pumpkin Ale
Foothills Brewing Co. Cottonwood Pumpkin Ale
4 Noses Brewing Pump Action Imperial Pumpkin Ale
Four Peaks Brewing Pumpkin Porter
Heavy Seas Beer Great'ER Pumpkin
Hi-Wire Brewing Sour Pumpkin Ale
Iron Hill Brewery Pumpkin Ale
Lakefront Brewery Pumpkin Lager
New Belgium Atomic Pumpkin
NoDa Brewing Co. Gordgeous
pFriem Family Brewers Pumpkin Bier
Rocket Republic Brewing Co. SteamPumpkin
Rogue Ales Pumpkin Patch Ale
Samuel Adams 20 Pounds of Pumpkin
Southampton Pumpkin Ale
Southern Tier Brewing Co. Pumking
Southern Tier Brewing Co. Cold-Press Coffee Pumking
Southern Tier Brewing Co. Rum-Barrel Pumking
Southern Tier Brewing Co. Warlock
Station 26 Brewing Co. Scott's Imperial Pumpkin
Swamp Head Brewery Pumpkin Spice Latte (white stout)
10 Barrel Brewing Co. Jamaican Me Pumpkin
Two Roads Brewing Co. Roadsmary's Baby
Two Roads Brewing Co. Roadsmary's Other Baby
Wicked Weed Xibalba
Wicked Weed Barrel-Aged Xibalba
Wolf's Ridge Brewing Pi
Wolf's Ridge Brewing All The … Pumpkin Spice Latte
Wormtown Brewery Fresh Patch
Next: The finals! Pumpkin beers #20-1
The Final: Pumpkin Beers #20-1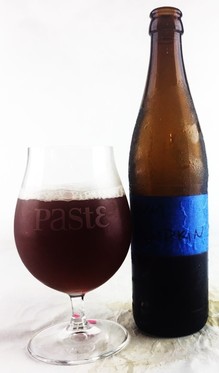 20. Station 26 Rum Barrel-Aged Imperial Pumpkin
City: Denver, CO
ABV: 9.8%
The verdict: How did the brewing industry manage to come to such a universal consensus about pumpkin beers and rum barrels, anyway? I mean sure, "spices are compatible with rum" and everything, but the sheer number of pumpkin beers that go into rum barrels, compared to every other beer style is downright odd. The worse examples have a tendency to be unbearably, undrinkably syrupy or saccharine, but Denver's Station 26 pulls off a beer that skirts those boundaries without succumbing to them. This one is very boozy, a veritable pumpkin barleywine or old ale, rich with dark/dried fruit notes (figs, prunes) and molasses-like caramelization. Dark, sweet and intense, but it ultimately falls (barely) on the right side of the "could you drink an entire glass of this?" divide.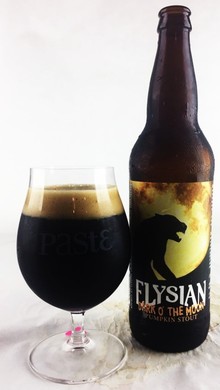 19. Elysian Brewing Co. Dark 'O The Moon
City: Seattle, WA
ABV: 6.5%
The verdict: Elysian is one of the few breweries in this country that can legitimately refer to themselves as "pumpkin beer specialists"—they know what they're doing, and they do it well on a yearly basis. In this year's tasting, they sent in four entries, and almost had three of them in the top 20, with the classic Night Owl just barely missing the cut. As in previous years, we seem to be drawn to their darker pumpkin beer offerings most, starting with this "pumpkin stout." It's funny to think of that as novel, but given that so many breweries instead call their dark fall seasonal a "pumpkin porter" instead, it actually sort of is.This year's iteration of Dark 'O The Moon strikes us as more roasty and assertive than it has been in the past, with a strong charge of lightly bitter, French roast-esque coffee that is nicely complimented by a cinnamon-driven spice profile—one of the tasters actually wrote "cinnamon brown sugar Pop Tart," by way of complimenting it. It feels like it has a bit more in common with the brewery's Punkuccino Coffee Pumpkin Ale than it has in the past, but that's certainly not a bad thing, as we love us some Punkuccino.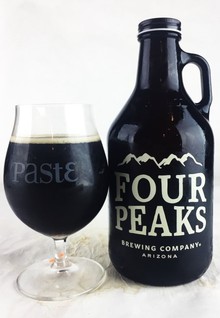 18. Four Peaks Double Pumpkin Porter
City: Tempe, AZ
ABV: 8.3%
The verdict: The most impressive thing about this "double porter" out of Arizona is how deceptively it hides its heft—this could be some seriously dangerous stuff, if you were tackling a growler of it alone on Halloween night. It's right down the middle in terms of the pumpkin porter profile: very light roast and more of a toasted/nutty malt character, with judicious and balanced spice notes that aren't too wild or individualistic. None of the spices are popping out in a dominant way, and they're well incorporated into the whole. The shock is in seeing that the beer is 8.3% ABV, as it could easily pass for around half of that. That is some well-hidden booze. It's a well-balanced, well-made beer, but be careful with this one.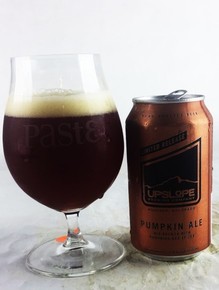 17. Upslope Pumpkin Ale
City: Boulder, CO
ABV: 7.7%
The verdict: Upslope certainly deserves some credit for consistency—they have a good handle on the general concepts of "pumpkin ale" and "Christmas ale," and their offerings in both regularly find their way into the top tier of our blind tastings. That's no small feat, as not many breweries manage that kind of consistency on a yearly basis in these spice-driven tastings. This pumpkin beer is one that doesn't allow the adjuncts to completely take over the proceedings—underneath the hood it drinks like a big, malty amber ale of the sort that you rarely see in the craft beer market these days. Toasty, with some chewy malt and moderate caramel, it feels perhaps a bit bigger than it is, with spices that err on the side of subtlety. Solid all around, and a good choice if you prefer pumpkin beers that aren't all about the spice.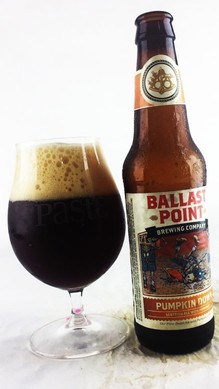 16. Ballast Point Pumpkin Down
City: San Diego, CA
ABV: 5.8%
The verdict: Ballast Point made an intuitive decision when they decided to use a malt-driven (but still sessionable) Scottish ale as the base for their pumpkin beer. It delivers light notes of caramel and toffee, which combine with a moderate spice profile to suggest something that is distinctly "cookie"-esque—moderate residual sugar and hints of dried fruit suggest snickerdoodle-meets-oatmeal-raisin, without being too cloying about it. Nice, well-balanced and easy to enjoy.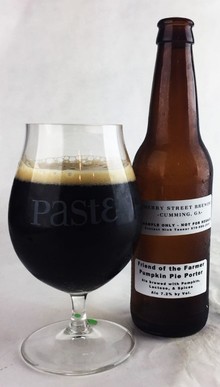 15. Cherry Street Brewing Co-Op Friend of the Farmer Pumpkin Pie Porter
City: Cumming, GA
ABV: 7.2%
The verdict: We once referred to Cherry Street as Georgia's most underrated brewery, and they're certainly still in that conversation—as a co-op, they produce a very wide array of beers, and many of them are very good. This one is basically an imperial or strong porter, touched up with the usual array of spices, although we're predominantly getting cinnamon and clove. Everything is well integrated here, with a touch of ashy roast and cocoa nib-like nuttiness. It's fairly dry, which is nice in a field with so many sweet beers, with a use of spices that is deft rather than bombastic. Certainly an above-average example of what has become a stereotypical subset of pumpkin beer in "pumpkin porter."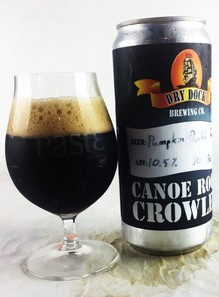 14. Dry Dock Pumpkin Double Porter
City: Aurora, CO
ABV: 10.5%
The verdict: Like I said before, it almost always seems to be porter or imperial porter, when it comes to pumpkin beers—perhaps the alliteration is just impossible to resist? This one is certainly a beast, although for being a barrel-aged stout pushing 11% ABV it's not overwhelmingly boozy. Very big, thick and velvety in texture, it brings moderate roastiness and a big charge of spice, with cinnamon leading the way, complementing moderate bourbon, toffee and oak. Tasters also got hints of dark fruit and black licorice, but more than anything, it's the decadent mouthfeel that makes this one stand out.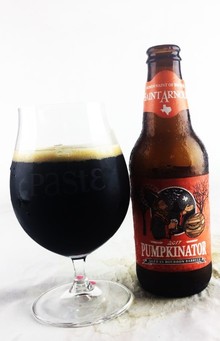 13. St. Arnold Brewing Co. Barrel-Aged Pumpkinator
City: Houston, TX
ABV: 12.5%
The verdict: The non-barrel-aged version of this pumpkin imperial stout just took home GABF gold a week ago, and to tell the truth that may be our favorite version of this well-loved beer out of Houston. But regardless, St. Arnold bucks trends in a couple of different ways by making this imperial stout rather than porter, and by using bourbon barrels instead of the ubiquitous run barrels. Truth be told, the barrel character doesn't come through in a really aggressive way here, nor does the booze—it is insane how well the 12.5% ABV is hidden. Put this in a blind tasting along with some other high ABV pumpkin beers, and you will be astounded by how easily it drinks in comparison, because it just comes off as a really well-made strong porter or stout. Also of note: A very nice, modest (but notable) backdrop of spice notes, in which ginger sticks out in a pleasant way.

12. Schlafly Barrel-Aged Pumpkin Ale
City: St. Louis, MO
ABV: 9.5%
The verdict: Speaking of GABF medals, the regular version of Schlafly's popular pumpkin ale just took home silver at this year's awards, which we clearly agree with—it's beating its barrel-aged variant on our list as well. With that said, BA Schlafly Pumpkin Ale is just outside the top 10, and it's fascinating to see what a different beer it is from the classic Schlafly Pumpkin Ale mold. It's probably not fair to compare them directly, as the BA variant is 1.5% ABV stronger, but the time this one spent in a barrel makes it a significantly different beer. Whereas the classic Schlafly is usually fairly spice-driven, the spices fade a bit into the background here while its richness and malt body are amplified—it comes out guns blazing with big, caramelized flavors that remind one of brown sugar, maple and even sweet potato. We'd call it Thanksgiving dinner beer, but it's more like post-Thanksgiving dinner beer.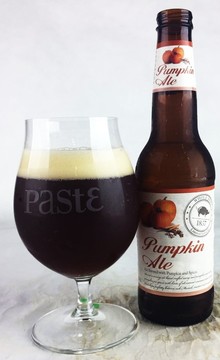 11. Stevens Point Brewery Whole Hog Pumpkin Ale
City: Stevens Point, WI
ABV: 7.5%
The verdict: This beer does well every single year, and there's no mystery as to why—it's a consummate crowd-pleaser for the pumpkin spice fans in the audience. It regularly delivers one of the most pleasing noses in this blind-tasting, provided you can deal with the sheer volume of it, because nothing about Whole Hog is subtle. It's a straight-up blast of pumpkin spice (especially sweet, toasted cinnamon), but its strength lies in making those spices seem sweet and palatable rather than acrid or astringent. Don't necessarily look for complexity here, although it does feature just enough malt balance to lay a foundation for all the spices. But if what you really love during the fall season are pumpkin spice candles, then this beer is one you can't help but seek out. It might be the king of the spice-driven pumpkin ales.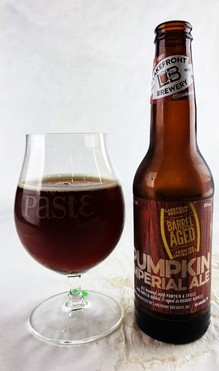 10. Lakefront Brewery Brandy Barrel-Aged Pumpkin Ale
City: Milwaukee, WI
ABV: 13.4%
The verdict: Lakefront's flagship pumpkin beer of the fall season is a fairly reliable pumpkin lager, but this amped-up ale is where the real action can be found. The brandy barrel is a nice nod to Wisconsin itself, a land where "old fashioned" cocktails imply brandy bases rather than whiskey, thanks to the native Germans. And boy, how the booze shows up in this one—yowza. Unlike some of the other beers on this list, which we've praised for hiding their ABV well, this one revels in it. It's quite sweet, and very rich without being cloying—one immediately picks up on the oak and spirit barrel influence, which makes that richness feel more "earned" than it does in some of the artificially flavored pumpkin ales. Waves of dark and dried fruit notes wash over the palate, along with vanilla and what one taster noted as "maple oatmeal." It's a powerful, heady brew to be sure—a cordial to toast the return of the kids at the end of a night of trick 'r treating.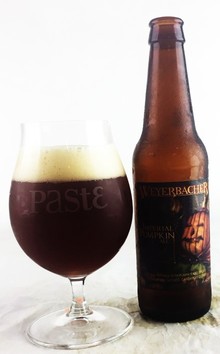 9. Weyerbacher Brewing Co. Imperial Pumpkin Ale
City: Easton, PA
ABV: 8%
The verdict: You have to give it to Weyerbacher—not many breweries make the same pumpkin ale for 12 years and find it still consistently landing among the top spots in blind tastings. Weyerbacher's simply named Imperial Pumpkin Ale is just a classic of the genre, no doubt about that. It has everything you'd expect it to have: Moderate residual sweetness that amplifies a toasty malt backbone, segueing into a pretty assertive profile of spice, in which ginger is a prominent note. It sort of has some "gingerbread cookie" to it, actually, and that ain't a bad thing. It's exactly the kind of beer that most people would describe if they were told to explain the flavor profile of "pumpkin ale."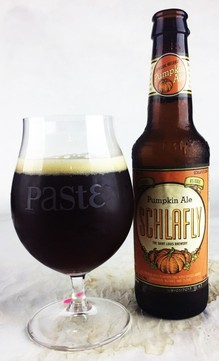 8. Schlafly Pumpkin Ale
City: St. Louis, MO
ABV: 8%
The verdict: Pumpkin ale was never really my jam, once I started delving deeper into the world of craft beer in the late 2000s, but living in Central Illinois there was always one pumpkin ale for which I'd make an exception: Schlafly's. This beer is the model of consistency and dependability, which is something you could also say for Schlafly as a brewery. Like the Weyerbacher above it, Schlafly Pumpkin Ale is very much in the mold of what the consumer expects "pumpkin beer" to taste like, but it's simply better balanced and executed than the majority of its peers. Spice-forward, with sweet (and authentic-smelling) notes of cinnamon and gingerbread balanced on a body of toasty malt and light caramel, it's a timeless profile. You'll never go wrong with this one.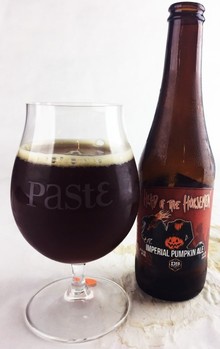 7. D9 Head of the Horseman
City: Cornelius, NC
ABV: 9.6%
The verdict: Another beer that seems to make the finals every year in this tasting is this entry from D9, an imperial pumpkin ale that isn't afraid to flex its muscles, while still retaining a degree of balance at the same time. It's somewhat less spice-forward than the previous few beers, instead leaning on its higher ABV and malt body. To quote one score sheet: "Malty, biscuity, slightly sweet, with maple, booze and touches of spice." It's a nice, balanced take on the style that successfully juggles its own ABV and spice bill without throwing in too strongly on any one facet of its flavor profile. Everything is nicely rounded off to meet in the middle—no rough edges here. That kind of balance is worth a lot.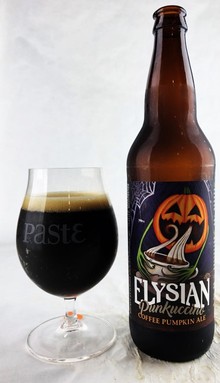 6. Elysian Brewing Co. Punkuccino Coffee Pumpkin Ale
City: Seattle, WA
ABV: 6%
The verdict: Every year, this ends up being our favorite of Elysian's fleet of pumpkin ales—it's just such a great crowd-pleaser to anyone who loves coffee beer. Which is not to say it's the most complex offering; Punkuccino is more like the idealized pumpkin spice latte that you've never actually been able to find in the wild. The coffee is very expressive but never acrid, and the residual sweetness, while present, is held firmly in check. Where it really asserts itself is in a big charge of spice, which is very much led by cinnamon, in a way that a film critic would probably describe as "obvious," but undeniably effective. If you like coffee, and you like spice, then this is simply a very easy beer to love, and one that packs an impressive volume of flavor into 6% ABV.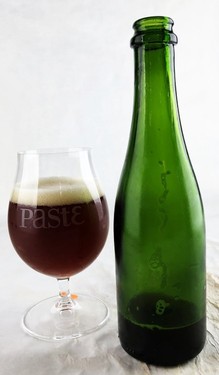 5. Two Roads Brewing Co. Roadsmary's Stepchild
City: Stratford, CT
ABV: 9.3%
The verdict: This is a point we've been repeatedly making for a while now, but it bears repeating: Two Roads has developed a really solid sour program, and they deserve some serious acclaim for it. It was true when they placed two beers in the rankings of our blind tasting of 143 wild ales, and it's true now with this sour pumpkin ale. Roadsmary's Stepchild comes off as something akin to a Flanders red-type sour, with punchy acidity and bright red fruit flavors, which are buttressed by hints of spice. Funky and moderately tart, this beer was also aged in rum barrels for a year, but instead of syrup or boozy influences, it picks up funky complexity while remaining lighter of body.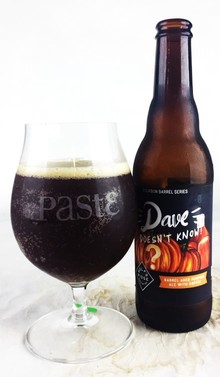 4. Wolf's Ridge BBA Dave Doesn't Know
City: Columbus, OH
ABV: 9.5%
The verdict: This is one of those beers that begs the question of how much "pumpkin" or even pumpkin spice are necessary to qualify in the world of pumpkin ale, but it's delicious all the same. Tasting it blind, you'd probably label it something along the lines of "imperial coffee ale," with the added benefit of some bourbon barrel aging. What that gives us is a strong, sweet, somewhat bracing beer that chooses a few signature flavors and then cranks them up to 11. In some cases that's the kind of thing we'd criticize a beer for, if it managed to overshadow the final product or make it difficult to drink, but in Dave Doesn't Know, it works. Like sweetened ice coffee with hints of spice, caramel and vanilla, it's a decadent treat.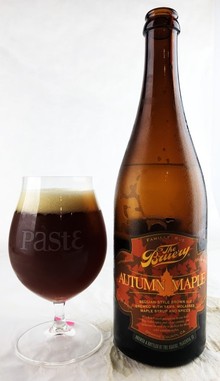 3. The Bruery Autumn Maple
City: Placentia, CA
ABV: 10%
The verdict: This yam beer gets an annual pass as far as "pumpkin ales" are concerned, considering that it's spiced and gunning for the same market. As we noted in last year's tasting, it seems like the Belgian aspect of Autumn Maple has come forward more strongly as of late, and we're digging it. In a sea of amber ales and porters, this one comes off like a huge, rich Belgian quad—why doesn't anyone else do their pumpkin beer this way? You get a ton of dark fruit (blackberry, fig) and dried fruit (raisin) one the palate, chased by assertive booziness and hints of phenolic spice … and actual spice, of course. It's big enough that they could probably pass it off as brandy or rum-barrel aged without even having come in contact with a barrel. That might be a bit too boozy for some, but it's just right for your brandy snifter and a 1 a.m. Halloween night movie.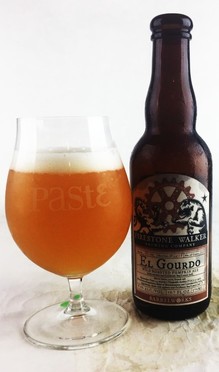 2. Firestone Walker El Gourdo
City: Paso Robles, CA
ABV: 5.8%
The verdict: One of the things we love about El Gourdo is the way it flies in the face of even the other pumpkin sours in the tasting—rather than aping the amber ale base of seemingly every other one, the folks at Firestone built El Gourdo from the ground up. It's one of the few beers in the tasting where you're likely to pick up on a flavor that is distinctly gourd-like, with an earthy, lightly roasted and somewhat herbaceous quality that is perfectly melded into a moderately tart, very funky wild ale. Touches of white wine, citrus and pumpkin spice are all present, but subtle—in some ways, El Gourdo is a collection of flavors that sound like they might quite work out on paper, but it's more than the sum of its parts. Dare we say, it's even on the refreshing side—and how often do you get to say that about pumpkin beer?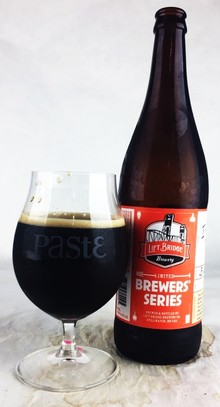 1. Lift Bridge Imperial Pumpkin Porter
City: Stillwater, MN
ABV: 11.5%
The verdict: Minnesota's Lift Bridge is a brewery that regularly produces top-tier barrel-aged beers but continues to fly under the radar outside the Midwest—why, we can't say. But they know their way around a bourbon barrel-aged imperial stout, and this beefed up pumpkin porter is no different. This beer simply has it all: rich caramelization; molasses-like sweetness; jammy dark fruitiness; prominent (but tactful) booziness; and of course, a deft use of spice. The bourbon barrel-aging contributes subtle notes of oak and vanilla custard-like sweetness, while the mouthfeel is full, viscous and mouth-coating. Forget October; this would get barrel-aged beer geeks excited at any time of year.

---
Jim Vorel is a Paste staff writer and resident beer guru. You can follow him on Twitter for much more beer content. https://twitter.com/JimVorel