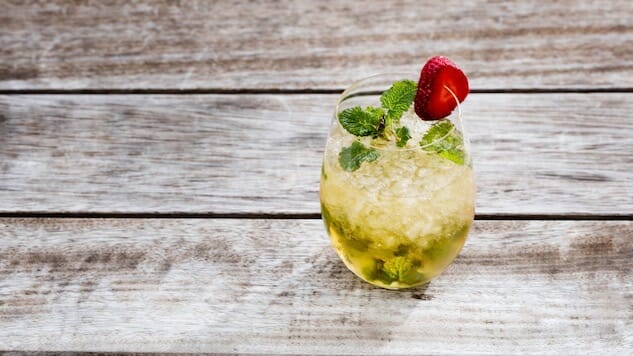 We all know the Mint Julep is the traditional cocktail of the Kentucky Derby. But those Derby parties can be all-day affairs, and you have months of warm weather ahead of you beyond Derby Day. You're going to need a variety of refreshing bourbon cocktails if you're going to make it through spring. Here are a few more bourbon-based cocktails that aren't the Mint Julep to sip while you're rocking that seersucker this season.
Bourbon County Swizzle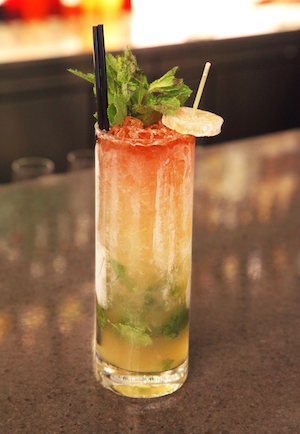 Ingredients
1.5 oz. Bulleit bourbon
1 oz. lemon juice
3/4 oz. simple syrup
1/4 oz. ginger syrup
3 mint sprigs (take off leaves, remove stems)
Directions: Combine ingredients and dry shake. Strain into a highball glass and top with crushed ice and swizzle, keeping the mint on the bottom and top with more crushed ice. Garnish with 3 dashes each of Angostura & Peychaud's bitters, a mint sprig, and candied ginger.
---
Bourbon (un)Milkshake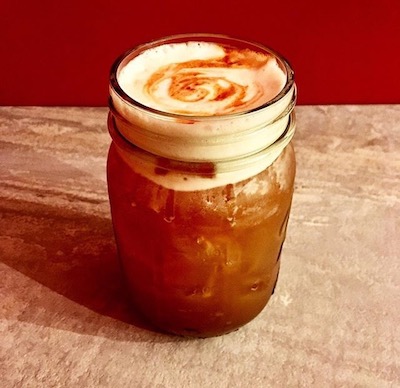 Recipe and photo by Jim Sabataso, The Palms Restaurant, Rutland, VT
Ingredients
1 oz. Bulleit bourbon
1/2 oz. dark créme de cacao
1/2 oz. Heering Cherry
1/2 oz. Bénédictine
2 oz. cold brew coffee
1 oz. aquafaba*
Club soda
Directions: Dry shake ingredients (except soda) for 10 seconds. Add ice, and shake again for another 15 seconds. Strain over fresh ice into a mason jar. Top with a splash of club soda, and five dashes of Angostura. Serve with a straw.
*Aquafaba is the viscous liquid byproduct of cooking chick peas or other beans or legumes. It is a quick and simple vegan substitute that thickens cocktails similar to egg. It's also the liquid found in canned beans. Chick pea aquafaba works best for cocktails.
---
The Mumm Julep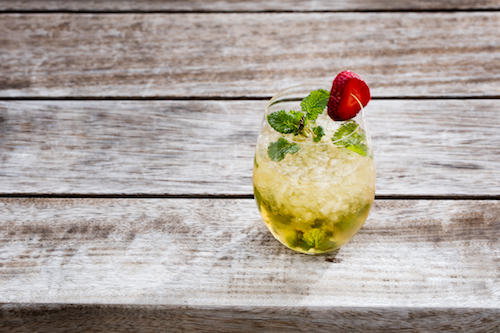 Ingredients
3 oz. G.H. Mumm Champagne
1/2 oz. Old Scout Bourbon
1 sugar cube
6-7 mint leaves
Directions: In a julep tin or rocks glass, add mint leaves and sugar cube and a splash of water. Gently press mint leaves with a muddler to release oils. Add bourbon, Champagne, crushed ice and stir gently. Top with more crushed ice to mound. Garnish with a mint bouquet and strawberry.
---
Bulleit Kentucky Tea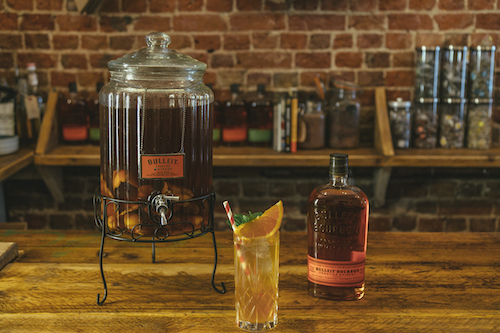 Ingredients
1 750ml bottle Bulleit Bourbon (1 part)
Combination of dried fruits, orange peels, cinnamon, and ginger (2 parts)
Black tea, brewed (2 parts)
2 bar spoons of lemon juice
2 bar spoons of simple syrup
Directions: Infuse bourbon in a large container with dried fruit and tea for 48 hours. Pour infusion into an ice-filled highball glass with lemon juice and simple syrup. Garnish with a mint sprig and orange wedge. Makes about 20 servings.
---
Blade and Bow New Fashioned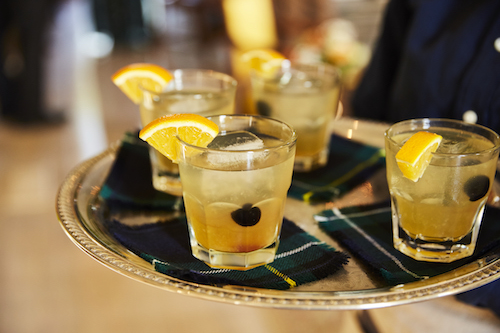 Ingredients
1.25 oz. Blade and Bow Kentucky straight bourbon whiskey
1.5 oz. simple syrup
3/4 oz. St. Germain
1 orange slice
Directions: Muddle orange slice in an old fashioned glass, and remove orange rind. Add ice, remaining ingredients, and stir. Top with a splash of soda. Garnish with an orange slice and cherry.
---
Jim Sabataso is a writer, journalist, and bar director for The Palms Restaurant Group in Rutland, Vermont. Follow him on Twitter and Instagram @JimSabataso.