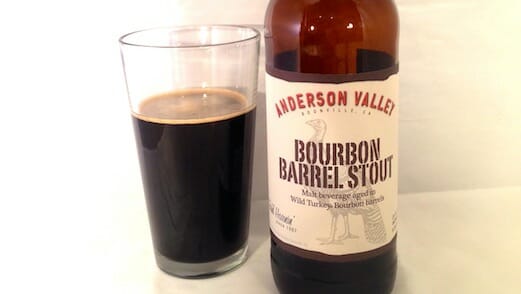 You could make an argument that everything is better with bourbon. Football games: better with bourbon. Ribs: better with bourbon. A walk in the park, a staff meeting, a Parent-Teacher conference: all better with bourbon. Frosted Mini Wheats…Okay, maybe the bourbon rule doesn't apply to everything, but certainly, some beers benefit from an injection of whiskey. The stout, for instance, is a perfectly fine beer on its own, but age it in whiskey barrels and you've got something complex and thought provoking.
Take Anderson Valley's Bourbon Barrel Stout, a barrel aged beer that's beautifully understated and downright sessionable.
The California-based Anderson Valley takes their beloved Barney Flats Oatmeal Stout (one of the finest examples of that style) and packs it into used Wild Turkey barrels for three months. The beer was first introduced as a limited edition run in 2012, but the experiment was such a success, Anderson Valley expanded the beer's production and distribution last summer. They're also looking to age more of their beers in Wild Turkey Barrels.
The stout pours dark black with a thin, cream colored head and smells just a little bit like chocolate and bourbon. The nose makes perfect sense, because the beer tastes a little bit like chocolate and bourbon. Emphasis on "a little bit." There's nothing overwhelmingly powerful about this beer. The sweet, malty notes are understated. Instead of being a meaty stout, it has a thin, slightly creamy body. And the bourbon and oak character are restrained, coming in on the tail end of the sip adding slightly sweet, slightly sharp notes. Let the stout sit and warm and the malt and whiskey character gets a bit more pronounced, but still, we're talking about a surprisingly mellow whisky vibe here. It's not even incredibly boozy, which is a nice change from most barrel-aged beers on the market, which tend to make me goofy and philosophical after a single bottle.
If Anderson Valley's Bourbon Barrel Stout were any boozier, it would be dangerous, because I find myself unable to stop after just one. Two would be better. No, three. Yep. Three.
Brewery: Anderson Valley
City: Boonville, Calif.
Style: Bourbon Barrel Stout
ABV: 6.9%
Availability: Year round, 22 ounce bottles