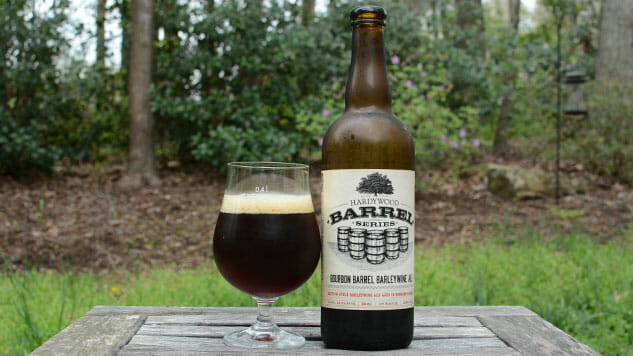 When you hear the name Hardywood, the brewery's popular Gingerbread Stout is probably what first comes to mind, and rightfully so. The highly sought after stout is a bottle many craft lovers seek out to usher in the winter months. There are also two barrel-aged versions, bourbon and rum, to lend even more flavor to the imperial milk stout. Hardywood is keen on putting a number of its beers in oak. In fact, there's a Barrel Series dedicated to the aged offerings.
The Barrel Series includes a range of styles, from a bourbon barrel-aged coffee stout to a white wine belgian golden ale and bourbon-barrel quad. Back in February, Hardywood released this year's vintage of its Bourbon Barrel Barleywine: a 13% British-style behemoth that pays homage to the traditional after-dinner beer. You'll certainly want to have something to eat before hand, but this beverage also does well as dessert all by itself.
Hardywood's barrel-aged barleywine is an amber brown when it meets the glass. There's a thick tan-colored head that takes a minute or so to disappear completely, doing so without even the slightest trace along the edge of the snifter. As you would expect with a big beer of this style, the nose is loaded with sweet caramel and toffee notes, with a touch of dark fruit and the slightest hint of booze from the aging process. Despite being almost an afterthought in the aroma, the bourbon burn plays a big part when the beer hits your palate. There's also a good bit of sweet malty sweetness from the base beer alongside plenty of vanilla and heat from the oak barrels. Following the nose, flavors of caramel and toffee are present in the taste, too.
As this 13.3% sipper warms, that initial bourbon burn on the front end is less intense. Instead, it's more present on the back, and you can feel it warm your throat all the way down to your belly. Hardywood recommends a serving temperature of 50 degrees, and my advice would be to follow that suggestion exactly. This is a much different beer as it warms, with all of the flavors balancing off of each other quite a bit better than my first few sips. The beer never seems overly sweet either, which can be the case with some barleywines. Don't get me wrong, it's still a huge beer, and unless you're looking to spend a while sipping on it, you'll most certainly want to share.
Barleywines are great beers for cellaring, if you're into that sort of thing. That being said, I'd love to see what some time does for this Hardywood bottle. Giving this beer some time to rest should allow the bourbon heat to integrate with the rest of the flavors even more. If you're lucky, you may even come across an older vintage, as this isn't the first time the beer has been released. As I've already mentioned, if you nab a bottle of this, be sure to let it come to temperature. The beer is much more enjoyable at a warmer temperature rather than a few minutes out of the fridge. If you like to enjoy a nip of whiskey or bourbon as a nightcap, give this a shot. There's a lot of barrel flavor balanced by the beer's sweetness to fill that role admirably.
Brewery: Hardywood Park Craft Brewery
City: Richmond, Virginia
Style: Barleywine – English
ABV: 13.3%
Availability: Virginia
Billy is the host of The Brewcast, a beer podcast that never records on a regular schedule. You can follow his drinking habit @beardbrews on Twitter.