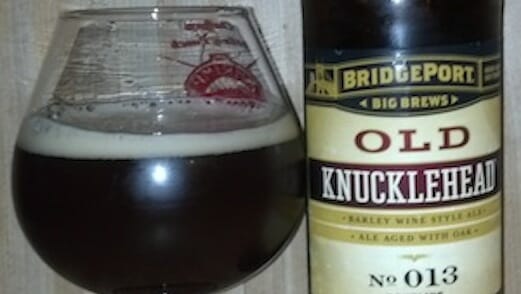 I've always had a soft spot for beers aged in barrels. And I have an even softer spot for beers with fun names. Note to brewers: I will always try your beer if your name entertains me.
Now that we have that settled, I have a man crush on Bridgeport's Old Knucklehead. It fulfills the previously mentioned requirements: barrel aged and an awesome name. But where it stands tall is in its taste, body and finish.
Old Knucklehead hails from Portland, the capital of craft beer in our country. Produced in limited qualities, the beer has already received strong reviews across the board and is awaiting its turn on the awards circuit.
With a copper color (golden in some light), Old Knucklehead delivers upon the first sip. The beginning is sweet, filled with aromas of malt, vanilla, toffee, oak and my personal favorite, rich cherries. The malt flavor stays throughout the beer, and gives it a dry finish that makes you crave the next sip. Aging the beer in oak barrels brings a strength to the ale, giving it smooth, unexpected brandy notes.
I would suggest taking a bigger swig, letting all the flavors develop in your mouth. It's a very layered beer and very balanced. It climbs to 60 on the IBU chart, but the bitterness is barely noticeable. The flavors, hops, malt and fruit notes blend together so completely that you might not realize how fast you go through the bottle.
Do yourself a favor and buy a big "deuce deuce" before Bridgeport runs out…or before I raid the reserves.
Brewery: Bridgeport Brewing Company
City: Portland, Oregon
Style: Barley wine style ale
ABV: 9.2%
IBU: 60
Availability: Limited release, 22 ounce bottles