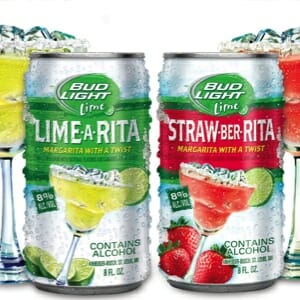 Those of you who've followed our IPA Challenge or maybe read our review of the Smuttynose Baltic Porter this week could be forgiven for feeling a bit jealous of our day drinking here at Paste. But it's not always just fun and games. Sometimes we open up the mail and staring at us like some ominous-looking white powder are cans of Bud Light Lime Lime-a-Rita and Bud Light Lime Straw-ber-Rita.
Sure, we could have tossed them in the trash or reported the sender for what had to be some sort of postal terrorism violation, but what if they were actually good? Or, more likely, what if they were horrendous but our readers needed to be warned. With your tastebuds in mind, dear reader, we sprang into action, passing the two 8 oz. cans around the office for people to try. After the more daring half of our office of 10 had their fill, about 6 oz. remained in each can.
According to research (okay, the Anheuser-Busch Brands page at Wikipedia), at 8% alcohol by volume, these two products are the most potent drinks in the company's lineup, save for the 8.1% Hurricane High Gravity Lager (conveniently available in 40 ounce bottles).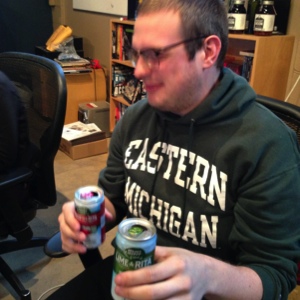 I went for the Straw-ber-Rita first. Candied on the nose, it tastes a little a little like someone poured some strawberry Pixi Stix into a fruit-punch wine cooler. It was pretty gross, but it didn't prepare me for the abomination that is the redundantly named Bud Light Lime Lime-a-Rita. It tastes like a margarita in the sense that Margarita Jelly Belly jelly beans taste like a margarita. Lime-flavored-Kool-Aid on the nose with a jolt of sweetly sour lime candy mixed up front and a hint of low-rent energy-drink flavor on the finish.
My rating of 1.0 averages the Straw-ber-Rita, which I'd give a 1.5 to and the Lime-a-Rita which earns a 0.5. I understand the convenience of pre-made cocktails, but can't you just buy a bottle of Jose Cuervo Margarita Mix and add some tequila? Or better yet, salt a glass of ice and add:
1.5 oz. Tequila
.5 oz. Triple Sec
1 oz. lime juice
Replace the Triple Sec with Cointreau and add a teaspoon of simple syrup if you're feeling especially fancy. Add strawberry schnapps and fresh strawberries if you want something sweeter. And please, leave the cutely named canned malt beverages to rust on their grocery shelves.