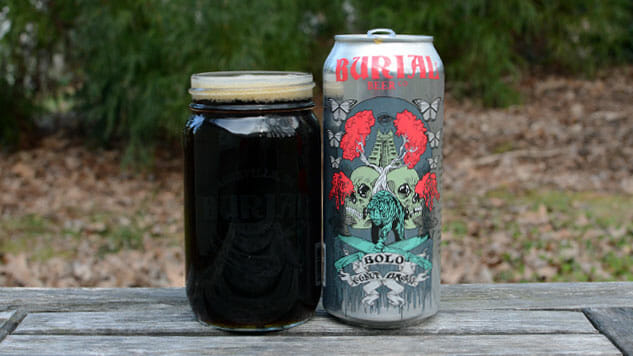 If you're a craft beer lover, the options for getting your suds in cans have multiplied exponentially over the last few years. One brewery that has tapped the aluminum vessels for its core beers is Burial Beer Company in Asheville, North Carolina. Burial has been canning its Skillet Donut Stout, Haysaw Saison, Scythe Rye IPA, Shadowclock Pilsner and Bolo Coconut Brown for a while now. The full lineup of cans isn't readily available all of the time, but I can typically find three or four different Burial tallboys in 4-packs at spots where the brewery distributes here in North Carolina.
Burial's lineup of cans covers the spectrum from hoppy to rich and malty, with options for easy-drinking lighter styles opposite a tasty coffee stout. Near the dark end of the spectrum sits Bolo Coconut Brown: a straightforward brown ale brewed with nine barley malts, oats and brown sugar. As the name suggests, the beer gets a punch of flavor from being aged on real coconut, creating a luscious brew that's a stellar balance of roast and sweetness.
Bolo Coconut Brown pours a deep brown color with a creamy tan head. The head reminds me a bit of latte foam, fading to a thin layer at the top of the glass. Eventually, it retreats to the edge leaving a ring around my mug. Freshly grated coconut dominates the nose, but there's a good bit of chocolate with hints of both coffee and macadamia nuts, too. This beer smells just like a liquid Mounds bar to me, with a candy-like smell that will fool you into thinking this beer tastes overly sweet.
While you can certainly taste the coconut, Bolo remains a brown ale first, and that's mostly what I get on the palate. Flavors of roasty malts, chocolate and subtle coffee notes give way to a nice dose of coconut on the finish. You can tell that this beer was made with the real stuff, too. Again, there's a balance makes this beer very enjoyable, an option I can see myself drinking way more often than just dessert.
As the beer warms, the coconut in the nose starts to give way to that mild roastiness you typically get in a brown ale. It never fully disappears, and the chocolate notes also remain in the aroma as the glass approaches room temperature. The coconut isn't lost in the taste either, and it's met with a slight bitterness the warmer the beer gets. It's not unpleasant by any means, similar to bitter dark chocolate or cold-brewed coffee, and it's subtle.
If you seek out Bolo Coconut Brown looking for a liquid candy bar, you'll be disappointed. There's plenty of fresh coconut flavor here, but Burial has balanced the ingredient nicely with the base brown ale. The amount of sweetness seems appropriate, making Bolo a solid brown for drinking more often than just for dessert. However, if you save it until after your meal, I can't blame you as it will provide flavors typically reserved for candies and other sweets in an easy-drinking low ABV beer.
Brewery: Burial Beer Company
City: Asheville, North Carolina
Style: Brown Ale
ABV: 5.6%
Availability: North Carolina
Billy is the host of The Brewcast, a beer podcast that never records on a regular schedule. You can follow his drinking habit @beardbrews on Twitter.