Dane Breimhorst's celiac diagnosis was a worst-case scenario.
At the time, the passionate Minnesota homebrewer and circus-trained fire-eater was planning on opening a brewhouse in Northeast Minneapolis, but his violent gluten sensitivity squashed those plans. Breimhorst could continue to eat bulbs of flame with impunity, but a pint of Budweiser will land him in the bathroom for the afternoon.
"My reaction is pretty extreme," Breimhorst says, giving graphic details about the weeklong, feverish tumult that he experiences from drinking glutenous beer. "I know a lot of people who just feel bloated or break out into a rash, and it'd be easy for me if I had an allergy like that. I'd pop a Benadryl or something and drink Tripel Karmeliet all night long. But I can't. The only thing I can do is not consume."
Clearly, that wasn't a sustainable option, but there was a dearth of digestible brews on the market. So Breimhorst and his partner Thom Foss spent the next three years developing a 100% gluten-free brew they could produce on a commercial scale. In January 2014, they founded Burning Brothers Brewing, the Midwest's only zero-gluten craft brewery.
"We need people who have things like celiac to feel absolutely comfortable drinking our beer and never wondering whether it's gonna make them sick," says Breimhorst. "We won't allow contaminants in the beer. That's why we say 'don't fear the beer.'"
Burning Brothers's facility in St. Paul is totally gluten-free. Taproom guests can't even so much as bring a bag of pretzels in the door, and you have to wash your hands before entering the brewhouse. This is drastically different than industry-leading gluten-free beermaker Omission, who actually brews with grain before adding an enzyme called Brewer's Clarex to the mix. Under a 2014 law, these beers now have to be marketed as "gluten-reduced."
"If I were to drink Omission, I'd get sick as a dog," Breimhorst says, noting that Brewer's Clarex cuts gluten strands into small pieces, thus making it easier to process. However, most gluten tests only test for whole strains, so there's trace gluten in gluten-reduced beers that can cause permanent intestinal damage. "If someone has just mild reactions to gluten, they're still gonna get that damage from Omission," Breimhorst adds. "That, for a profit, to me, is disgusting. That's something that Thom and I vowed we would never do."
The FDA allows food with up to 20 parts per million to be labeled as gluten-free, which makes Coors technically gluten-free. Burning Brothers' beers come in at an unambiguous zero parts per million, and they don't taste like they're omitting anything.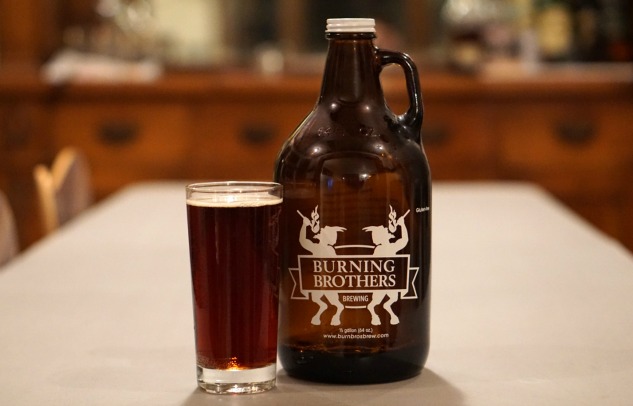 In brewing, gluten is treated as a necessary component. Gluten-free beer isn't real beer in the eyes of the brewing community, and that's a stereotype Breimhorst has been combating in the nearly two years since Burning Brothers was established.
"'Let's go get real beer.' You hear that all the time," says Breimhorst. "We made the comment once that we were the brewing community's red-headed stepchild."
The beers speak for themselves, though. Breimhorst, who is trained as a professional chef, is a master alchemist. He uses an ancient grain called sorghum to build his beers, balancing the grain's enduring sweetness with oddball fermentation tactics rather than leaning on hops to mask the green apple tart of the alternative malt. He's won the respect of his peers at local breweries like Surly and Summit with gold-medal shandies and a dastardly smooth roasted coffee strong ale — head and shoulders the best java-based brew in Minnesota. The brewery's flagship — an American pale ale called Pyro, Burning Brothers' only canned offering — has an everyday approachability that isn't as aggressive as most microbrewed pale ales. It's a beer than any beer drinker — gluten-free or otherwise — can suck down without any second thought as to whether they're missing a quintessential part of the beer-drinking experience.
Now, as one of only three big-time gluten-free brewers (the others being Portland's Groundbreaker and Canada's Glutenberg), Breimhorst has stopped eating fire and started spitting it. Omission has banned him from commenting on their Facebook page, and he routinely educates naysayers and skeptics in his taproom.
"The way that the public views it as another Atkins Diet," he says, noting that over three million Americans share his autoimmune disorder. "I have some people who'll come in, have a pint, and say, 'now, which one's the gluten-free one, because I don't wanna bother with it.'"
Luckily, the scope Breimhorst's anti-gluten proselytization is expanding. Burning Brothers is on tap and in liquor stores in Minnesota, Iowa, North Dakota, South Dakota, Wisconsin, Nebraska, and, tentatively, Pennsylvania. Breimhorst and Foss plan to can the coffee ale as well as their IPA and cranberry shandy next year. With enough expansion, Breimhorst and Burning Brothers stand to effectively de-stigmatize gluten-free brewing. But for now, they're content to give long-suffering fanatics who thought they were doomed to a life of cider a second chance at craft beer.
?"We have people come in here and start breaking down and crying, " Breimhorst says. "There are so many people out there that have celiac, and they don't wanna talk about it. They wanna sit down with their buddies and drink a beer, but they don't have any options. And I think that sucks."