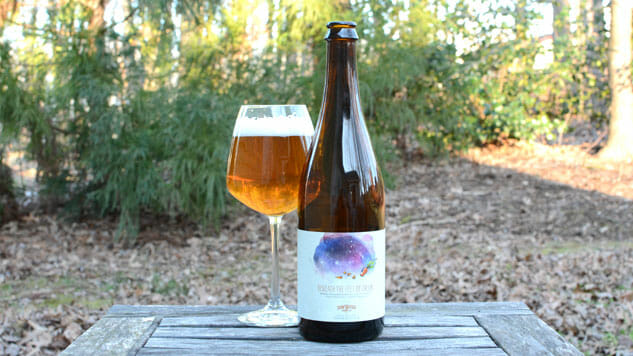 Chances are you've never heard of Saxapahaw, North Carolina. At least you probably hadn't until Haw River Farmhouse Ales opened up in 2014. I can't really blame you — it's more of a mill village than a town — but there's plenty of great things to entice you to make a detour. As the name suggests, the brewery focuses on Belgian-inspired farmhouse styles like saisons, dubbels, tripels and more. If you find yourself venturing off the main road between Burlington and Chapel Hill, Haw River is a nice stop, tucked in the the bottom of an old cotton mill that also houses a music venue, butcher shop, restaurant and coffee house.
In addition to the Belgian focus, Haw River takes the "farm" in "farmhouse" very seriously. The brewery uses a ton of local ingredients, from fruits and other produce to locally-roasted coffee and NC-grown barley. Incorporating a lot of local goods takes a lot of effort, and Haw River has a Farmhand Exchange program that nabs those items from producers within a hundred miles of the brewery. The initiative also aims to provide support for the growers, rather than simply purchasing ingredients for beer.
One beer that epitomizes the local agriculture focus is Haw River's Beneath the Feet of Orion. This particular beverage is an imperial rye saison brewed with organic red core carrots that were grown right in Saxapahaw. In addition to the root veggies, there's local fresh ginger root and toasted cumin seeds as well. With an 8.2% ABV, this saison packs more of a punch than the usual takes on the farmhouse style, too.
Beneath the Feet of Orion pours a near perfect gold color with a puffy snow white head that fades to a thin cover at the top of the glass. The first sniff offers that trademark saison funk with hints of freshly grated ginger and spices. There's also the aroma of roasted root vegetables, although not distinctly carrots, and fresh grain. I get something similar to the smell of a baked sweet potato, which kind of makes sense as red core carrots are a sweeter variety. The best way I can describe the total package here in terms of the nose is complex. There's a number of ingredients used to make this beer and you can pick out nearly every one of them just by sticking your nose near the glass.
The first sip is a solid dose of those earthy flavors you typically experience in a saison. Layers of root vegetables and dashes of ginger and spice are there as well. If you're worried this is like drinking a glass of carrot juice, you shouldn't be. The presence of the vegetable complements the rye saison base, which is mostly what you taste. Rye and toasted cumin offer a nice spice complement to the beer that balances well with the ginger and carrots, with all of those ingredients play well off of each other. The end result is a complex saison with a layered flavor profile that makes for one unique beer.
As the beer warms, I get a bit more of the hay and straw aromas I've smelled with other saisons. The rye notes fade a bit in the nose, but you can still get a slight whiff of the fresh ginger. In terms of overall flavor, I feel like the added ingredients begin to take a backseat over time, becoming more subtle as the beer comes closer to room temperature. Despite the 8.2% rating, this beer is just as drinkable as a more traditional saison with a lower ABV. I never really found myself thinking that the extra heft became a burden.
Fans of saisons and farmhouse ales will want to give this and a number of other Haw River offerings a look. The brewery is able to create some really unique beers with interesting flavor profiles thanks to its ties to local agriculture. Beneath the Feet of Orion is a great example of what "local beer" can be, and that breweries striving to be truly unique likely have the resources in their own communities to do just that.
Brewery: Haw River Farmhouse Ales
City: Saxapahaw, North Carolina
Style: Saison/Farmhouse Ale
ABV: 8.2%
Availability: Limited Distribution (NC)