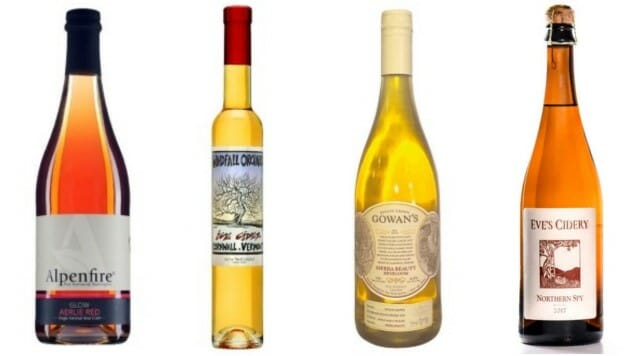 It's hard for a wine writer to admit this, but as much as there's endless fascination to be found in grapes, my true turn-on has always been apples. Though it's technically an exotic plant here (an immigrant, if you will, from present-day Kazakhstan), the apple looms large over our history and permeates our culture. Nothing we eat is more freighted with myth and legend. Apple trees are highly adaptive; thanks to its enormous genome (twice the size of a human's), there are cultivars for virtually any climate and fruit for any palate, any application. And thanks to their crazy heterozygosity, those genes can combine to create fruit that ranges from ping-pong-ball sized to melon-sized, palest green-gold to a purple and black-tinged red. They can taste like champagne, or cinnamon, or aniseed, or bananas, or berries, or pomegranates. They can be syrupy sweet, screamingly acidic, unpalatably tannic or bitter, or a little of each.
Hard cider occupies a somewhat liminal space-we tend to treat it like beer, though it secretly has more in common with wine-and it stays curiously low on the radar even when it's "trending." In fact, hard cider is the American beverage (I will arm-wrestle anyone who says otherwise, and I will win). On the American frontier, hard cider was key element to pioneer survival, not just as a social lubricant and stress-eraser but because it was frequently safer to drink than the local water. Today, apple culture has been massively dumbed down by the demands of the market, and the one-dimensionally sweet apples you will usually find in a supermarket don't have any of the complexity that makes great cider. Luckily, heirloom trees still exist, as do spontaneous, wild-pollinated apples that grow from seed with absolutely no regard for their own ancestry and are overwhelmingly likely to be so "complex" no one would eat one on purpose.
Cideries have the alchemical magic to transmute "spitter" apples into epically delicious hard cider-although many of them also do great things with dessert apples. If you're looking for a new house brand, we've got you covered.
Alpenfire Cider (Port Townsend WA)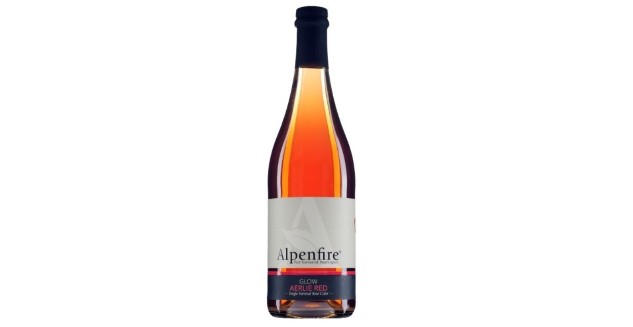 My personal favorite cidery on the West Coast, Alpenfire makes absolutely splendid ciders, including "Glow," their aptly named, burning-red cider from red-fleshed Hidden Rose apples. (It has a Methode Champenoise cousin called "Cinders.") Alpenfire ciders are generally made from heirloom cider varietals (which aren't always apples you'd want to eat out of hand). Their Pirate Plank Bone-Dry cider is made from a combination of Kingston Black and Foxwhelp apples, and it is, as advertised, utterly non-sweet. Forest floor, smoke and a bit of an animal note are prominent.
Eden Specialty Ciders (Newport, VT)
Probably my personal favorite cidery on the east coast. In particular, they make a Kerr crabapple cider called "King In the North" that I find pretty dazzling: off-dry, perfectly effervescent, rich and sturdy, with apple flavors I'd have to describe as "slightly feral." Every Eden cider I've tasted is top-notch, though. You kind of can't go wrong with these guys.
Embark Craft Ciderworks (Finger Lakes, NY)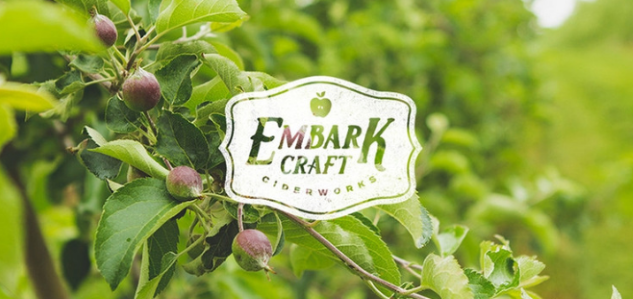 These guys make a robust range of ciders in a number of styles, including hopped, Saison, infused with blueberries, sour cherries and apricots, and aged in bourbon barrels. I tasted the American Heirloom recently. Made from seven heritage apple varietals (all dessert apples, by the way, proving you don't have to have a full complement of Foxwhelps and crabs to make a great dry cider). Flowery with a pronounced, ringing acidity, this stuff has the "not sweet, yet reminiscent of honey" tone of a white wine from the Rhone valley, and thoroughly yummy spice notes.
Eve's Cidery (Finger Lakes, NY)
These guys have something for pretty much everyone, from dry still cider to pet-nat to a very dry bubbly called Kingtown Spigold. The Spigold is a commercially problematic cross of Northern Spy and Golden Delicious (apparently it's catastrophically bruise-able), and this limited run cider shows it to be a high-potential cider apple. Round, soft texture, fine beading bubbles, pronounced creaminess. Aromatics tend to be tropical (if an apple could be a pina colada, that'd be about the size of it). Excellent balance of acidity and tannin. Deeply yummy.
Gowan's (Boonville, CA)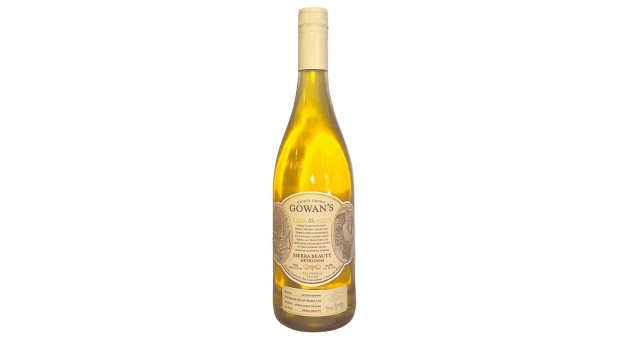 Once a year my daughters and I drive almost 8 hours round trip (not a typo) to get heirloom apples from a grower in Mendocino County. While there I like to also stock up on Gowans, helpfully available at the one-pump gas station and general store in Navarro, where there are more local wines on the shelves than people who live in the town. They do a lot of single varietal ciders as well as multi-apple blends, and they're from estate grown fruit, which is a lot rarer in California than it is in New England-especially in big-money Pinot Noir hot spots. I've never had a cider from these folks that wasn't great, but maybe the ne plus ultra is the Sparkling Sierra Beauty. This is a rare west coast apple that was rescued from the brink of extinction and still pretty hard to find. The result is gorgeous-vivacious bubbles, a fresh nose with brisk autumnal notes, and on the tongue an almost brandied character with woodsy notes (according to the cidery this is a naturally occurring characteristic of the varietal) alongside mellow peach, vanilla bean and almond. If you cannot find this specific one, not a problem-the cuvee and the Gravenstein and Macintosh expressions are also splendid.
South Hill Cider (Finger Lakes, NY)
I recently got introduced to this cidery's wild-foraged cider, "Packbasket," so named for the hike-in-and-hand-forage situation that it begins with. They call it "the epitome of terroir" and I'm not about to argue-this flavor is what happens to apple trees who aren't in a relationship with a grower. They go rogue, mutate like crazy, and become strange and sharp and complicated and cider-perfect. Very, very dry and nicely bubbly, this cider has pretty explosive aromatics (white flowers and citrus pop out) and a distinctly mineral finish. Balanced as all getout.
Untangled (Okanagan Valley, BC)
At the end of a wine tasting trip in British Columbia, I had the amazing pleasure of trying a bunch of Untangled juice while having dinner at the producer's farm to table restaurant. You won't have an easy time finding this stuff, and it's the only Canadian on this list, but I have to talk about it. They served a riff on Japanese apricot Umeshu that won't be easy to describe. The discarded green apricots that result from annual thinning of the developing fruit are combined with home-grown heirloom apples for a freakishly good (and potentially medicinal), lightly petillant brew. A haunting, whisper-light bitter almond note dances across the bouquet, which is otherwise appley in a particularly pure and earnest way. On the palate the situation is more complicated. Sweet amber notes. Sour green notes. Earthy notes. Ethereal notes. A firm but supple tannic backbone; a firm, but demure, acidity.
Windfall Orchard Ice Cider (Cornwall, VT)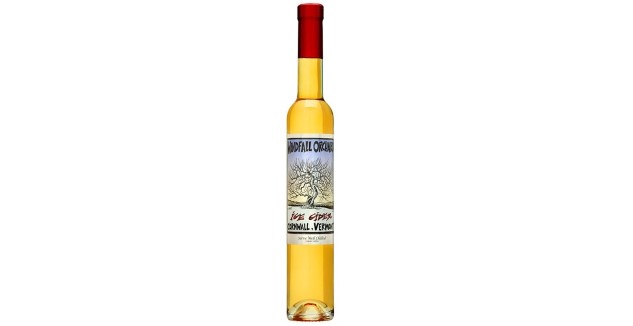 Liquid autumn. Over 30 varietals of apples go into this concentrated, dessert-grade cider. Aromatics and flavors favor peach and Asian pear. It's unarguably sweet but it's got the acidity and structure to carry it off; this isn't syrupy or off-kilter; it's just intense and concentrated. If you've ever seen a Della Robbia wreath-well, this is what one would taste like. If you were served a glass of this with some fancy aged cheese and a handful of fresh walnuts you'd be one happy camper.