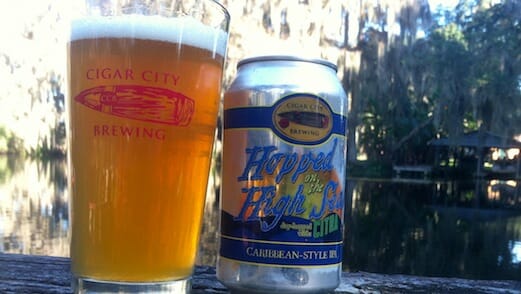 One of most intriguing back stories in the craft beer world unfolded in the fall of 2013 when Tampa's Cigar City Brewing revealed the tale of how its Dry-Hopped on the High Seas Caribbean-style IPA came to fruition.
Cigar City's Brewmaster Wayne Wambles led the team that made Dry Hopped in the recently shuttered Cervezas del Sur brewery in Ponce, Puerto Rico. The 240-barrel, German-built brewhouse is far larger than the craft brewer's system in Tampa, and Wambles was eager to put it to use after its owners invited him to brew there. He decided to brew a 7% ABV India Pale Ale for the first batch, and rather than keg it in Puerto Rico after fermentation finished, it was racked into a refrigerated, insulated and pressurized vessel to make its way on a ship to Tampa where most of it would be canned.
That's where the story really gets interesting. Before transferring it to the shipping vessel, 165 pounds of Simcoe hops were added to the brew. It truly was dry-hopped on the high seas.
The beer sold out quickly, and another batch was produced, this time using Ahtanum hops, giving the brew a piney aroma and flavor (the name was shortened slightly to "Hopped on the High Seas). The most recent batch released this month uses Citra hops, an aroma hop variety released in 2007 that has grown in popularity the past couple of years.
The 7.2% ABV IPA pours a slightly hazy amber/orange, and the aroma – danker than the previous incarnations – imparts essences of citrus and tropical fruits, sort of like the scents wafting through my open car windows while driving through an orange grove during springtime in Florida when the trees are blossoming. Though not particularly heavy on the tongue, the prominent Citra hop flavors cover my taste buds with an exceedingly pleasant grapefruit-like sweet tartness. The slightly bitter aftertaste tames that citrusy tartness.
The fact that the beers in this series are brewed with only one hop variety means that tasting them offers a window into learning the flavors imparted into a beer by that hop variety. After drinking Hopped on the High Seas (Citra), I learned that I really like Citra. A lot.
Brewery: Cigar City Brewing
City: Tampa, Florida (via Ponce, Puerto Rico)
Style: Caribbean-style IPA
ABV: 7.2 percent
Availability: Limited Release; On Draft and in 12 oz. Cans.