Wine and a whole host of spirits are often the go-to booze for mixed drinks. But why not beer? Beer has its own tasting note complexities that even the most uppity sommeliers can appreciate. And the innate effervescence and variety of flavors that beer offers provides the versatility and refreshment you'd want on a hot summer day. There's a beer out there for every fruity cocktail and whisky sour and we've got the following list to prove it.
From the classic Black and Tan to honeydew-and-beer flavored smoothies, here are 10 great beer cocktails to help you beat the heat this summer. Make them on your own or find yourself a good mixologist.
1. Weissen Sour
This sunshine-bright cocktail contains bourbon, lemon juice, orange marmalade and bitters and a white ale. It's basically a whisky sour with a beer thrown in. The invention of the Weissen Sour is often attributed to Kevin Diedrich of Jasper's Corner Tap and Kitchen in San Francisco, Calif.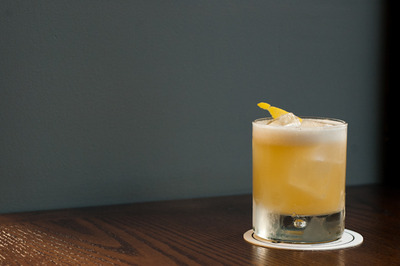 Photo by Katherine Sacks
Featured Beer Type: White ale. White ales are best paired with lighter fare: salads, chicken and mild yet peppery (or tangy) cheeses like pepper jack or feta. These ales tend to have ABVs that fall within 4 and 7 percent. We recommend Ommegang Witte (5.2% ABV) out of Cooperstown, N.Y.
Ingredients:
2 oz. bourbon
3/4 oz. fresh lemon juice
1/4 oz. simple syrup
Barspoon of orange marmalade
2 dashes orange bitters
2 oz. white ale
How To Make It: Combine all ingredients and gently shake with ice. Strain over fresh ice cubes into a highball glass and garnish with a lemon twist.
Where To Get It: Jasper's Corner Tap & Kitchen, San Francisco, Calif.
2. El Matador (and classic Micheladas in general)
Red Rooster Harlem's El Matador is a flashier version of a standard beer cocktail from Mexico: the Michelada. As the New York Times points out, a traditional michelada is generally a savory experience that includes hot sauce, tomato juice, soy sauce and Maggi seasoning among its ingredients. The El Matador, however, blends sweet, savory and heat with chili pepper, salt, strawberries, basil and lime juice as some of its ingredients. You can watch a demonstration of of how to make an El Matador at home here.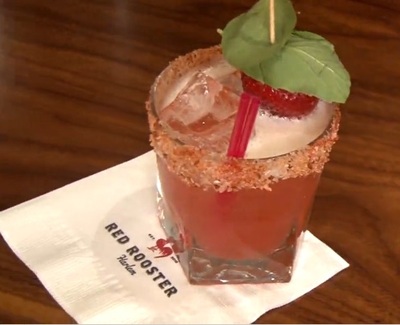 Featured Beer: Pilsner. Pilsners are best paired with chicken, avocados, egg dishes and mild cheeses like gruyere. Red Rooster uses the German Radeberger Pilsner (4.8% ABV), but we'd recommend substituting Pilsner Urquell (4.4% ABV) or Victory Prima Pils (5.3% ABV).
Ingredients:
2 oz. Herredura Blanco
1 oz. Fresh Lime Juice
.5 oz. Agave Nectar
2 strawberries and 4 basil leaves
Victory Prima Pils
How To Make It:
Muddle strawberries and basil leaves. Shake and strain through a sifter into a rocks glass full of ice. Top with pilsner. Garnish the rim with chili pepper and salt. Add a whole strawberry and basil leaf.
Where To Get It: Red Rooster Harlem, New York, N.Y.
3. Black and Tan
Black and Tans have one of the simplest recipes on this list of beer cocktails. It's just two different beers. The "black" part is a stout (usually Guinness) and the "tan" part is a pale ale (usually Harp lager). While the drink itself has a simple preparation, the etymology of its name is far more historically and culturally complex: In Irish history, the Black and Tans were a British police force known for brutality as they fought the Irish Republican Army in the 1920s. As a result, when in Ireland, it is best to refer to the drink by its other name, the Half-and-Half when ordering it in a pub.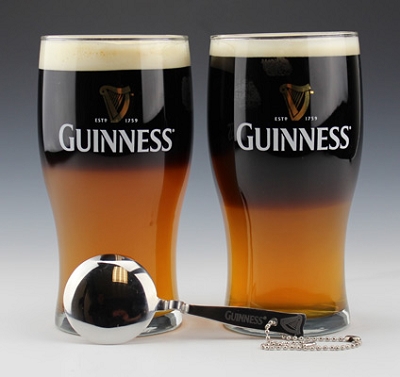 Featured Beers: Guinness (6% ABV) and a Harp lager (5% ABV). Guinness stouts are best paired with heavier foods like lamb and mashed potatoes. Dessert-wise, Guinness is often paired with chocolate. Harp lagers are best paired with fish, shellfish, mild cheeses and and fried foods.
Ingredients:
1/2 pint Stout
1/2 pint Lager
How To Make It:
Fill a pint halfway with pale ale and top with the stout by slowly pouring it over the back of a spoon.
4. Summer Hoedown
The Summer Hoedown cocktail, popularized by Chow.com, is a bright reddish-pink drink that boasts fresh watermelon, maraschino cherry liqueur and white beer.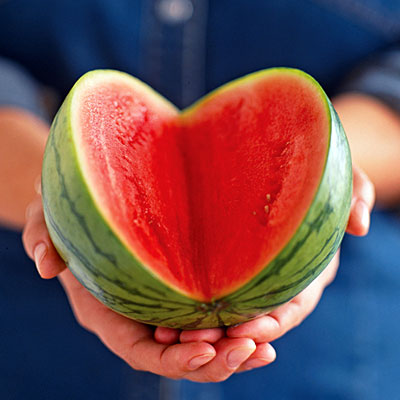 Photo by Sunset Publishing Corporation
Featured Beer: Hoegaarden Original White Ale (4.9% ABV) gives the drink its name, but we recommend substituting Allagash White (5% ABV). White ales are best paired with mild cheeses and chicken dishes.
Ingredients
1 seedless watermelon (6-pound)
2 tablespoons granulated sugar
1/4 cup maraschino liqueur
4 12-ounce bottles white beer
How To Make It:
Blend the watermelon until liquified. Strain out the pulp, saving only the juice (makes about six cups of juice). Stir in sugar for two minutes or until dissolved. Refrigerate. Gently stir in the the maraschino liqueur and beer.
Where To Get It: For a slight change of pace, you can get a Summer Hoedown made with a raspberry cordial liqueur at the Brew Exchange in Austin, Texas.
5. Honeydew Hefeweizen Smoothie
Putting her own spin on a cocktail offered by a local restaurant, food blogger Eva Marie Kosmas came up with her own beer smoothie that uses honeydew melon pieces, vanilla ice cream, Blue Moon Belgian White Ale (or any hefeweizen-style beer) and some vanilla extract.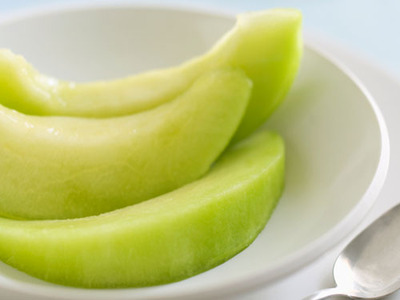 Featured Beer: We recommend Weihenstephaner Hefeweissbier (5.4% ABV), made by the world's oldest brewery. It's best paired with tangy cheeses like feta, fish and salads.
Ingredients:
1/2 of a Honeydew Melon
3 and 1/3 Cups Vanilla Ice Cream
1 Cup Hefeweizen (Weihenstephaner or other)
1/2 Teaspoon Vanilla Extract
Small and Thin Honeydew Slices for Garnish
How To Make It:
Cut the honeydew into chunks, placing half of them in the freezer and half in the refrigerator for one hour. Mix all ingredients in a large blender (may need divide everything in half if your blender is small). Garnish and serve.
6. Hangman's Blood
It's the only cocktail on this list with any literary street cred. While its unlikely that this boozy cocktail was invented by the Clockwork Orange author himself, Anthony Burgess was clearly a fan of this multi-liquored drink as it's featured on his foundation's website and was mentioned by him in an article by The Guardian. This particularly potent beer cocktail contains gin, rum, port, brandy, whisky and a stout. "It tastes very smooth," Burgess said, "induces a somehow metaphysical elation, and rarely leaves a hangover … I recommend this for a quick, though expensive, lift." We recommend sharing with lots of friends or drinking at your own risk.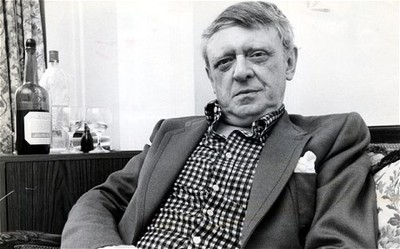 Photo by Graham Wood/Daily Mail/Rex Features
Featured Beer Type: Stout. Stouts are often paired with chocolate, oysters, New York-style cheesecakes and heavier meats such as steak. A standard, dry Irish stout like Guinness' Extra Stout has an ABV of 6.0 percent. But at this point, why not up the ante and use a can of Oskar Blues Ten FIDY imperial stout, with a whopping ABV of 10.5%. (Again, please don't drink this on your own.)
Ingredients:
2 fingers of Gin
2 fingers of WWhisky
2 fingers of Rum
2 fingers of Port
2 fingers of Brandy
1 bottle (or can) of Stout
1 splash of Champagne
How To Make It:
Pour doubles of the following into a pint glass: gin, whisky, rum, port, and brandy. Add a small bottle of stout and top with champagne.
7. Beer's Knees
It's the beer version of a Prohibition-era cocktail known as the Bee's Knees. Aviation American Gin's beer cocktail version contains Aviation Gin, fresh lemon juice, honey and Widmer Hefeweizen.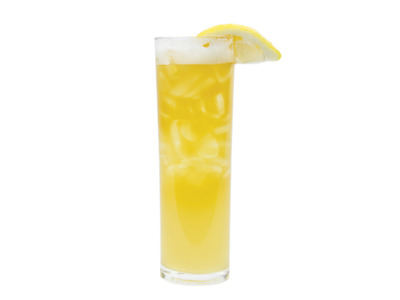 Photo by Aviation American Gin
Featured Beer: Widmer Hefeweizen (4.9% ABV). This hefeweizen-style beer from Portland, Ore. is best paired with an earthy cheese like fontina and Latin American food like chicken in a red mole sauce.
Ingredients:
1 1/2 oz Gin
1 oz Freshly pressed lemon juice
1 oz Honey syrup (1:1 honey and water)
3 oz Widmer Hefeweizen
1 Lemon wedge for garnish
How To Make It:
Combine gin, juice and honey syrup in a shaker filled with ice. Shake vigorously and strain into a collins glass with or without ice. Top with beer and garnish with lemon.
8. Sidewalker
Though the Sidewalker contains Hefeweizen-style beer like a number of other cocktails on this list, it's unique in its use of apple cider vinegar. Other ingredients and flavors to look forward to in this beer cocktail include: applejack, lemon juice and maple syrup.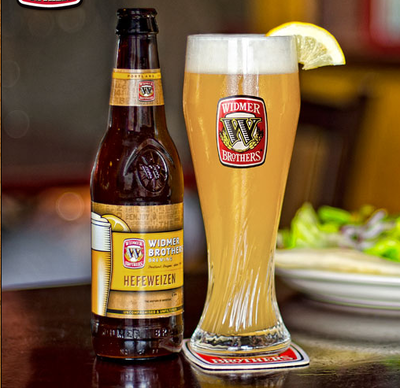 Photo by Widmer Brothers
Featured Beer Type: New Glarus Dancing Man Wheat (7.2% ABV) or other hefeweizen. This beer type is often paired with pasta, chicken and lighter cheeses like swiss or mozzarella.
Ingredients:
1 1/4 cups Applejack
1 1/4 cups Fresh lemon juice
3/4 cup Pure maple syrup
6 tablespoons Apple cider vinegar
4 cups chilled Hefeweizen beer
3/4 cup chilled Club soda (optional)
8 Lemon wedges
How To Make It:
Stir applejack, lemon juice, syrup and vinegar in a large pitcher. Add 1 cup ice. Cover and refrigerate for 2 hours. Gently stir in beer and club soda. Pour over ice into highball glasses, and garnish with lemon wedges.
Where To Get It: Prime Meats, Brooklyn, N.Y.
9. Black Velvet
Another simple two-ingredient beer cocktail. It's just a stout (usually Guinness) and champagne. According to the Guinness Storehouse, this cocktail was invented in 1861 at London's Brook's Club soon after the death of Prince Albert. The story is that the club's steward, in his grief over the the prince's death, declared that "even the champagne should be put into mourning" and mixed it with the inky dark Guinness. It's been a popular beer cocktail ever since.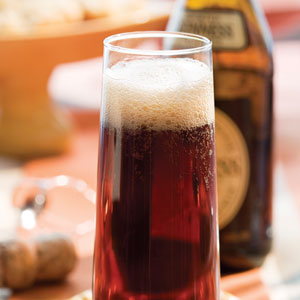 Photo by William Dickey
Featured Beer Type: Guinness' Extra Stout (6% ABV) or other stout. Stouts are often paired with chocolate, oysters, New York-style cheesecakes and heavier meats such as steak.
Ingredients:
1/2 glass Stout
1/2 glass Champagne
How To Make It:
Fill 1/2 a collins glass with a stout and gently top with champagne.
10. In Fashion
We're not going to recommend trying to replicate at home, but jm Curley's In Fashion seems worthy of our list (and a visit to its birthplace in Boston) for the special effects feature of its presentation alone: a brief flame that is lit by match over an orange peel in order to release the peel's essential oils onto the beverage. The cocktail itself also contains some interesting ingredients as well: bourbon, Averna (a citrus-flavored liqueur) and a beer brewed with sour cherries.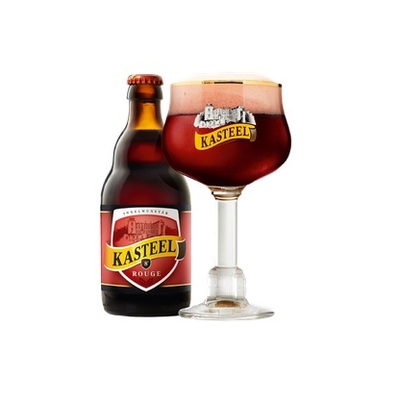 Featured Beer: Kasteel Rouge (8% ABV). This dark, belgian ale is known for its cherry flavor, which it gets from being brewed with whole sour cherries. Kasteel Rouge is best paired with chocolate, apples and heavier meats (pot roast).
Where To Get It: jm Curley, Boston, Mass.