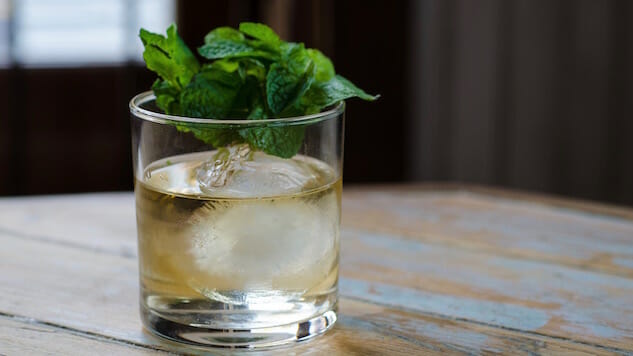 Green food dye is no longer "in" this St. Patrick's Day. Skip the food dye (and the Irish Car Bombs, for that matter) and celebrate Irish culture with a bit of class by diving into the world of Irish whiskey cocktails. Mixologist Joaquín Simó notes that his Irish whiskey cocktail is an, "attempt to bring civility and deliciousness back to a holiday desecrated with green beer and disrespectfully-named shots."
Irish Whiskey dates back to the 600s, when Celtic Christian monks began distilling it with a method brought over from the Middle East. It was so popular at its inception, it was referred to as Uisce Beatha, which translates to "the water of life." Queen Elizabeth I was a huge fan, filling her court with it in the mid-1500s. Apparently, it was popular with royals the world over; in the 1700s, Czar Peter the Great of Russia fell in love with the 'water of life.' Irish whiskey topped the charts in popularity up to the 1800s, when it started to see a decline caused by political unrest. It almost faded by the 20th century, when only six Irish distilleries remained. But it's a new millennium and with that, new opportunity. In the 21st century, Irish whiskey is having a comeback, growing at a rate of 20% per year, and probably bringing its owners a whole lot of green.
Here are 10 cocktails that rely on Irish whiskey.
Dead Rabbit Irish Coffee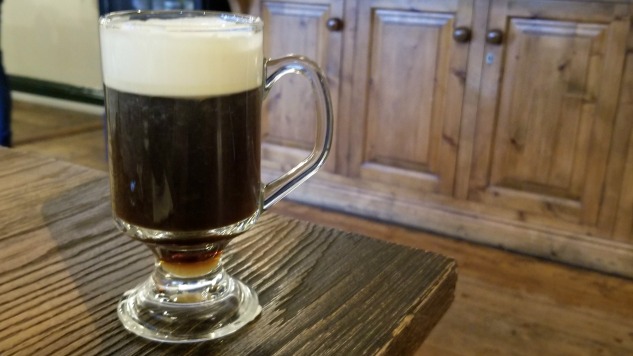 Courtesy of Dale DeGroff, Dead Rabbit NYC
Ingredients
1.5 oz. Clontarf 1014 Blended Irish Whiskey
4 oz. hot Caro De Minas Birch Coffee
0.5 oz. Demerara Sugar Syrup
Heavy cream
Directions: Beginning with the coffee, pour all ingredients (not including the cream) into an 8-ounce stemmed glass and gently stir. Hand whip the cream so that it still pours, then using the back of the bar spoon to guide, float the cream on top of the coffee.
---
Tullamore D.E.W. Elevenses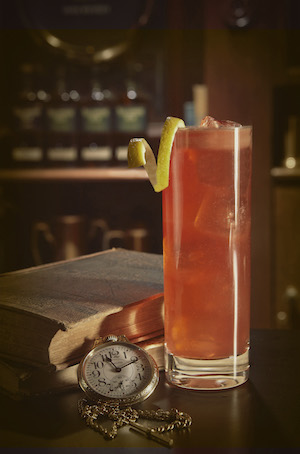 Courtesy of Jane Maher, Tullamore D.E.W. Brand Ambassador
Ingredients
3 parts Tullamore D.E.W. Original
2 bar spoons raspberry preserves
1 part fresh lemon juice
2 1/2 parts Irish breakfast tea
Directions: Add all ingredients to shaker with ice. Shake hard and strain over fresh ice in a Collins glass. Garnish with a lemon twist.
---
Tullamore D.E.W. Apple D.E.W.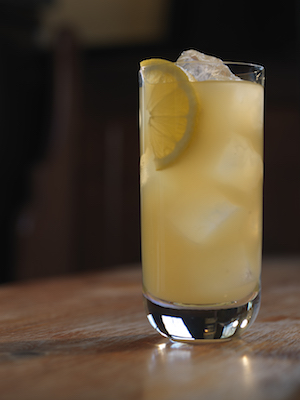 Courtesy of Tullamore D.E.W.
Ingredients
2 parts Tullamore D.E.W. Original
1 part pressed Apple Juice
Lemon wedge
Directions In a tall ice-filled glass, add the Tullamore D.E.W. Top up with pressed apple juice. Garnish with a lemon wedge.
---
Emerald Old Fashioned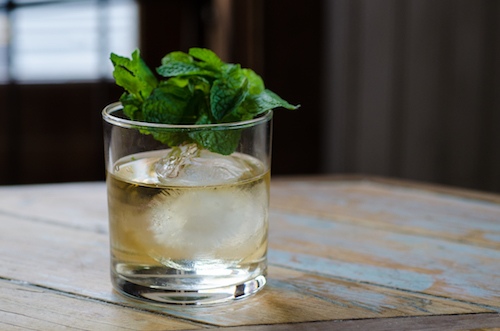 Courtesy of Joaquín Simó, Pouring Ribbons
Ingredients
2 oz. Knappogue Castle 12 year Single Malt Irish Whiskey
1tsp. Honey Syrup (2 parts wildflower honey: 1 part water)
1tsp. Green Chartreuse
1 tsp. Dolin Génépy des Alpes
Directions: Add all ingredients into a rocks glass. Add ice and stir briskly until chilled and just combined. Garnish with a mint sprig, spanked and inserted
---
Sour Irishman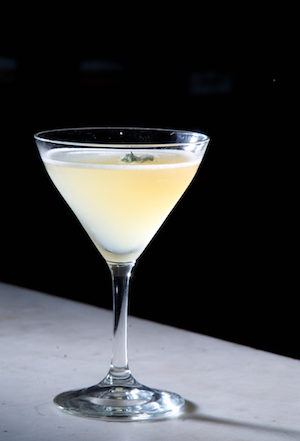 Courtesy of BLT Prime, NY
Ingredients
1.75 oz. Tullamore Dew Whiskey
.5 oz. Drambuie
1 oz. Lemon Juice
.75 oz. Ginger Honey Syrup
Directions: Combine all ingredients in a cocktail shaker with ice and shake. Strain into a martini glass.
---
The Irvington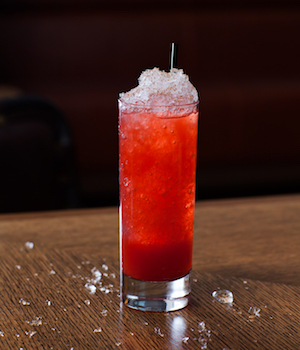 Courtesy of Irvington
Ingredients
5 muddled Raspberries
1 oz. Jameson Black Barrel whiskey
1 oz. Appleton V/X rum
1 oz. fresh Lime Juice
.75 oz. Simple Syrup
2 dashes of Bittermens Elemakule Tiki bitters
Directions: Combine ingredients into a cocktail shaker with two ice cubes. Shake and double strain. Pour over crushed ice in a highball glass and float soda on top. Add grated nutmeg and serve.
---
Brooklyn Nights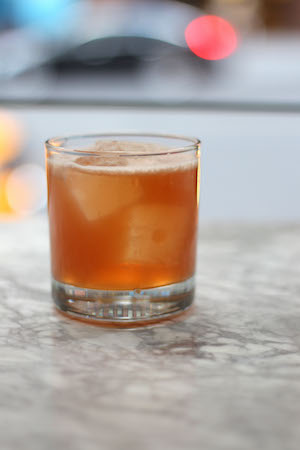 Courtesy of Whiskey Park
Ingredients
1.5 oz. Tullamore D.E.W. Whiskey
0.5 oz. Flor de Cana 7 Rum
0.75 oz. Lime Juice
0.75 oz. Honey/Water Mix
2 dashes Angostura Bitters
Directions: Combine all ingredients into a cocktail shaker with ice and shake. Pour over ice and garnish with a lemon peel.
---
Leprechaun Hustler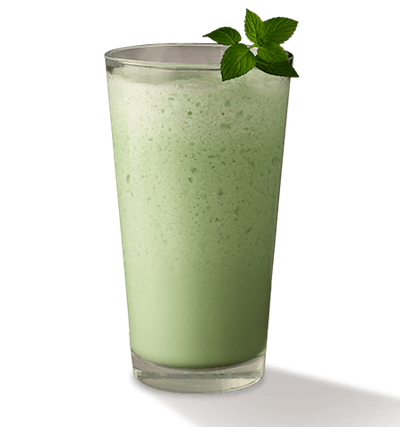 Courtesy of Saint Brendan's Irish Cream Liqueur
Ingredients
2 oz. Saint Brendan's Peppermint Bark Irish Cream
1 oz. Arrow Green Crème de Menthe
½ oz. Pearl Chocolate Hazelnut Vodka
3 oz. Almond Milk
1 cup Ice
Mint Sprig for Garnish
Directions: Place ingredients into a blender and blend until smooth. Pour into a pint glass and garnish with a mint sprig.
---
Green Tea Shot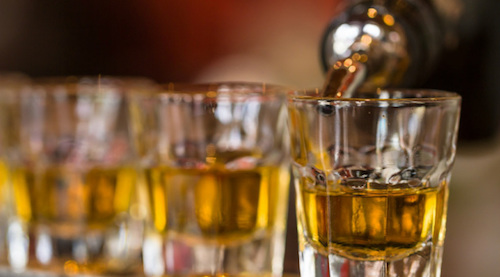 Courtesy of Baylea Morgan, Lead Mixologist at Howl at the Moon
Ingredients
3/4 oz. of Jameson
1/4 oz. of peach schnapps
Splash of sour mix.
Directions: Combine ingredients in a shaker, shake, then chill and serve in a shot glass.
---
The New Irish Breakfast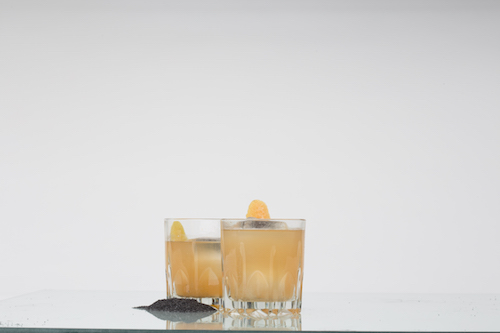 Courtesy of Trisha Antonsen, chief cocktail officer at Drizly.com
Ingredients
2 oz. banana-infused Jameson Irish Whiskey*
1- 2 oz. fresh squeezed orange juice
Optional: black sugar sprinkles
Directions: In a shaker, combine banana-infused whiskey and orange juice, shake until cold, then pour into an old-fashioned glass over a large ice cube. Garnish with a pinch of black sugar sprinkles.
*How to make banana-infused Jameson
1) Slice 2 ripe bananas and put into a clean glass jar with an airtight lid.
2) Pour 1/2 of a 750ml bottle of Jameson into the jar and close tightly.
3) Let sit on the counter in a dark spot and turn the jar gently once a day. After 4 to 5 days, strain the banana slices out using a fine mesh strainer and pour the whiskey through a coffee filter back into the jar. Refrigerate for up to 1 month.
---