The Hunger Games saga ends this weekend. Here again, that old adage that all good things must end rings true. While many fans wish they could follow the story of young Katniss Everdeen till she's old Katniss Everdeen, she probably wants her privacy from all the cameras and publicity. And in all seriousness, let's not ruin a good thing 10 years from now with The Hunger Games 5, 6, 7 & 8.
With her courage, her underdog personality, her not wanting to be a hero but just being so dang good at it, Katniss inspires audiences and readers around the globe. Here are seven cocktails to toast the girl on fire.
The Tribute
Courtesy of SUSHI ROXX Bar Director, Gary Wallach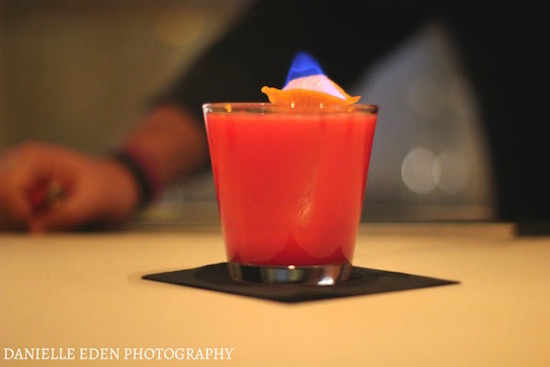 Photo by Danielle Eden
In the first film, Katniss bravely steps forward to take her sister's place as tribute. Her inner fire already burns.
Ingredients
3/4 oz. Lemon juice
1 1/2 oz. Spiced cranberry syrup
1 1/2 oz. The Botanist Gin
2 bar-spoons Green Chartreuse (for flaming)
Directions: Add ingredients into a tin, shake and strain into a rocks glass over a large cube. Cut a circular peel out of an orange. Indent the peel to make a bowl shape, and place on top of drink. Add chartreuse into the peel-bowl and set on fire. Let it burn off into the drink. Serve.
---
Mockinjaytail
Courtesy of Justin Andrews at 5th & MAD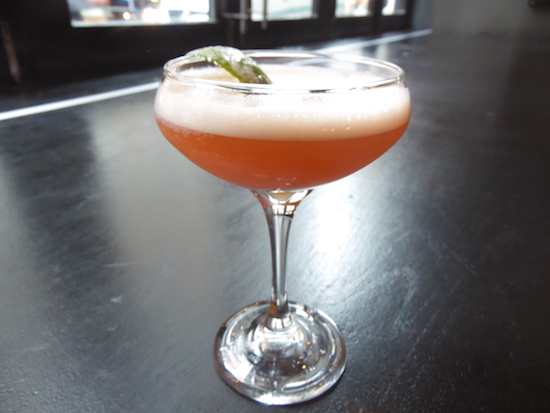 For Katniss' sister, Primrose, who always has the back of her blouse untucked like a ducktail, here is a sweet mocktail.
Ingredients
4 oz. Pineapple juice
1/2 oz. Fresh lime juice
1/2 oz. Egg white
3 Dashes Angostura bitters
Directions: Shake lime, pineapple, egg white and bitters with ice and strain into a chilled coupe. Garnish with a lime wheel.
---
Capitol Hot Chocolate
Courtesy of Gaetano Marangelli, sommelier at élan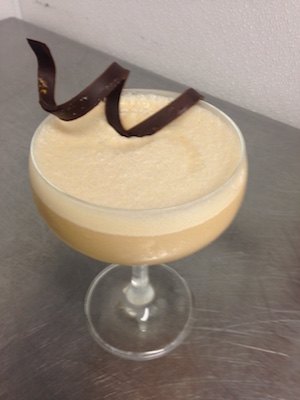 When young Katniss first heads to the Capitol on the train, she tastes hot chocolate for the first time, and is swept away. élan commemorates that innocent moment with a hot-chocolate grown up drink.
Ingredients
3/4 oz. Chocolate Rye
1 1/4 oz. Amaro
1 1/2 oz. Espresso
1 oz. Heavy cream
1/4 oz. Simple syrup
Directions: Shake the ingredients together, double-strain the mixture, and garnish it with chocolate tuile (a thin, pliable strip of chocolate).
---
The Mockingjay
Courtesy of Orson Salicetti of Lumos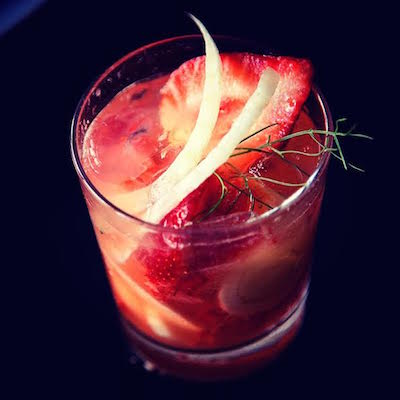 Katniss rocks red like none other. This gorgeously colored drink resembles the dress she wore for her interview with Caesar.
Ingredients
2 Strawberries (Flambéd in Orange Liqueur)
3/4 oz. Fresh lime juice
1/2 oz. Agave nectar
1 oz. HKB Baijiu (a traditional Chinese liqueur)
3 Slices of fresh fennel
3 Drunker strawberries (submerge strawberries for three hours in Combier Orange liqueur)
Sparkling wine
Directions: Muddle fennel in a rock glass. Next, muddle drunker strawberries on top of the fennel. In a shaker, pour HKB Baijiu, lime juice, and agave nectar. Add ice and shake lightly. Pour in the rock glass, top with a splash of champagne. Garnish with fresh fennel and Drunker strawberries.
---
Smoking Gun
Courtesy of Dane Tuzzio, BLT Steak Waikiki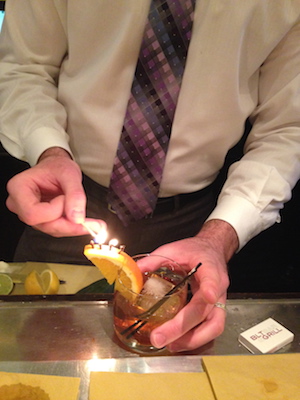 A fiery cocktail for the girl on fire. Make sure not to get burned in her wings.
Ingredients
¾ oz. Woodford Reserve
2 oz. Monkey Shoulder Scotch
1 oz. Sweet vermouth
1 Dash blood orange bitters
Clove studded orange slice
Directions: Combine all ingredients in a mixing glass and mix well. Strain into a rocks glass over a king cube and garnish with a clove-studded orange slice on fire.
---
President Snow Cone
Courtesy of Flor de Cana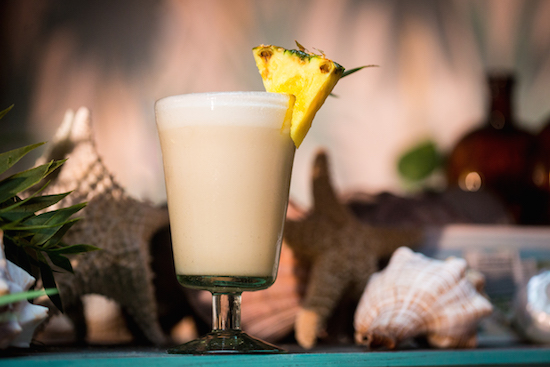 A truly chilling nemesis, President Snow tempts and tricks with his sweet façade.
Ingredients
2.5 oz. FDC 7 Rum
3 oz. Pineapple juice
1 oz. Coconut cream
Directions: Combine the FDC 7, pineapple juice and coconut cream in a blender. Pour into a tall glass and garnish with a pineapple wedge.
---
Who Needs Odds?
Courtesy of Brian Matthys, Compass Box Whisky Brand Ambassador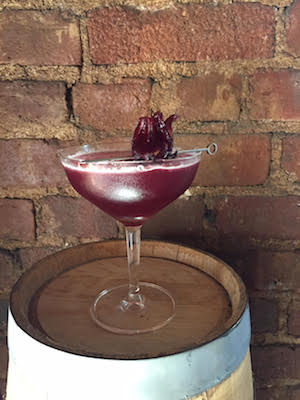 While everyone wishes Katniss, "May the odds be ever in your favor," Katniss makes her own odds with her boldness and her fire, mirrored in this cocktail's strong Scotch, Whisky and the blood-red grenadine. Mixologist Brian Matthys added the flamed twist and the hibiscus flower to resemble Katniss's symbol and spirit.
Ingredients
2 oz. Great King Street Glasgow Blend by Compass Box Whisky
¾ oz. Fresh lemon juice
¾ oz. Grenadine
½ oz. Tawny Port (floated on top of drink)
Directions: Combine Great King Street Glasgow Blend, lemon and grenadine and shake over ice. Strain into a chilled coupe glass and float port on top. Garnish with a flamed orange twist and a hibiscus flower.
---
Madina Papadopoulos is a New York-based freelance writer, author and regular contributor to Paste. You can follow her food adventures on Instagram and Twitter.