It was Dave Barry who said, "Without question, the greatest invention in the history of mankind is beer. Oh, I grant you that the wheel was also a fine invention, but the wheel does not go nearly as well with pizza." Beer is great, there is no doubt about that, but sometimes you find yourself craving something a bit different. We've compiled five fun, yet tasty cocktails whose main ingredient is beer. Be amazed with what others can create with a can of your favorite brew.
1. Sidewalker
A tart yet fruity drink that will be sure to land you on the sidewalk.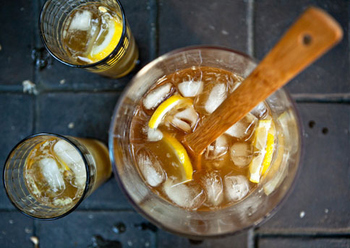 via Bon Appetite
Ingredients:
1 1/4 cups applejack
1 1/4 cups fresh lemon juice
3/4 cup pure maple syrup
6 tablespoons apple cider vinegar
4 cups chilled Hefeweizen beer
3/4 cup chilled club soda
8 lemon wedges
Take first four ingredients and stir into a large pitcher, adding one cup of ice. Refridgerate for about two hours until it's chilled and stir in the beer and club soda. Fill glasses with ice and pour in the drink. Add lemon wedges and enjoy.
2. Cascadian CaipBEERinha
A staple in Portland, dreamed up by the folks behind Brewing Up Cocktails, this delightful drink packs a delicious punch.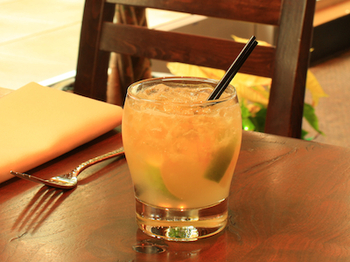 via NovoFogo
Ingredients:
2 ounces Novo Fogo Silver Cachaça
2 lime wedges
2 lemon wedges
6 mint leaves
0.5 ounces agave nectar
1 IPA
Mash fruits and agave nectar then add the mint and Cachaca. Shake with ice and top with IPA in a glass and serve.
3. Summer Hoedown
Longing for the days where there wasn't any snow on the ground? Mix up a batch of these watermelon-tinged beverages and pretend you're on the beach.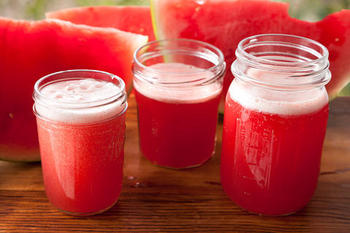 via Chow
Ingredients:
1 seedless watermelon, rind removed and cut into large squares
2 tablespoons granulated sugar
1/4 cup maraschino liqueur
4 (12-ounce) bottles white beer, such as Hoegaarden, chilled
Get a fine-mesh strainer and put over a large bowl: you'll need this later. Blend half of the watermelon until liquefied and pour through the strainer to remove fruit pulp. Get rid of the pulp and place strainer back over the bowl and repeat with the rest of the watermelon (should have about six cups juice). Add the sugar to the juice and mix until it dissipates. Refrigerate until chilled, about 1.5 hours. Take the chilled juice and add it to a large container adding the maraschino liqueur and beer and stir.
4. Guinness Cream Soda
This is an adult take on a classic bubbly beverage using vanilla liqueurs to add a sweet layer and the smoothness of Guinness as the base.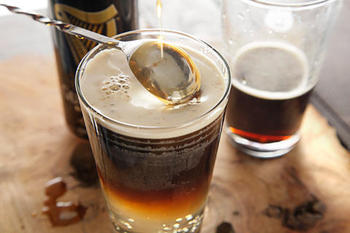 Ingredients:
6 ounces Domaine de Canton ginger liqueur, chilled
6 ounces Navan vanilla liqueur, chilled
3 (12-ounce) cans club soda, chilled
3 (14.9-ounce) cans Guinness Draught, chilled
Pour the ginger and vanilla liqueurs in a pitcher and mix, adding the club soda as you go. Fill a pint glass about half full with the aforementioned mix, and then pour the Guinness over the back of a spoon into the glass until full. Stir and serve.
5. Coupe de Ville
This cocktail is a bubbly beer-laden margarita that will be sure to make you want to say olé!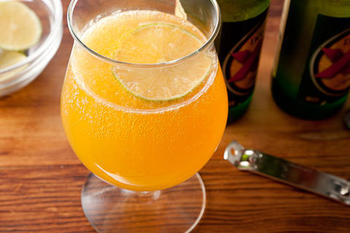 via Chow
Ingredients:
Makes seven servings
6 ounces añejo tequila
6 ounces lime juice
6 ounces orange juice
3 ounces orange liqueur
6 12-ounce bottles light Mexican beer
Pour all the ingredients (except the beer) into a bowl and mix. Add the beer and stir gently. Pour into chilled glasses. Enjoy!