Whatever force of nature is responsible for 3,000 people naming their babies "Cayden" the same week you do, or for every major motion picture studio to start principal photography on a Carlos the Jackal thriller en masse-well, it affects the cocktail zeitgeist too. Lately, everywhere I go, and all over my inbox, it's all about rosemary right now.
I'd like to strongly suggest that this is a trend to support. My reasons are as follows: First, it's a delicious flavor, resinous, balsamic, savory and utterly Mediteranean. It's a digestive tonic and improves circulation, both of which make it an excellent additive to a 5:00 p.m. aperitif. According to both folk wisdom and modern science, it appears smelling rosemary has a discernible effect on concentration and short term memory. It works pretty much as well as Rogaine for improving male pattern baldness, and it repels mosquitoes, making it a special friend in wet climates. (P.S. it's not a bad additive to a gin and tonic, if you want your not-so-great gin to taste more expensive.) Rosemary is humble but elegant, refreshing yet opulent-smelling, and an all-around feel-good herb.
In the cocktail sphere, rosemary's best friends include citrus fruits (to my palate, lime is the toughest match for rosemary, but they're all good, and orange and grapefruit are stellar), gin (but be careful, there is such a thing as too much and someone went to a lot of trouble to create that perfectly balanced gin; taste your spirit and act accordingly), whiskey (I love it with bourbon and a little burnt orange), vodka (vodka's such a blank slate it goes without saying but let's say it anyway) and tequila (I don't personally drink tequila often but I think a sprig of rosemary would do as much for a Paloma as for a Greyhound or Martini). It's an assertive flavor, but for all that it's surprisingly non-polarizing. People tend to find rosemary warm and comforting and appetizing, unlike, say, cilantro or even sage, both of which have devotees and haters of equal intensity and passion.
You can use fresh, raw rosemary to flavor drinks (again, pay attention, a little of this powerful aromatic plant goes a long way), or as an infusion in either water or olive oil (Gin Mare sent me some arbequina olive oil infused with rosemary not long ago—a dropperful is a totally transcendent addition to a G&T). You can use rosemary essential oil in this way as well, but make sure it's the real thing and not a perfume oil, and use sparingly. You're encouraged to play around, but here are a few ideas to get you started.
East Indian Gimlet
1.5oz Jaisalmer Gin
1.5oz lime juice
.75oz Ginger Simple Syrup
¾ cup sugar
¼ cup chopped peeled ginger
.25oz St. Germain
2 sprigs fresh rosemary, for garnish
For the Ginger Simple Syrup: Bring sugar, ginger, and ¾ cup water to a boil in a small saucepan, stirring to dissolve sugar. Remove from heat and let sit 20 minutes. Strain into a jar, cover and chill.
For the cocktail: Fill a cocktail shaker with ice. Pour in the gin, lime juice and ginger syrup. Shake until well chilled. Strain into cocktail glass. Garnish with fresh rosemary.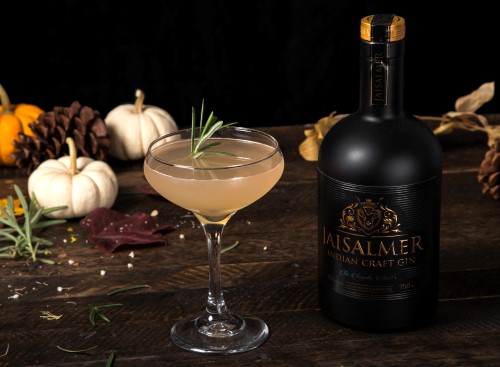 Prepare to be Empressed
1.5oz Empress 1908 gin
.25oz Italicus
.5oz lime Juice
.5oz rosemary-infused simple syrup
Shake ingredients on ice, strain into a chilled coupe. Garnish with a sprig of rosemary.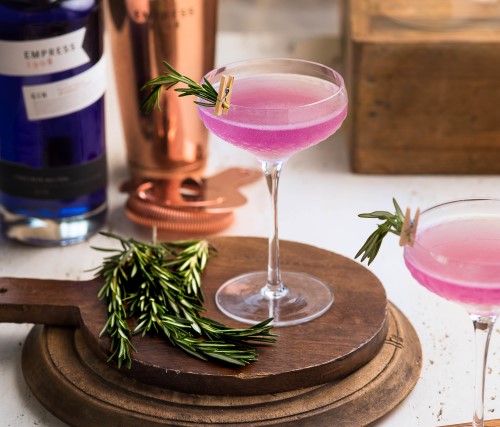 Rose Fizz
1.5 oz. The Botanist Gin
.75 oz. Fresh lemon juice
.75 oz. Honey syrup
2 oz. Sparkling rose
2 Rosemary sprig
Combine The Botanist Gin, honey syrup and one rosemary sprig in a cocktail shaker. Add ice and shake. Top with rose.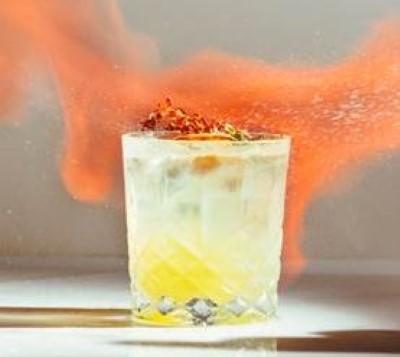 St-Germain Rosemary Punch
1 cup Bombay Sapphire Gin
1 cup St-Germain French Elderflower liqueur
½ cup fresh lemon juice
4 cups freshly brewed jasmine tea
10 dashes orange bitters
8 rosemary sprigs
Combine all ingredients in a punch bowl and stir well with plenty of ice to chill. Ladle into punch glasses or rocks glasses. Serves 4-6 people.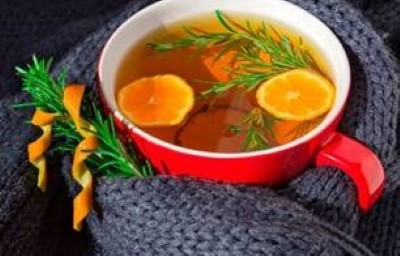 Potted Plant
1 oz. Mr. Black Cold Brew Liqueur
.5 oz. freshly brewed espresso
.5 oz. Cynar
.25 oz. Rosemary syrup
1 oz. Hendricks Gin
Glassware: Plant holder
Method: Add ingredients to a tin and shake. Pour into a small plastic bag with ice and close the bag with a straw coming out of the top. Cover the bag with "dirt" (a nut and chocolate grinded mixture). Once mix covers the bag in the pot, add rosemary sprigs (to look like they are growing) and some edible flowers on the dirt.
Garnish: Rosemary & Edible flowers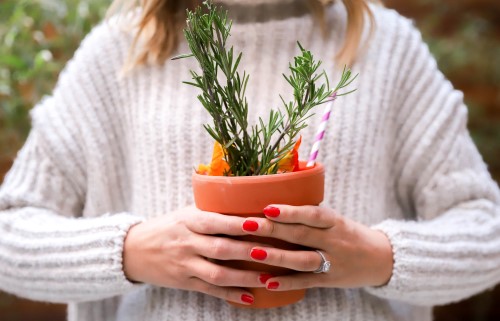 NOLET'S Silver Pink Peppercorn Rosé Spritz
12 oz. NOLET'S Silver Gin
12 oz. Rosé
4 oz. White grape juice
3 oz. Cranberry or cherry liqueur
Pink peppercorn syrup*
Club soda to top off
Sugared fresh cranberries
Cranberry with rosemary ice cubes
Pink peppercorn syrup
1/2 c. Sugar
1/2 c. Water
2 Tbsp. Pink Peppercorns
Syrup Method: Simmer all ingredients, stirring occasionally until sugar dissolves and peppercorns begin to break down. Cool and strain into a storage container.
Method: For the cocktail, combine all ingredients except the club soda. Stir in a pitcher, then pour over ice and top with club soda. Garnish with sugared cranberries.
Thanksgiving Ginger Diplo
1.5oz Diplomático Mantuano Rum
3oz ginger ale
Dash of cocoa bitters (optional)
Cranberries, for garnish
Rosemary, for garnish
Fill a cocktail shaker with ice. Pour in the rum, ginger ale and bitters. Shake until well chilled.
Strain into rocks glass. Garnish with fresh rosemary and cranberries.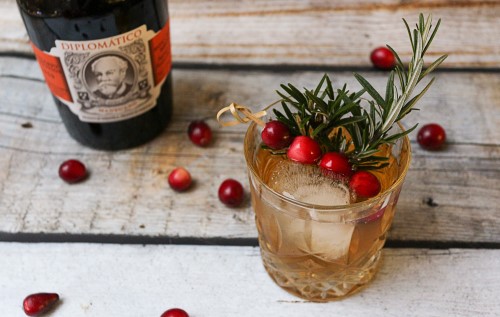 Light My Fire
1.5 oz NOLET'S Gin
.75 oz homemade cucumber and rosemary cordial
.75 oz lime juice
Method: Shaken served on a highball topped with champagne garnish a dehydrated lime and rosemary topped with .25 oz of burned chartreuse
The Honey Harvest
2oz. The Botanist Gin
1 oz. Fresh lime juice
.75 oz. Sweet vermouth
.5 oz. Rosemary honey syrup
5 Rosemary sprigs
Directions:
To make Rosemary Honey Syrup: Combine .5 cups of fresh honey and 4 rosemary sprigs in a small pot. Add .5 cups of hot water, cover and steep for 10 minutes.