Cocktail-Inspired Coffee and the Potential of Beans: Portola Lab Talks Coffee
Photos via Portola Coffee Lab
Drink
Features
Coffee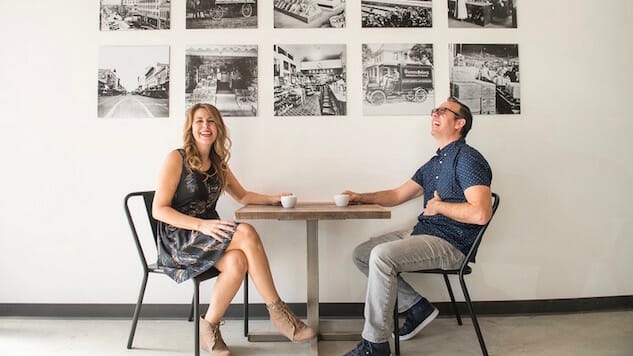 Voted 2015 Micro Roaster of the Year by Roast magazine, Portola Coffee Lab is an Orange County, California, coffee pioneer. Since opening their first retail location five years ago in Costa Mesa, Christa and Jeff Duggan have continued to expand across the county.
Portola has coffee shops in Orange, Tustin and Santa Ana, with locations opening soon in Huntington Beach and Mission Viejo. The flagship Costa Mesa shop includes the roastery and the coffee concept bar, Theorem. We talked with founder Christa Duggan about creativity and cocktail-inspired coffee.
Paste: How does creativity play into what you're doing with Portola?
Christa Duggan: I think we have always been creative but I think what took us to the next level, as far as our creativity, is our space called "Theorem." Theorem is a six-seat coffee playground that we developed for baristas to introduce creativity to the community. We've been able to push the envelope in Theorem because it's a much smaller space. We change up the menu once a month. A lot of our drinks are cocktail-inspired, and every single menu item is created by our barista staff.
Paste: What brewing methods do you use?
CD: We do V60 pour overs. We use Trifecta, Siphon and Alpha Dominche [brewers]. Our espresso machines are from Slayer and Spirit.
Paste: Tell me about Portola's coffee sourcing business. You have direct relationships with coffee growers?
CD: With about 95% of our coffee, we are involved in direct trade. My husband [Jeff Duggan] is the one that does all of the coffee sourcing for our company. He goes to the origin and develops relationships with farmers and cups their coffees and then brings the coffees back to the United States. We're really involved with traceability.
Jeff has even taken it one step further in creating Roasters United. Roasters United is a project that we're really proud of. He started it with two other roasters – Bird Rock Coffee Roasters and Klatch Coffee – and, basically, they created the project to really allow them to join forces to affect change in coffee growing countries. Quality drives prices, and at the farm, all of the improvements rely on both motivation and financial support so that their coffee prices can go up.
Paste: What are some of the issues you consider when you're selecting your partners?
CD: On the farmer side it's the quality of the bean. When Jeff goes to origin, he's cupping like 30 – 50 coffees at a time, blindly half the time. I would say, first and foremost, it is the quality of the bean. But he knows that even if that quality is not as high when it's cupped as he would normally purchase, [in some situations] he believes in the farm because he's met the farmer; he knows what type of soil the crops are growing in; he knows the environment which it comes from and how willing that farmer is to make changes; he then would change his mind frame in deciding to partner with them because he would feel as if there is a huge potential. So, it's not always about the quality of the bean. It could also be about the potential quality of the bean.
Paste: Why is customer education important to you?
CD: I feel like we've grown our base with customers who care and want to learn more. They start to get into home roasting or brewing at home and trying different brewing apparatuses. We've always made that one of our core values because we've seen how much our customer base responds to that education piece.