If you attend college in Colorado, you'll start to really love craft beer—or hate beer entirely. Duncan Clauss, who went to the University of Colorado at Boulder, falls in the former category. In fact, he's taken that truism to its most logical extreme, first by falling in love with Boulder's famed beer scene, then by becoming a home brewer—and finally by moving to Aspen in an attempt to edge into the already-crowded Colorado beer market with a brewery aptly named Aspen Brewing Company.
Surprisingly, Aspen had no brewery when he arrived in 2007; Flying Dog had started out in the iconic mountain town. But they'd long since departed for Denver, only to later leave the Rockies behind entirely when they relocated to Frederick, Maryland. And that meant that one of the country's most iconic vacation mountain towns, nestled in a state synonymous with craft beer, didn't have a brewery.
Call it a woeful oversight—or perhaps a consequence of the town's perceived identity as a place that caters to high-end visitors whose private jets crowd out the small airport. A place, at first blush, that would cater more to adventurous mountain wineries over something as proletariat as beer. Or maybe a boutique custom fur coat operation.
But look beyond Aspen's haute glow, deeper into its mining past, or to the days when dirtbag climbers bedded down at the once-derelict Jerome Hotel, to those days when Hunter S. Thomson tossed back too many cocktails at the J Bar and ran for mayor, a relatively rough-and-tumble beer operation in Aspen simply makes sense.
For proof, look no further than the brewery's tasting room, a small spot located a few blocks off Aspen's central corridor. Get halfway through your first beer, and the place feels like you're hanging with your new best friends in some local resident's garage who's really good at home brewing. Here there's no hint of pretention. Just a chill, open vibe, and beers that seldom cost more than $5.
That relaxed atmosphere grows from ABC's earnest appreciation for the mountain town, the people who live there, and the country that surrounds it—an affection best illustrated by a trip they organized last March, deep into the snow-covered backcountry of Colorado. In partnership with Strafe Outerwear and Zeal Optics, the four-day event employed three snowmobiles, two backcountry huts, four trucks, and 12 cases of This Season's Blonde and Independence Pass Ale. It also involved building a huge snow jump for two epic sessions, taking four tours into the unexplored ski terrain above the Ashcroft Ski Area, and brewing their first-ever batch of Silver City Ale, a session brew made with snowmelt, fermented with hefeweizen yeast.
And, as with most breweries in love with their life, they're off to meteoric new heights. Come spring 2017 they plan to relocate to a newer, larger facility on North Mill Street in downtown Aspen, alongside the Roaring Fork River, into the building that once housed the city's power plant. And the brewery and community biergarten is only one part of the larger project, which will also include a multimedia studio, community event space, and a collaborative office space. And more beer, naturally.
Key Brews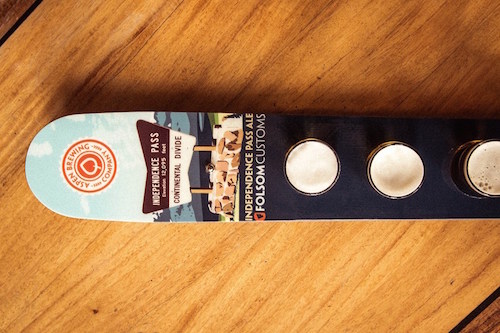 Photo via Aspen Brewing/Facebook
Independence Pass IPA
Named after the vertiginous route that traverses the Continental Divide, this fully hopped IPA follows the standard American-style India pale ale—in the best of ways. With an IPU of 62 and a 7% ABV, it's the perfect post-whatever beer.
This Season's Blonde
This brew had me at the name—and the label, referencing both the resort town's seasonal population and the simple pleasures of sipping on a bright-tasting, refreshing can of beer while lounging on the sun deck. Expect a bit of citrus hoppiness, an après-friendly 5.6% ABV, and an odd sensation whenever you order one from a blonde bartender or server.
Conundrum Red Ale
This one attempts to balance itself between a hoppy UK-style bitter and a malt-centric sweet ale—and it mostly succeeds. Like Aspen's personality, the Conundrum is more complex than you might expect. Take that as a good thing.