Craft Breweries Are Teaming Up to Raise Funds for the ACLU With "People Power" Beers
Photos via Threes Brewing
Drink
News
craft beer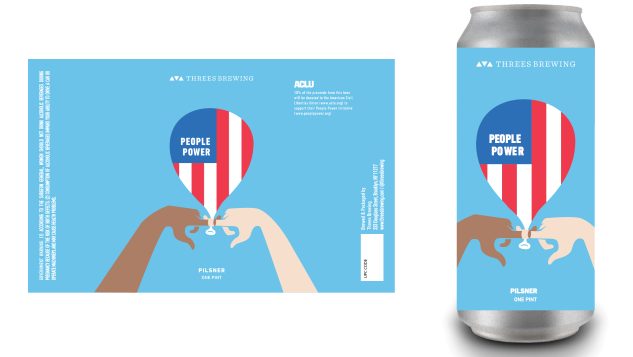 Among the many reasons why we love the craft beer industry—beyond the fact that it so often enables our beer drinking habits—is the tendency among craft brewers to give back to both their local communities and stand up for causes they believe in. Today, Brooklyn's Threes Brewing announced their intention to do both of those things with the launch of "People Power Beer," described by the brewery as "a grassroots initiative that organizes craft breweries around the country in support of the American Civil Liberties Union (ACLU)." Says Threes:
Motivated by a feeling of wanting to do more in the current political climate, the Brooklyn-based Threes team led by co-founder Josh Stylman came up with the idea of asking breweries around the country to all brew their own version of a beer called People Power (named after an ACLU program) and donate 10% of sales of that beer back to the ACLU. So far, more than two dozen breweries representing 13 states from around the country have signed on, including high profile names like Mikkeller, KCBC, Interboro Spirits and Ales, Industrial Arts Brewing Company and Bearded Iris.
The full list of participating breweries, which you can find at the end of this piece, includes companies from around the country, such as hot hazy IPA makers Alvarado Street Brewing from Monterey, CA, and Asheville, NC saison whiz kids Burial Beer Co. Threes, a brewery that has also performed very well in Paste blind tastings (most recently placing at #14 of 134 in pilsner ), understandably is producing another pilsner here to be their version of People Power—a reasonable choice, given that pils is undoubtedly a beer of the workingman in the United States. It's not entirely clear if other breweries will produce their own versions of People Power that hew to the pilsner format, or whether the People Power beers will cover every conceivable beer style. What is known is the release window: You'll be able to find People Power beers from each of the participating breweries between July 4 and Nov. 6 (election day) of 2018.
Threes and the participating breweries are hoping that more brewers will still sign on before the July 4 deadline, which can be done at the People Power Beer website. Individuals, meanwhile, can support the People Power program by clicking here. You can read the full pledge from the assembled breweries right here:
We, a collection of over two dozen craft breweries across the country, are excited to announce the launch of the People Power Beer campaign, a self-organized grassroots effort to support the American Civil Liberties Union's work to protect the right of equality for all. Conceived of by Brooklyn-based Threes Brewing, our initiative calls for craft breweries around the country to take the People Power Beer Pledge by committing to brew their own interpretation of a new beer called People Power, to be released between Independence Day, July 4th and Election Day, November 6th. Each participating brewery will then donate 10% of the profits of their version of People Power beer to the ACLU. The initiative is open to any American craft brewery who would like to show their support.

For almost a century the ACLU has defended our rights in the courts. Recently, the organization introduced People Power, a mobilization program intended to effect meaningful policy change at the local, state and national levels. Their 2018 Voter campaign is designed to help voters across the country better understand where their candidates stand on civil rights issues, provide pathways for voters to engage during the election cycle, and ensure that civil liberties are a crucial component of political conversations in 2018. Our People Power Beer campaign is proud to support this essential work.

Breweries are pillars in local communities and gathering places in our neighborhoods, and we therefore felt uniquely positioned to raise awareness and bolster civic engagement. We brew beer for the moments we celebrate and the way it brings people together, and, whether big or small, red state or blue, we shared the sense of a moral imperative and patriotic duty to act. We have witnessed firsthand the strength that a united community can harness and we invite other breweries who feel so inspired to take the People Power Beer Pledge and join us.

The outcome will be a nationwide cornucopia of brews, designs, events and other inspired activations over the coming months. Like the power of the people itself, expression comes in endless forms and sprouts from the ground up. As brewers, we will do our best to foment this creativity and commitment.

And here's the full list of all participating breweries. It would be nice to see one of the breweries from Paste's hometown of Atlanta, GA, join in on the effort before the deadline is reached.
Participating Breweries – as of June 11th:
Alarmist Brewing (Chicago, IL)
Alvarado Street Brewery (Monterey, CA)
Aslin Brewing (Herndon, VA)
Bearded Iris (Nashville, TN)
Brew Bus Brewing (Tampa, FL)
Burial Beer Co. (Asheville, NC)
Burnt City Brewing (Chicago, IL)
Cloudburst Brewing (Seattle, WA)
Crane Brewing Company (Raytown, MO)
Fair State Brewing Cooperative (Minneapolis, MN)
Finback Brewing (Glendale, NY)
Homebrew in Paradise (Honolulu, HI)
Hopewell Brewing Co. (Chicago, IL)
Industrial Arts Brewing Company (Garnerville, NY)
Interboro Spirits and Ales (Brooklyn, NY)
Kent Falls Brewing Co (Kent, CT)
KCBC (Brooklyn, NY)
Metal Monkey Brewing (Romeoville, IL)
Middle Brow Beer Co. (Chicago, IL)
Mikkeller (Flushing, NY – San Diego, CA)
New Park Brewing (West Hartford, CT)
Seventh Son Brewing (Columbus, OH)
Sketchbook Brewing Co. (Evanston, IL)
Three Stars (Washington, DC)
Threes Brewing (Brooklyn, NY)
Werk Force Brewing Co. (Plainfield, IL)