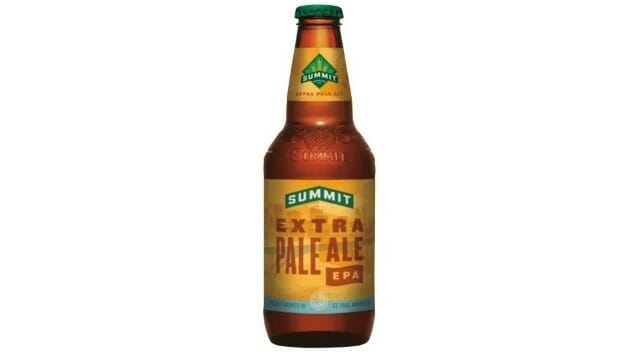 This essay is part of a series this month, coinciding with the concept of Flagship February, wherein we intend to revisit the flagship beers of regional craft breweries, reflect on their influence within the beer scene, and assess how those beers fit into the modern beer world. Click here to see all the other entries in the series.
So it's come to this: The last essay in My Month of Flagships. Thanks to Leap Day, we got one last installment, but I must offer my apologies to Summit for having the not-so-great luck of going last in the series. Although really, in a series of daily essays, it's got to be someone, right? And who says we have to start ignoring regional craft brewery flagships now, just because another Flagship February has come to an end? Rather, we should probably take the lessons we learned this February to heart, and remember to not write off so many "standard" beer styles we haven't revisited in recent memory. Regardless of the impossible responsibility we might feel to track down every new, hyped IPA or stout, returning to the important flagships of yesteryear is often a very satisfying experience.
It seems fitting, then, that the final beer in the series is a classic pale ale, as it was American pale ale that truly built the U.S. market for craft beer in its first few decades. Pale ale actually remained the #1 selling American craft beer style as late as 2011, in fact, when it was finally hurdled by IPA in an inversion that shows little sign of ever reversing. As time has gone by, and the American craft beer consumer has craved ever bigger (and less balanced) flavor profiles, there has been correspondingly less space for those classic pale ales—and beers that do still bear the "pale ale" title have increasingly come to resemble miniaturized IPAs, conforming to whatever trends (hazy and juicy, now) are currently driving enthusiasm.
Summit Extra Pale Ale, on the other hand, is like the antithesis to that kind of thinking, and has been Summit's flagship for 34 years at this point—it is St. Paul, Minnesota's answer to Sierra Nevada Pale Ale, if you will, except with a bit more of a classic English pale ale flair. The winner of numerous awards at competitions like the Great American Beer Festival and the World Beer Cup, it's a steady presence in the Midwestern craft beer scene that has stayed consistent as seemingly the entire world has warped and shifted around it. Summit, at the same time, has also explored new styles—they even have some juicy IPAs, because no one can afford to be without them now—but still, Extra Pale Ale persists in the place of honor.
In terms of construction, Extra Pale Ale seems to blend elements of both old-school English pale and and the American version of that style that came into prominence in the 1980s. It uses some of the signature Cascade hop that we so intimately associate with SNPA and others of its era, but supports that distinctive floral/citrus note with several U.K. hop varieties, including Fuggle and Pilgrim, which have become increasingly exotic to American palates that are constantly bombarded with the likes of Citra and Mosaic. It seems to promise a mild, but pleasingly complex pale ale.
So, let's re-taste some Summit Extra Pale Ale and see how this one is drinking in 2020.
---
Tasting: Summit Extra Pale Ale
Here's how Summit excitedly describes their flagship:
The beer that started it all! Our first brew, Summit Extra Pale Ale is St. Paul's craft beer pioneer. EPA has been gracing the pint glasses of serious beer lovers since 1986. Caramel biscuit malts balanced with a juicy citrus hop bite have led this beer to be crowned a winner through the years and for more to come!
Exclamation points! Yah! Regardless of the verve on display, that's a pretty accurate description of the beer I ultimately sampled from Summit.
On the nose, I get notes of sweet grain, slight toastiness and hints of dank hops. There's a bit of pine, and a resinous quality, and a more floral component as well, with a faint bit of orange citrus that fights for notice. It implies a mild, easygoing pale ale that doesn't seem to be trying to grab your attention via volume or bombast.
On the palate, that's exactly what this is: Mild, quaffable, perfectly pleasant pale ale. Bread crusts, pine and slightly bitter orange marmalade notes give way to a crisp, slightly grainy finish and mild bitterness. It's quite dry, having only a flash of malty sweetness that is then eased out by light bitterness—noticeably less bitter in general than some of the other classic pale ales I've examined in this series. It drinks very easily, being the kind of beer where you could probably drain a pint without even realizing that you'd done it. In the spirit of calling things "session" styles, it actually does feel like a beer that was designed to be consumed in bulk.
All in all, Summit Extra Pale Ale is a very easygoing, unpretentious beer, which is exactly what you'd probably expect from something that has been around since 1986. This is the kind of beer that no doubt won countless Midwestern converts to the realm of "better beer" in those early years of evangelism, but is also exactly the sort of beer that has had a hard time in the modern landscape, when subtlety and mild flavors are sought out with far less regularity. Still, "EPA" has its legion of loyal fans, and you can tell from the experience of drinking this beer that those folks are undoubtedly the salt of the earth. Someone pretentious would simply never drink this stuff—it exudes an aura of humbleness, which makes it perfectly fitting as the final entry in this series.
---
Jim Vorel is a Paste staff writer and resident craft beer geek. You can follow him on Twitter for much more drinks writing.