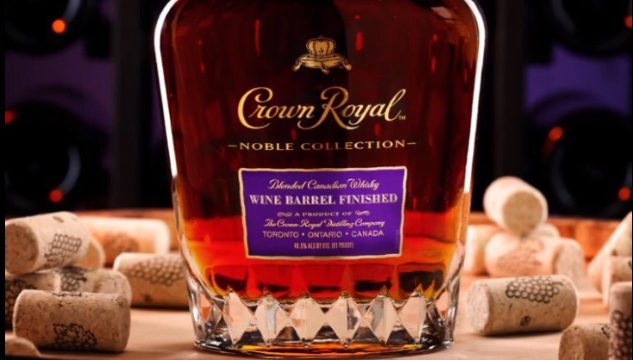 It's difficult to quantify how much a single product, or a single influential review of a product, can change an entire company's stature in the eyes of consumers. It is of course oversimplifying to even say "consumers," as if every customer in the brown spirits industry is looking for the same experience, or prepared to spend in the same price range. But for the sake of this example, let's say we're talking about the continuously growing market for "premium" American whiskey—i.e., bourbon and rye.
In that marketplace, it's fair to say that Crown Royal has been seen as more of a budget brand than anything—the blended Canadian equivalent to Jim Beam or Jack Daniels. As an easy-drinking, approachable blended whiskey, there's rarely anything objectively negative to be found in Crown, but the juice in the bottles never earned the pomp and circumstance conveyed by the iconic purple velvet. That's just some good marketing.
At least, that is, until the brand's Northern Harvest Rye arrived on the scene in 2015. When that dram, attractively priced in a $30 bottle, is being named the "best whiskey in the world" by esteemed industry figure Jim Murray, that's going to change a whole lot of hearts and minds. We had much the same reaction in our own review, although perhaps slightly less glowing—it's a very enjoyable product, and quite a solid value at the same time that fills in its own unique niche among Canadian whiskey.
Since that time, it would seem that the Crown Royal brand has doubled down on the theory of premium brand extension, reasoning that the introduction of additional, new Crown brands might generate the same kind of press and exposure as the Northern Harvest Rye. Thus it is with the distillery's current "Noble Collection" series, which is producing unique twists on the Crown formula, sporting top shelf prices. The first, titled Cornerstone Blend, was a fusion of multiple whiskey styles, including Canadian rye and conspicuously named "bourbon-style" whiskey.
The second, which we're tasting today, is titled Crown Royal Wine Barrel Finished, and features whiskey that has spent time in some medium toast American oak Cabernet Sauvignon barrels sourced from Paso Robles, CA wine country. The result is a rich amber whiskey that has pleasantly been deepened and rounded by its second trip into oak. It emerges as an innately superior product to the standard crown, and goes at least a good ways in justifying a $59.99 MSRP.
On the nose, this whiskey is layered with berry-like dark fruitiness and butterscotch-like sweetness. It's also a little bit hot; boozier than one might expect for a mere 81 proof, but those impressions dissipate after a little bit of time in the glass. There's no missing the influences of the wine barrel in these aromatics—it's redolent in macerated dark fruit, which plays very nicely against light notes of caramel and vanilla custard. It's a very fruit-forward nose for a blended Canadian whiskey.
On the palate, the same flavors emerge. Butterscotch sweetness and light brown sugar give way to waves of dark fruit and a touch of anise or licorice-like spice. Once again it's slightly hot for the ABV, but nothing too imposing. The texture is quite pleasantly silky and smooth, which combines with moderate residual sweetness to suggest a certain decadence. The dark fruit flavors of plum and sherry have almost a slightly "juicy" quality, with a kiss of sweetness. Beyond that trifecta of fruit/sweet/silky, it's not the most complex whiskey, but it's very easy to appreciate and enjoy.
All in all, I'm walking away fairly impressed with this particular extension of the Crown ethos. Even moreso than in the Northern Harvest Rye, they took their base whiskey here and did something to it that really added another layer of appreciable nuance. The $60 price tag may be a bit much for some, but if you're interested in a fruit-accented dram, you won't regret giving this one a try.
Distillery: Crown Royal (owner Diageo)
City: Gimli, Manitoba, Canada
Style: Canadian blended whiskey, finished in wine barrels
ABV: 81 proof, 40.5% ABV
Availability: Nationwide, limited release
---
Jim Vorel is a Paste staff writer and dram drinker. You can follow him on Twitter for more craft beer and whiskey coverage.