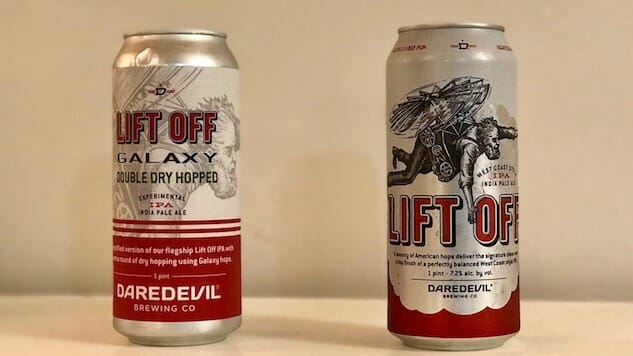 When I first started drinking IPAs—about 25 years ago, between 5th period and high school basketball practice—I thought they gave me heartburn. I didn't realize at the time that the burning I felt from the back of my tongue down to my stomach was innocence being driven out of my body by Cascade and Centennial hops. This was the sort of IPA that I grew up with; West Coast IPAs that, honestly, kind of hurt. You had to work for them. They were an acquired taste. Once you grew accustomed to the bitterness, you couldn't shake it and you always wanted more. But there was a steep learning curve. It took practice.
Lift Off IPA is that kind of beer, following the old school West Coast mold. It pours orange and clear with a decent head that lingers. The nose is subtle and smells vaguely of grapefruit. It's a creamy beer once you dig into it, and downright frothy if you give it a chance to linger on your tongue. But it has all kinds of sharp edges, from the hop zest that turns peppery at the back end of the sip to the straight up bitter notes that dominate your palate after the beer is gone. This is not one of those newfangled zero-IBU beers that are all fruit and no pain. This is an old school palate wrecker. It's aggressively hoppy. Not for beginners.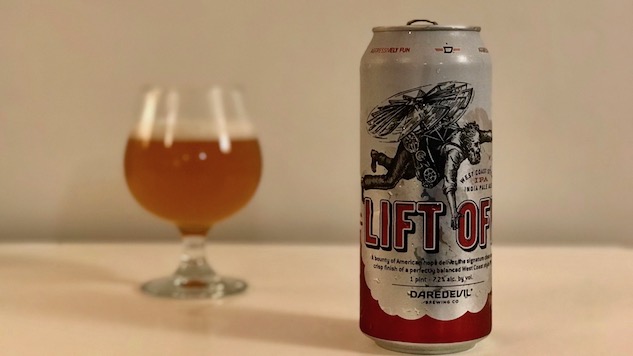 Lift Off is the first beer Daredevil started brewing, an homage to the hoppy, bitter beers from the left side of the country that dominated the craft beer scene for so long. The brewery's foundation was built on Lift Off, but they've actually made a name for themselves by brewing traditional German styles, picking up some serious hardware for their pilsners and Kolsch. I had the chance to check out a handful of beers this brewery out of Speedway, Indiana, and it was obvious that Daredevil has loads of talent.
This time, they sent me two versions of Lift Off—the "regular" and a limited release that's been double dry hopped with Galaxy hops. Daredevil calls it an "amplified version" of their flagship beer, undergoing an extra round of dry hopping with Galaxy. On paper, it might read like the same beer, but it's a different animal altogether and drinking it is an education in hops.
Daredevil put Lift Off Galaxy in one of those cans with a peel away lid, so you can get the full aromatic punch, even if you're drinking it out of the can. It's a cool touch. Pop that lid and you can smell this beer from across the room. Literally. I opened it on one side of the room and my wife, sitting on the couch several feet away, said, "whoa." Like Keanu Reeves.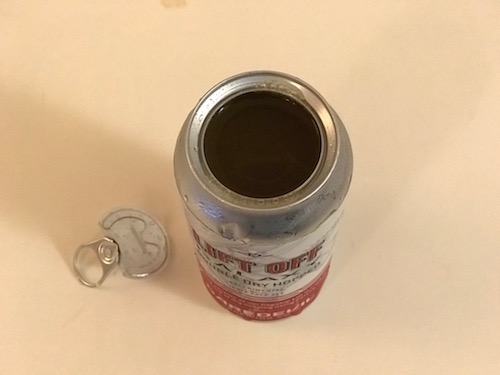 Lift Off Galaxy smells like you got lost on a Florida citrus farm, and decided to take a nap in the back of one of the fully loaded fruit trucks. But it's heavy on the peaches, so, make that a South Carolina citrus farm. It pours a softer yellow than "regular" Lift Off, and it's hazy and completely opaque. The taste, like the nose, is amplified. As in, this one goes to 11. It's all sharp edges and bite. Leave it on your tongue and it will burn holes in your mouth. Seriously. I have a hole in my tongue. When you were a kid, did your older brother dare you to lick a 9-volt battery? It's like that.
Is it weird that I like it? What's wrong with me?
But which one do I like better? The regular or double dry hopped Lift Off? I want to be tough and say I like the agro hopped Galaxy version better, the one with the 9-volt battery punch, because I'm a seasoned beer drinker who needs to mainline hops to feel anything anymore. That's what I want to say, but honestly, the Galaxy is too much for me. The first few sips were fun—again, like licking that 9-volt battery—but after that, all I could taste was burning. Drinking the two beers side by side, I found myself gravitating towards the friendlier "regular" Lift Off.
Perhaps all of these fruit-forward IPAs from the East Coast have softened me in my old age. Or maybe I just don't see the point in licking a 9-volt battery anymore.
Rating:
Lift Off: 88
Lift Off Galaxy: 81
Brewery: Daredevil Brewing
City: Speedway, Indiana
Style: IPA
ABV: 7.2% ABV
Availability: Limited for Lift Off Galaxy