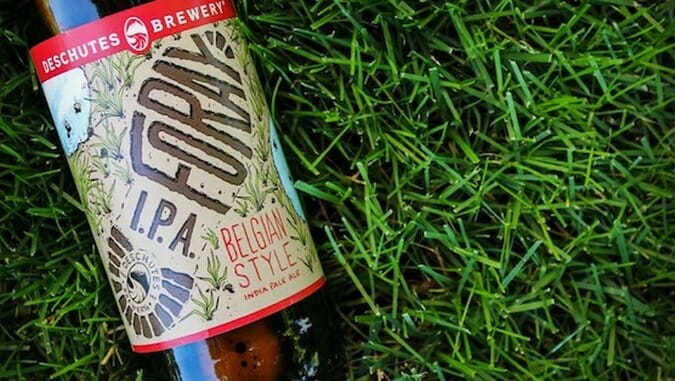 In most artistic circles, the term experiment typically implies: "Nice try. I see what you were going for, but it just didn't work." Thankfully, when Deschutes describes the Foray Belgian-Style IPA as an "experiment," it's not art-critique shorthand for failure. First introduced in the brewery's Bond Street Pub in Bend, Oregon, this IPA recently graduated from the tap line—largely due to popular demand—and now lives in their Bond Street Series, which "explores the many nuances and endless possibilities of the almighty hop."
Make no mistake: this isn't some hardcore, hop-centric IPA similar to those that have become a signature in the Pacific Northwest beer scene. Instead, the Foray explores the more subtle characteristics of the famed beer ingredient. The Belgian yeast evokes hints of fruit—apple, light banana, and pear—that compliment the reserved use of citra Galaxy hops to deliver a drinking experience that feels more like a steady journey across some rolling hillside, rather than jumping off the bridge into a canyon of bold flavors.
It pours a golden straw color with a nice, dense head that resembles sea foam. Citrus dominates the nose but in taste the fruity elements rise to join with hints of spice, hay, and the lightest of tart, green apple flavor. The finish is smooth, clean, and refreshing, with a slightly opaque mouthfeel, likely the result of its 6.5% ABV.
The Foray, no longer an experiment at all.
Brewery: Deschutes
City: Bend, Ore.
Style: Belgian IPA
ABV: 6.5%