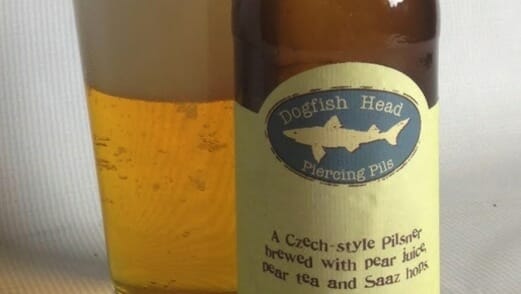 Paste got the first taste of the latest beer from Dogfish Head: Piercing Pils.
If you want an example of the creative strain that runs through the American Craft Beer scene, you could do a lot worse than the experimental irreverence of Delaware's Dogfish Head (the brewery even whipped up a beer with moon dust for Pete's sake). It certainly comes through in the brewery's latest release, Piercing Pils—a Czech-style pilsner blended with pear juice and pear tea.
Anyone can experiment with a stout or porter, but leave it to Dogfish Head to get funky with a Pilsner. Dogfish Head has mixed wines and ciders with its beers before, and there are few fruits that haven't found their way into one of their releases. They didn't hold back with the pears.
The fruity flavor combines nicely with the pilsner, making it clear why the brewery shied away from the ales its known for and went for a lager instead. And the Saaz hops and tea cut the sweetness, giving it a solidly spicy kick. But none of that takes away from the crsipness of the pils.
It's billed as a winter seasonal, but it's light and refreshing enough for a warm fall day when you want more than just a cider—because this is a beer first. The pear gives it a twist but it doesn't overwhelm the base pilsner.
Brewery: Dogfish Head Craft Brewed Ales
City: Milton, Del.
Style: Pilsner/Fruit Beer
ABV: 6%