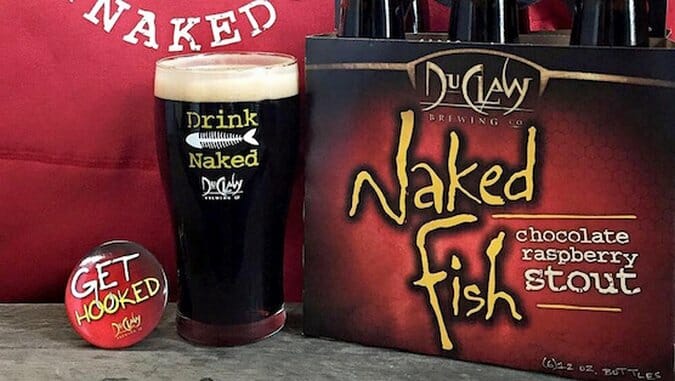 A six-pack of stout doesn't necessarily conjure romance. But if it's Naked Fish, DuClaw Brewing Company's chocolate raspberry stout, it sure will get your partner to say "I love you" — to the beer.
The Baltimore, Maryland brewery's sexy seasonal stout is arriving to stores just in time for Valentine's Day. Lucky us! With its chocolate, espresso and raspberry flavors, you'll want to substitute your standard heart-shaped box of chocolates with this brew. Your partner will thank you. If you are single on this lovers' holiday, even better — more beer for you! Treat yo'self.
Dark brown in body with a thick caramel-colored frothy head, Naked Fish is a medium-structured stout with a nose of roasted malt and light, almost undetectable, hints of espresso. A metallic nature gives it a crispness that would appeal to non-stout drinker.
Roasted barley, Goldings hops, and grains including pale, Caramunich and chocolate malts are used in the brewing process. Gourmet chocolate raspberry coffee is added to the grain bill, giving the smooth 4.6% ABV beer a dry, chocolaty profile.
Chocolate hits the palate first with a dainty finish of raspberry. The fruity touch is gentle, not overwhelming, unlike some other berry-imbued beers that are saccharine and pungent. A slight nuttiness here and there is warming and accessible. Velvety and luxurious, the mouthfeel complements the boldness of the espresso and chocolate flavoring.
Naked Fish was conceived by DuClaw Brewmaster Jim Wagner while angling at one of his favorite fishing holes. As he was enjoying a hot cup of raspberry coffee, a light bulb went off. He made the first batch of Naked Fish using the raspberry coffee that fueled his inspiration.
So where can you find this delectable brew, you want to know? Naked Fish is sold in 12- and 22-ounce bottles in Maryland, Washington D.C., Delaware, Virginia, New Jersey, Pennsylvania and North Carolina. Grab a pack now, as they are on shelves for a limited time.
Happy Valentine's Day and bottoms up!
Brewery: DuClaw Brewing Company
City: Baltimore, Md.
Style:Chocolate stout
ABV: 4.6%
Availability: Bottles big and small, seasonal