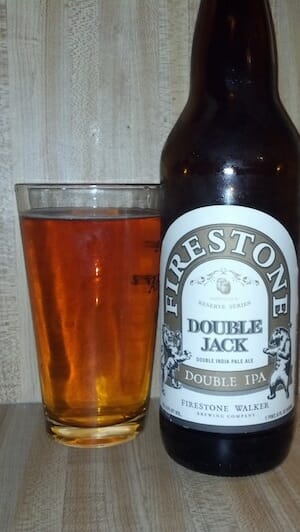 Say someone had a baseball bat made of hops and hit you in the face. That might be a gentle introduction to this very hoppy, very full-flavored and very tasty double IPA from Firestone. The IBU measurement on this beer, I kid you not, is a commanding 100. One hundred! I hope you enjoy hops, because that is what your mouth will taste like the next morning.
I'm a fan of IPAs, but what made me perk up for this bottle was simply the artwork on the label. There appears to be a lion in a boxing match with a bear. Well played, Firestone. Well played.
The beer begins with the aforementioned baseball bat of hops to the taste buds. But as it goes down, it starts to mellow. It has a hoppy bitterness to it (obviously), but it's not so bad that you can't enjoy the beer. The finish has a balance, a malty flavor that certainly mellows the hops. There is also a fruity undertone throughout out the beer, and it carries to the malty finish.
The Double Jack is an intense beer up front, but the subtlety of the finish makes it worth it.
The Firestone website calls it "flawlessly balanced," and with a multitude of medals and first place finishes in world-wide competitions, they have every right to call Double Jack just that. It's strong, then mellow. Not many IPAs can say that.
Brewery: Firestone Walker
City: Paso Robles, California
Style: American Imperial IPA
ABV: 9.5%
Availability: Year round in 22 ounce bottles and four-packs