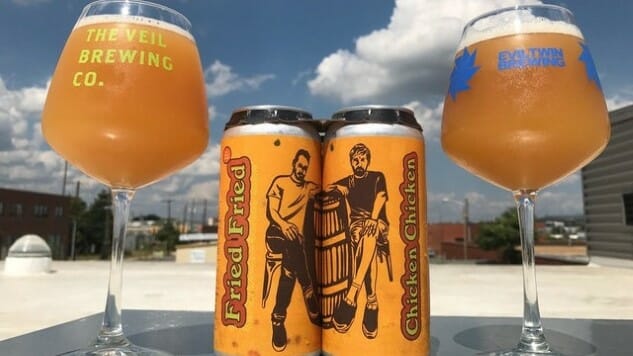 Look, if "brewing a beer with fried chicken" is the kind of thing you want to do, you might as well use southern institution Chick-fil-A for those purposes, right? It seems only fitting in a sacrilegious sort of way—commit beer blasphemy via the signature product of the Christian-aligned fried chicken company.
This is presumably what Richmond, VA's The Veil and Brooklyn's Evil Twin were thinking when they dreamt up the idea for Fried Fried Chicken Chicken, a new collaboration DIPA that also happens to be made with fried chicken tenders in the mash. You can see the madmen at work in the Instagram post below, as they literally dump handfuls of chicken into their mash tun. Hard to blame the cameraman for laughing at this spectacle.
Still, the chicken beer could be coming from far worse sources. Evil Twin is no stranger to this kind of kooky experimentation, and The Veil is currently producing some of the best hop-forward, NE-IPA's on either coast—their similarly named "Master Master Shredder Shredder" IPA was #14 out of 247 the last time we blind-tasted IPAs.;
As in most of these gimmick beer cases, the companies make sure to state that the final product does NOT taste like fried chicken, which we think is something of a cop-out. We say: Chicken up that sumbitch. If you make a beer called "Fried Fried Chicken Chicken," then make the damn thing taste like chicken and live with the results. We can always switch over to one of the brewery's other great IPA's if that experiment turns out as disastrously as we'd expect.