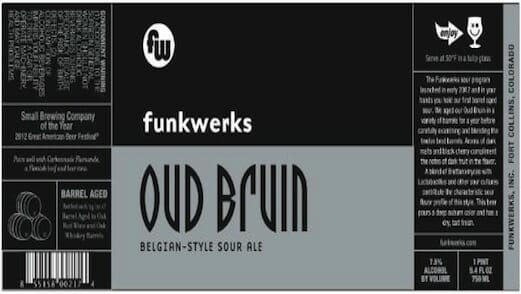 Funkwerks stepped into the crowded craft brew scene of Fort Collins, Colo., in 2010 when they hosted their grand opening party at their taproom that December. But founding brewer Gordon Schuck started playing with brewing back in 2002, which explains why such a relatively new brewery could make such an immediate impact. It helps that Gordon and company decided to focus on saisons, a style first developed in the Wallonia region of southern Belgium, a move that helped his beers rise above the town's countless other options. And, at the end of last year, they released their first foray into another Belgian style, the Flander's brown.
The origins of their Oud Bruin stretch back to a large collection of different ales, all aged in different red wine and whiskey barrels for a year. The 12 best were then blended into what has become Oud Bruin. The beer pours a deep auburn (almost the color of dark chocolate) with hints of purple, and a creamy, thin, tan-colored head. Its sour elements—the inclusion of brett and lacto—are immediately noticeable on the nose, paired with a touch of barnyard funk and a hint of oak. Interestingly, the first sip doesn't deliver the taste bud-exploding pucker you might expect. You do get the sour, but it's surprisingly reserved, complimented by a host of complex flavors: sour cherries, leather, earth, and dark malts, with notes of bourbon, red wine, and oak from the barrels. The tart elements return again at the crisp, dry finish.
For a first foray into sours, Funkwerks' Oud Bruin displays remarkable restraint.
Of course their move into sour beers is a natural evolution of Funkwerk's saison obsession. But the shift makes even more sense when you factor in the fact that Chad Yakobson, founder of Crooked Stave Artisanal Beer Project (who specializes exclusively in sour beers), brewed at Funkwerks before relocating to Denver… We just love it when a bunch of mad scientist brewers get together, and we can't wait to see what else Funkwerk releases.
Brewery: Funkwerks
City: Fort Collins, Colorado
Style: Belgian Sour
ABV: 7.5 percent
Availability: Limited Release; On Draft and 750ML Bottles