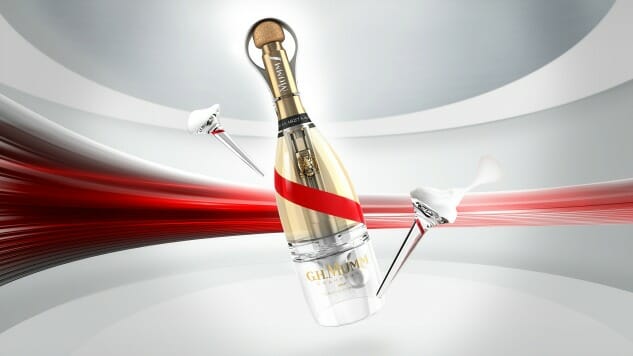 Space travel is coming soon, which begs the all-important question: How will we drink Champagne there? Luckily for us, G.H. Mumm has already started looking into the process and has created a special bottle and glass of champagne that are specifically made to consume in space.
The bottle officially launches in September of this year and is the first to make Champagne drinking in zero-gravity a reality.
"For the last 40 years, space travel has been shaped by engineers rather than designers. Instead of seeing zero gravity as a problem to be solved, we look at it as a design possibility," Octave de Gaulle, founder of Spade the agency that helped create the bottle explains. "The big design challenge for Mumm Grand Cordon Stellar was actually getting the liquid out of the bottle."
The way they're actually making that happen is a bit unique: the Champagne is being expelled into the air.
The bottle uses the gas in the Champagne to expel the liquid into a ring-shaped frame where it is concentrated into a droplet of bubbles. From there, it can be passed to someone and released into the air, "where it floats until gathered up in a specially-designed glass."
As for how it tastes,  "It's a very surprising feeling," explains Mumm's Cellar Master Didier Mariotti. "Because of zero gravity, the liquid instantly coats the entire inside of the mouth, magnifying the taste sensations. There's less fizziness and more roundness and generosity, enabling the wine to express itself fully." 
Mumm says that it expects the drink to be served to participants in zero gravity flights operated by Air Zero G, and it is currently in discussions to offer it on future space missions and commercial space flights.