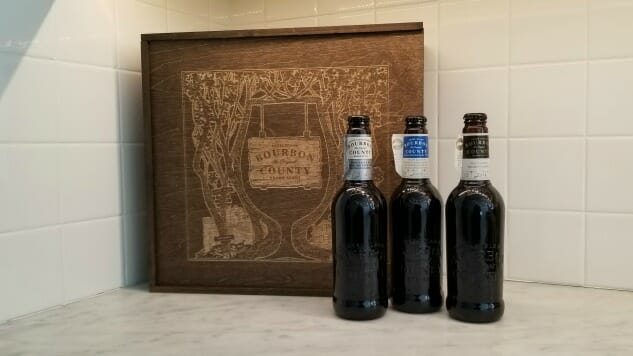 Come Black Friday, beer fans will head to the store not in anticipation of buying a super-cheap television (although that might happen too), but Goose Island's annual release of its Bourbon County Stout. The brewery started selling the iconic stout in 2006, and stout fans have sought it out since. It's available at package stores around the country, but in most cases it sells out within the day.
It's the one time a year people tend to ignore the fact that Goose Island is owned by AB InBev, and line up to buy the beer.
Typically, I head out to my local bodega first thing Black Friday to try and snag a bottle. I've been lucky enough to get the traditional Bourbon County stout the past few years, but the variants have been a bit more elusive. This year, Goose Island made seven different variants, but will be selling only six. The seventh, Bourbon County Barleywine Reserve, was pulled from distribution by the brewers because they felt it wasn't up to snuff.
The folks at Goose Island were nice enough to send me three of this year's six to try out before they're released to the public. Here's what we had:
Bourbon County Brand Stout
ABV: 14.7%
The traditional Bourbon County Stout is going to be the easiest one of all six to find in stores. I typically buy a bottle or two of this to age, and I think this year's version would benefit from resting for a year or two. The stout is aged in Heaven Hill barrels, and is a little sweeter than previous versions with a strong chocolate note as well as a pleasant amount of vanilla from the barrel. It's lighter drinking than I anticipated, but still pretty delicious. If you can't wait to drink it, you won't be disappointed. This is perfect to warm you up on a cold winter night.
Bourbon Country Reserve Brand Stout
ABV: 14.8%
Bourbon County is traditionally aged in Heaven Hill barrels, so for the Reserve, Goose aged the stout in 11-year-old Knob Creek barrels. It's more boozy than what you typically get from regular Bourbon County, and a touch smokier. Clearly, if you're shopping for a beer called "Bourbon County" you're likely a bourbon fan, and you'll need to be one to really get into this beer.
That said, it was my favorite of the trio of beers I tried. This is a huge malty beer, where the bourbon takes center stage, and it's oh-so-wonderful. It's only available in Illinois and Kentucky this year, so if you're in one of those two states you absolutely want to give this one a try. My only regret is that I didn't have two bottles so I could age one for a bit. this is one beer that's only going to get better.
Bourbon County Brand Northwoods Stout
ABV: 12.6%
When I saw that the third bottle Goose sent me was the Northwoods Stout, I had to admit I was slightly disappointed. I was sincerely hoping to try the Proprietor's, a stout inspired by Bananas Foster, but the Blueberry Almond version of this year's Bourbon County was also welcome. I have to say this one wasn't really my favorite. Perhaps because I had my heart set on bananas, but the blueberry seemed a bit out of place and was a bit too overpowering. I shared this one with friends, and I'm very glad I did. Typically, with something like this I would have preferred the blueberry to be subtle, and it's anything but. If you do snag a bottle of this, you're going to want to split it with a few friends. A full bottle for one person is just…too much.
---