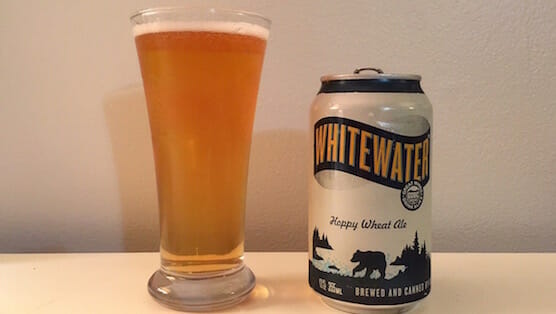 Great Divide is finally legal, celebrating its 21st birthday this year, and they're in the midst of some sizable expansions to their Denver brewery ($38.2 million, but who's counting). They're also putting out some different beers—releasing a sour for the first time, and putting some of their beers in cans for the first time. They've brewed this particular beer, Whitewater, off and on since they started brewing more than 20 years ago, but this latest version has been revamped for the modern palate.
Whitewater is billed as a "hoppy wheat ale," but you have to work your way through a mountain of hops before you encounter anything particularly "wheaty" in this beer. Crack open the can and you get hit by a pungent bouquet of hoppy citrus. It smells like a dank IPA, and pours like a session IPA—light straw with just a tinge of orange.
On the first sip, I don't get a lot of "wheat beer." It's not cloudy, there's no banana or clove…but the more I dig into the beer, the more I recognize some of the best attributes of the wheat style—most notably the silky mouthfeel and light, effervescent body. You may not love wheat beers (and to be honest, I don't love the style), but you have to admit they're refreshing as hell on a hot summer day. Whitewater has "refreshing" in spades, but it's also hoppy as hell. And that strong hop profile comes through as a bushel of juicy citrus. There's a little bit of bitterness on the backend, even a bit of pepper when it warms, but basically, this beer is just fruity.
If you're into modern IPAs, and let's face it, we're all into modern IPAs, you're gonna love Whitewater. If you're like me and don't give wheat beers their fair shake, this might just be the beer that opens your mind to the style.
Brewery: Great Divide Brewing
City: Denver, Colorado
Style: Wheat Ale
ABV: 6.1%
Availability: Seasonal