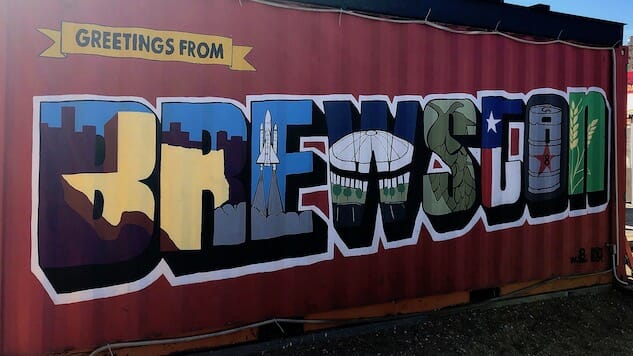 Houston exists in a strange place in my mind. I spent most of my childhood in that city, from the age of three until 15, and most of my memories of the city are consumed with the iconic images of American suburbia: playing in backyard swimming pools, climbing fences between my house and my neighbors, ice skating at the indoor rink in the sprawling Galleria shopping complex close to my father's office. I also had my first beer there, a Budweiser from a can that in I inhaled in secret after mowing the lawn one day during the city's notoriously, horrendously humid summers.
So, when I returned to Houston in early December of last year, expectations were ill defined. The 80-degree temps were uncharacteristically high for early winter—it had been in the mid-40s the week previous—which added to my disorientation of visiting a place that I once knew intimately and yet never really knew.
And when I took my wife to my childhood home and the nearby community center on a sun-dappled Saturday afternoon right at the golden hour, all the clichés rang true. Everything felt smaller. My old house, the space between houses, the walk to the playground and the hill that I would bike up every day to head toward the bayou, it all felt reduced. Which is ironic, given that Houston is massive, populated by 6.77 million people within its 669-square-mile metroplex.
It quickly became clear that, during my 20-plus-year absence, the city has grown into itself. It boasts the largest Asian population (after L.A.) in the country, with a diaspora that has proffered legions of amazing food and drink—the "Viet-Cajun" trend profiled in an episode of David Chang's wonderful Netflix series Ugly Delicious, as well as amazing Chinese, Indian, and contemporary American cuisine, which seem to live in harmony with the requisite Texas bar-b-que, Gulf Coast seafood, and Tex-Mex. GQ food critic Brett Martin dubbed Houston the "New Capital of Southern Cool," and his sprawling and effusive piece had primed me to return.
Unlike other metropolises, which see scenes explode in downtown and its nearby neighborhoods, what's happening in Houston is everywhere within its sizable footprint—except downtown, which has a pretty unassuming skyline and ranks as one of the sleepiest downtown scenes I've ever encountered. Handfuls of bar-hopping pedestrians popped up on Friday and Saturday nights to hit a small array of locales like the dueling piano joint and a House of Blues outpost, but when I arrived mid-day on a work day, the streets felt abandoned. No scurrying businessmen, bike curriers, or delivery trucks jockeying for space. No tour groups. No e-scooters or bike share programs. Nothing. And Houston's sprawling size means you need a car (or a ride service) to get pretty much anywhere.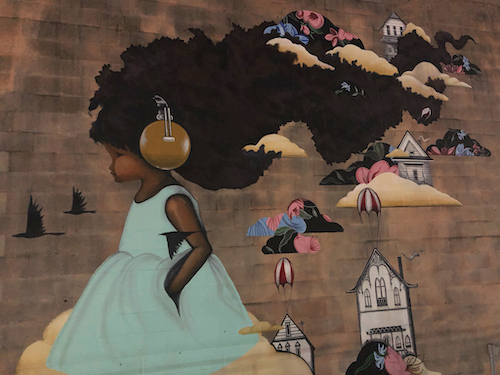 One of the many murals at Graffiti Park.
One exception? The pocket of establishments on the other side of Highway 69, which hems in the downtown, an easy walk east from the city center (though, true to Houston form, we were the only pedestrians making that walk). Follow the noise of hip-hop and you'll find Graffiti Park, which is adorned with colorful murals that encase a vibrant flea market, and then hit up 8th Wonder, a massive brew-pub and one of the city's leading breweries. Named in honor of the Houston Astrodome (the first air-conditioned domed stadium ever built and dubbed the eighth wonder), the owners of 8th Wonder got their start with a food truck called Eastie Boys before moving into a building in the city's old Chinatown (which has since relocated to a large residential area in southwest Houston) to make beer. They started brewing in early 2013, steadily expanding into the surrounding warehouse space as their popularity grew; today's brewery includes a massive indoor brewpub as well as a huge back patio where the old food truck sits alongside local vendors selling glass bongs and limited-edition clothing. The brewery serves the requisite IPAs as well as a variety of fantastic goses tailor-made for southern Texas' hot summers. They also still use tokens for beers (buy a token, get a pint), reflecting more conservative times in the city when breweries weren't allowed to directly sell beer on-site.
The neighborhood also has a fantastic Pizzeria named Vinny's, alongside two soon-to-open restaurants, Indianola and Miss Carousel. Across the street—which, like the rest of this part of town, seems stuck in perpetual construction—you'll find Truck Yard, a 19,000-square-foot facility that one local described as a grown-up frat bar, with a long list of regional beers on tap and a huge courtyard complete with a tiny Ferris wheel from the 1970s; one ticket gets you a drink and a ride.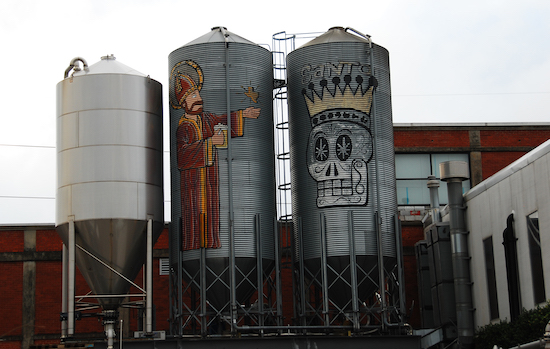 Unsurprisingly, Truck Yard and 8th Wonder aren't the only places that tap into the "everything's bigger in Texas" slogan. Saint Arnold Brewing Co.—the city's first brewery—opened their beer and garden restaurant last July, a 25,000-square-foot facility overlooking the city skyline. You get the craft beer staples: corn hole and picnic tables and a vibrant menu of international cuisine, along with an extensive list of limited-release beers off the Cellar Beer List, which includes "Bishop's Barrel" options like dubbels, quads, and imperial stouts, along with a great saison brewed with Texas honey, peaches, apricots, and brett, aged in Chardonnay barrels. You can even get Hop2O, sparkling water that's been infused with citra and Amarillo hops, though their Art Car IPA became an easy go-to throughout my travels. You'll also find a fleet of actual art cars—vehicles done up as dogs, rhinos, or painted with tie-dye patterns. The space also has a beautifully constructed wooden chapel adorned with brewery-inspired paintings from local artists, some reflecting Saint Arnold, the patron saint of brewers.
On the flip side—at least in terms of size—is Holler Brewing Co. This small tasting room northwest of downtown poured some of the best beer I encountered, including the sour Berry on My Wayward Sai-Son that pours a deep blackberry color, and the crisp, refreshing Dolla Dolla Pils Y'All, a pilsner that's on tap throughout the city. The small range of offerings changes often, but fingers crossed you'll find their ESB on cask; the brew won a bronze in 2017 at the Great American Beer Festival. The brewery is part of (yet another) big complex, including dedicated art spaces, retail spots, and gallery workspaces housed in former grain silos. With the relatively low cost of real estate, Houston has an explosive arts scene, perhaps drafting off the city's rich artistic legacy, which includes the Menil Collection and the eerie, contemplative, must-see Rothko Chapel.
In many ways, Houston was thirsting for decades for the food and drink revolution that's now happening. The region took a big hit during the recession of the mid-80s, triggering an exodus of people—like my father—who no longer could find work in the city. And while it didn't endure the blight that hit other struggling cities like Detroit, its citizens were ready for a revival. When Anvil Bar and Refuge opened in 2009, it was the first bar devoted to classic cocktails and became an instant hit—not just among the tattooed hipster set, but across the spectrum of people who wanted to sip on something other than Lone Star or tequila and whiskey. If the stars align, you might even visit when one of their apprentice bartenders takes their final test, a rite of passage that requires them to make each of the 100 cocktails on their menu, sold for $1 to a throng of cocktail lovers that line up early for the occasion.
One of the co-owners of Anvil also partnered with James Beard Award Winner Justin Yu to open another cocktail mecca dubbed Better Luck Tomorrow in the buzzy neighborhood of the Heights. Those locales have since been joined by even more modern outfits like the hip honky-tonk Goodnight Charlie's, one of the many highlights in the Montrose neighborhood, long a refuge for the city's LGBTQ residents. Even hotels are upping their game. Downtown's Hotel Alessandra recently introduced a mixology experience, an hour-long program focusing on a different spirit each month, alongside three to five food pairings.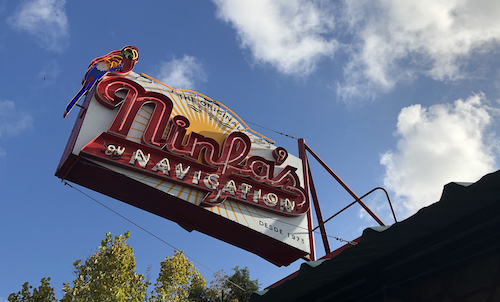 Camaraderie runs as a through-line in Houston's expansive culinary scene. Most chefs will recommend must-eat spots other than their own restaurants, from the Tex-Mex at The Original Nina's on Navigation ("The Best Mexican Food in Texas Since Texas Was in Mexico") and huge tequila list at Arnoldo Richard's Picos to Kau-Ba Saigon Kitchen and Bar, which uses fruit instead of white sugar to sweeten her Vietnamese cuisine. Time your visit to coincide with crawfish season and you can try some of the chef's Viet-Cajun dishes. Then there's the Gulf Coast seafood, cocktails, and made-to-order fried chicken at La Lucha. And the James Beard Award-nominated Mala Sichuan, which serves traditional Sichuan street food with dishes like Top Notch Pot for the Outlaws, a heady mix of fish, shrimp, beef, luncheon meat, beef tripe, pork intestines, congealed pork blood, tofu, baby bok choy, napa cabbage, oyster mushrooms, wood ear fungus, and a whole mess of Sichuan peppercorns.
Other than choosing where to eat, the biggest challenge in Houston's dining space isn't the competition, as one restaurateur told me. It's finding and retaining talented staff.
Service certainly wasn't an issue at Riel, another highlight in Montrose. Our server personified Texan down-home charm, moving easily from our table of two to another group that included a Baseball Hall of Famer and another large table with a former Victoria's Secret super model. The restaurant itself—a wide open kitchen flanking one wall, with big windows on two sides and hardwood tables anchoring the aesthetic—captures what I came to appreciate as optimal Houston atmosphere, refined and casual at the same time. Riel's chef Ryan Lachaine came to cooking later in life, in his early 30s, after working as a hockey coach, and his cuisine is a convincing blend of his home in Manitoba, his Ukrainian heritage, and the inspiration derived from the bounty of locally sourced ingredients from Texas' Gulf Coast. His tempura cauliflower offers a lightly crisp and crunchy surface to the vegetable, which is then drenched in a kimchi hot sauce that puts buffalo chicken wings to shame (yes…really), while the bone marrow comes with pineapple tomatillo jam, persillade, house pickles, and a brioche—a dish that's unctuous, bright, crazy-rich, and very indulgent. And that's before the chef comes out with a shot of whiskey for himself and whomever ordered the dish, which is consumed by pouring the whiskey through the trough in the bone, much like a luge, to deliver a punch of flavors that's dense, salty, spicy, boozy, and far, far better than it might sound.
After that whiskey—and a few others—Lachaine took me for Lone Stars at the nearby Poison Girl, a narrow neighborhood joint that spills out into a big back courtyard, where I could have hanged for hours. The locals were almost unguardedly friendly, and the beer—a Texas staple—was happily lower-alcohol than the beer, wine, and whiskey I'd been consuming all day. But Lachaine had other plans. Specifically Glitter Karaoke, a place he says operates as a kind of late-night refuge for others in the culinary scene. Neither of us sang, but we did far too many shots of cheap whiskey and bottles of Lucky Buddha Beer, a Chinese lager served in a green Bhudda-shaped bottle. Suppose if you spend most of your days working to perfect a dish or a cocktail, embracing the sloppiness of cheap bottled beer and rail spirits holds a certain appeal.
And no, I cannot hang with the nocturnal machinations of Houston's chefs.
I couldn't even find the right door when I got back to the hotel.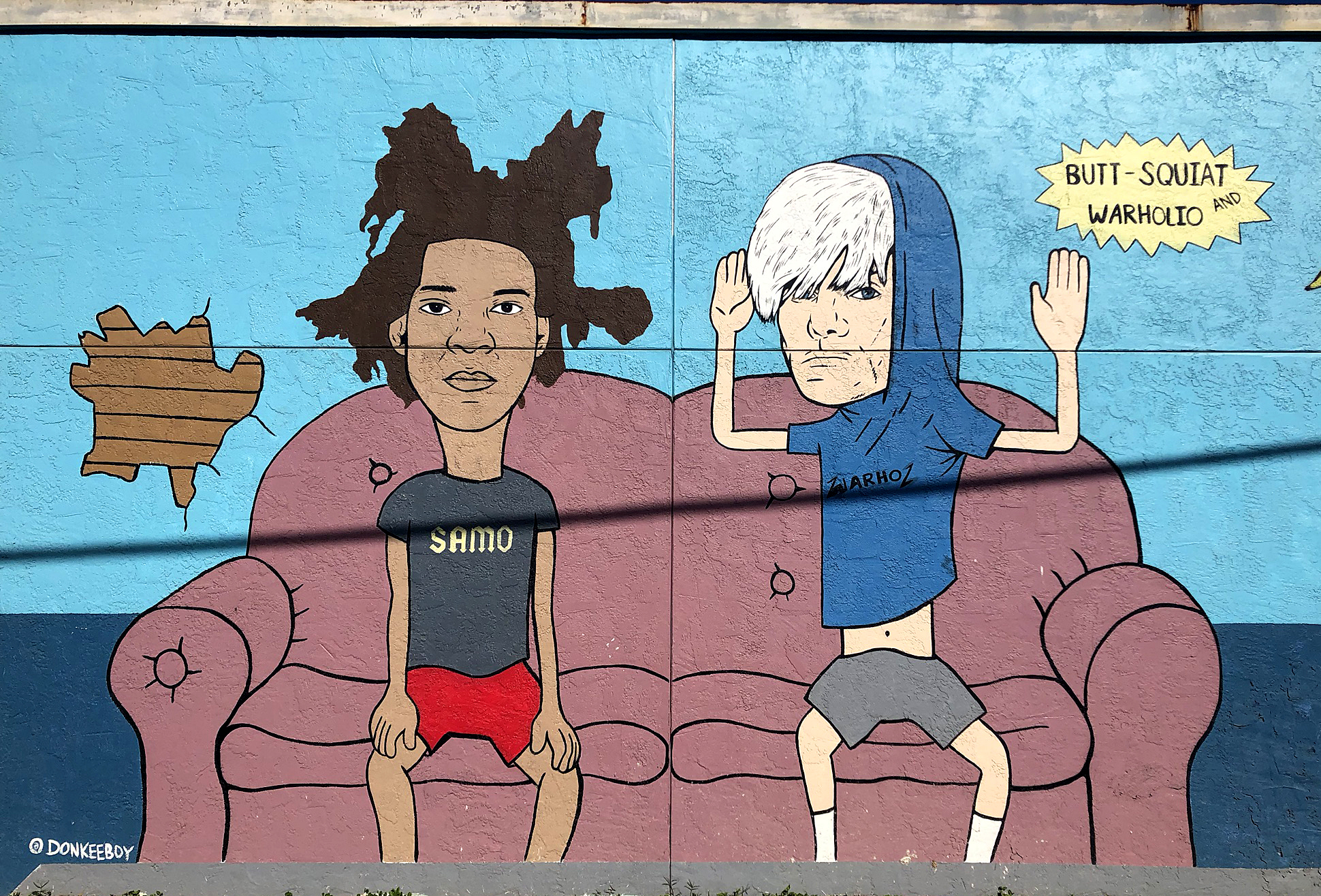 One of the murals at 8th Wonder.
But the next day as I wandered through a fog of exhaustion and alcohol abuse while exploring Phoenicia Specialty Foods—another massive downtown attraction with more than 15,000 products (wine, spices, dried goods) from more than 50 countries along with Texas craft beer, fresh bread, meats and cheese, and fresh seafood—I wondered how long Houston's meteoric rise will last. Locals already gripe about the rising real estate prices in certain neighborhoods, and in addition to the two almost-completed restaurants near Vinnie's (who's pepperoni pizza saved me from my hangover, thanks in large part to the spicy meat, sourced from a prime Alabama slaughterhouse), I also toured another multi-level establishment that was still very much under construction—a high-concept restaurant/bar and a wine shop—that'll open near Riel, Poison Girl, and Goodnight Charlie's. And that's not even counting all other places I wanted to visit but couldn't carve out the time see.
Morgan Weber, who was involved in the Anvil when it opened and now runs Vinnie's and its soon-to-open sister restaurants, says that the restaurants, breweries, and distilleries need to get over a two- to three-year hump. Many struggle shortly after they open simply because they're not "new."
It's a trend I've seen in other cities like my home town of Washington, DC. A new neighborhood gets developed. People flock to it and forget about the places that are still damn good but cursed with a reduced buzz that can damn them into radical re-invention (which seldom works) or an unfortunate, steady attrition into bankruptcy. At a certain point, after that rising tide has lifted all ships to a certain level, some may start taking on water.
But that undercurrent of "we're all in this together" feels like it might help Houston navigate any uncertainties. The city certainly joined forces during Hurricane Harvey and its aftermath, which tied with Katrina as the costliest tropical storm on record, inflicting $125 billion in damages. People helping people, restaurants helping competitors. Everyone helping everyone, which somehow melds nicely with my childhood memories of the city.
Today's Houston boasts an embarrassment of culinary and cocktail richness, and while I don't yearn to live in the city of my youth, revisiting—often—feels not just appropriate. It feels downright contagious. Only not the in summer. You can keep the humidity and soaring heat. I'll take a gose and a plate of Viet-Cajun crawfish, who's seven-month season starts in January.