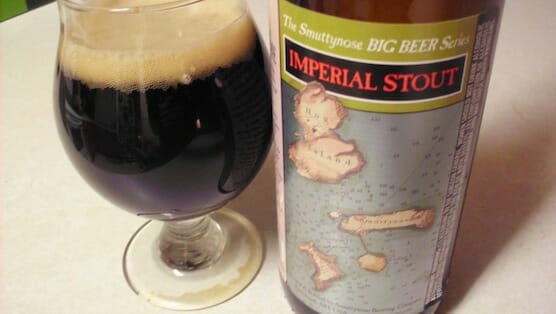 It's always interesting to sample a "young" imperial stout that has just rolled off the line. Like a fresh DIPA, they're bursting with flavor, but in contrast to hop-forward brews, that's not always a positive. Some are perfectly fine to drink in this young state, starting out balanced from day one. Others, like Smuttynose Imperial Stout, are a little overwhelming when they first hit the shelf.
It's more important than ever today to pay close attention to "born-on" dates found on beers, so I was careful to note that this bomber of imperial stout was brewed in 2014.
The aroma is pretty appealing, heavy on chocolate with a sweetness that suggests lighter, "Hershey's Kiss" cocoa. It's followed up by lots of sweetened iced coffee and a charred roast character with a hint of smoke. There aren't really hops to speak of, nor is alcohol or fruitiness particularly present. I tend to enjoy roast-forward stouts backed up by a bit of sweetness, so the nose is quite pleasant in my opinion.
Taking a sip, however, reveals a different palette of flavors. Curiously thin of body, especially for a young imperial stout pushing 10% ABV, it's also surprisingly dry and quite bitter. The flavors here are fruit forward, with characteristics a bit like dried cherry or Craisins. The roast is also still strongly present, but the chocolate has vanished.
There's a strong alcohol presence, which is also odd in a beer without much residual sweetness. The end effect is to create an interesting, fruit-forward flavor that is interrupted by distracting bitterness and alcohol character. I rarely say this with an imperial stout, but a bit more caramel malt character may have gone a long way toward balancing things out.
All in all, it's difficult to tell if age would mellow the Smuttynose Imperial Stout and make it a bit easier to drink. If you do have one, though, it probably wouldn't hurt to sock it away for at least a few months. It's different from many of the imperial stouts on the market and recommended for those who like their stouts strong, dry, fruit-flavored and bitter.
Brewery: Smuttynose Brewing Co.
City: Portsmouth, NH
Style: American imperial stout
ABV: 10%
Availability: Limited