All of the men in Dublin have incredible beards. That probably sounds weird, but it's something I'd really like to stress. The people here have incredible facial hair. Obviously not everyone. The women have none. But the men—excellent beards. And great hair too. It's like they all just stepped straight out of some hip Brooklyn barber shop and are sporting a fresh coat of pomade. Don't get me started on their scarves. I guess I didn't expect everyone to be so damned hip in Ireland. Then again, this entire trip has been one surprise right after the other.
I've spent five days exploring the small, but mighty island of Ireland through the lens of Jameson Whiskey. The brand invited a handful of journalists and publishers to tour the distillery in Midleton and see the whiskey in action in small towns like Ballycotton (see Straight from the Barrel for more of Ballycotton) and the capital city of Dublin.
On the surface, the small towns on the southern coast of Ireland, where Jameson's distillery produces a shocking array of whiskies, couldn't be more different than bustling Dublin, but dig deeper and you'll find a steady undercurrent of self-reliance and local pride. Outside of Midleton, we have a four-course dinner at Ballymaloe, a restaurant and cooking school where most of what graces our plate is grown on the restaurant's own 100-acre organic farm. Anything they can't grow themselves, they source from neighboring farms and fishermen.
Almost every restaurant we dine in has a similar policy. Most of them go so far as to put the names of the farms they work with on their menus. In Dublin, we do a small tasting in Sheridans Cheesemongers, where a young, enthusiastic cheese monger goes into great detail, not just about the cheeses we're sampling, but the families that run the farms where the cheeses are crafted. The little tutorial finishes with a tasting of this unforgettable sheep's milk blue cheese that's intense and mouthwatering, like a happy, cheese punch in the mouth.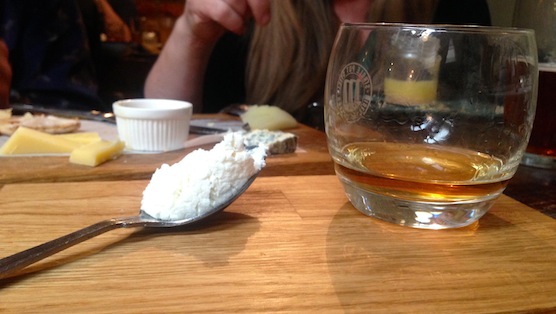 Dublin is overflowing with this same sense of craftsmanship that the cheese monger is so proud of. The country was hit hard during the economic crash of 2008, and people fled the capital city looking for work in America and Europe. We wander into Me and You and Him design shop, run by two young artists who started the business in the thick of the recession. They have a varied portfolio, from festival posters to repurposing back alleys into neighborhood parks. When they first opened shop, they installed a massive blackboard in the city, asking Dubliners to share their fears. Locals were shockingly honest, writing everything from "I'm afraid of spiders," to "I'm afraid of myself."
The city is bouncing back, and is emerging as a vibrant, more home-spun version of itself, thanks in large part to the economic crash. While many Irish fled, some that stayed turned to artisanal trades, prompting a resurgence in craftsmanship that would make Portland jealous.
"There are a lot of people our age reinventing the city," says Peter O'Gara, one of the owners of the Me and Him and You. "People who stayed are very happy they did. There's a lot of energy in Dublin right now."
I live in a town a lot like Dublin. All the men have slick hair, perfect beards and everyone is either a designer of some sort or artisan leather worker. We all sit around talking about the implications of using various fonts in our letter presses. But there's something more honest about the focus on craftsmanship that I see in Ireland. It's completely unpretentious.
You can see the honest, unpretentious focus on craft in Jameson's process. There's no denying that Jameson is a global brand—the best selling Irish whiskey in the world—but what I didn't realize is how much Jameson leans on Ireland to make that globally-appreciated whiskey. The water either comes from the river that flows through the distillery's grounds or wells located on the property. They source their barley and grain from surrounding farms—all of which are within 100 miles of the distillery. And Jameson has been doing it this way for 200 years.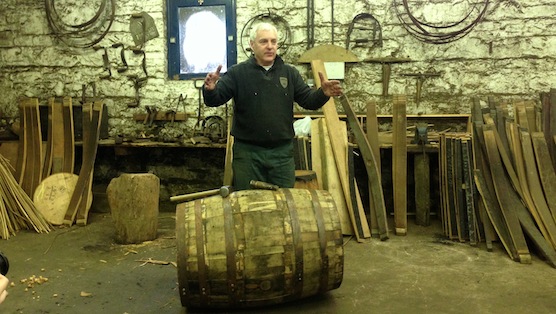 At the distillery, Ger Buckley demonstrates the treasured art of coopering, a craft that dates back to the Romans. Not much has changed in the cooper's craft since then. Ger is a fifth generation cooper himself. Most of the tools he uses have been handed down through the four generations of Jameson coopers that have come before him. He's using his father's tools, and his father was using his father's tools…They're ancient and heavy, the wood handles almost shiny from decades of use.
He walks us through the nuts and bolts of his job, which is largely concerned with rehabilitating used bourbon barrels that Jameson imports from the U.S. Using a hammer and a wedge, he disassembles a big whiskey barrel, banging the metal rings off of the wood staves until the thing falls apart at his feet, like a jigsaw puzzle that a kid has shaken loose. He replaces a bum stave and rebuilds the thing, matching big staves with little staves until it looks like a barrel again. Undoing the barrel has loosened some of the whiskey that the wood has absorbed, and it trickles out of the bottom of the wood onto the concrete floor in a black, inky puddle that smells like vanilla. I contemplate getting on my hands and knees to lick it, just to see what it tastes like.
"You can get a bottle or two coming out of the wood of a single barrel," Ger says, explaining a time-honored tradition of coopers extracting the absorbed whiskey by balancing these big barrels over bowls, or in some cases, tea pots, and holding them still until a bottle of strong booze has been drained.
I like another cooper tradition called "trusting," where a cooper at the end of his apprenticeship will tuck himself into a big sherry barrel and then get rolled around the distillery grounds.
When Ger isn't beaming about the nuances of coopering, he's telling Irish folk tales about eating a salmon that delivers all the world's wisdom, and cursed swans and warrior crows. It's no wonder the man has become a bit of a living legend. He even has a beer named after him. He's the kind of guy that makes you want to go home and become a cooper.
After touring the distillery operations, we sit for a session of the Irish Whiskey Academy, where we learn the science behind Jameson's distillation process, and actually distill a small batch of raw spirits in a mini lab that looks a little bit like the gin still they used in M.A.S.H.
We finish the academy with a tasting of a few of Jameson's more high-end brands. Green Spot is smooth and mouthwatering, and smells like honey. Jameson 18 is more complex with dried fruit on the palate. Redbreast 21 just launched in the states. For this top-shelf spirit, they pulled from just 65 casks, all of them aged for an average of 19 years, then they put it back into sherry casks for another three to four years. It's a far more intense whiskey, with notes of raisin hidden inside its dry, warm character. It has a spice that sits on the tongue.
I like these other expressions—the Redbreast and the Midleton Very Rare—they're high quality whiskies. But for some reason, when I'm ordering in bars in Dublin, I go back to the standard, green label Jameson. I don't know if it's my blue collar upbringing, or the fact that I'm just a bit homesick and Jameson original feels familiar. For some, Jameson is just a nod to the Irish to be had on St. Patrick's Day. For me, Jameson is my go-to whiskey for watching baseball games or playing poker or meeting the guys out for a night on the town. Jameson feels like home.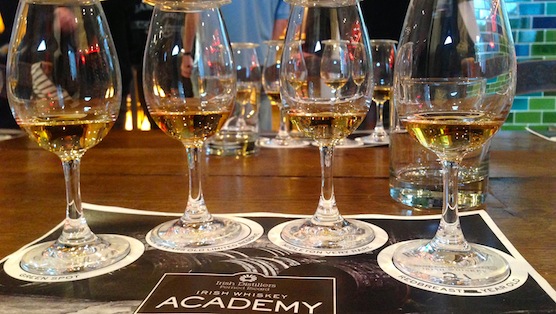 The two-hour train ride from Cork to Dublin is blissfully rural. The landscape looks like Southwestern Virginia, with rolling green hills and more sheep and cows than people. Only every few miles, you see the crumbling ruins of a castle, which lets you know you're not in Virginia.
In Dublin, Jameson throws back-to-back parties to celebrate St. Patrick's Day. The first is an intimate affair in a former distillery turned museum. We drink Jameson and Ginger Ale while watching Irish indie band White Lies do acoustic covers and originals. The percussionist plays a xylophone. I'm a sucker for a rock band with a xylophone.
The second party is a full-on shindig at the Ambassador Theatre, one of Dublin's landmarks that's been renovated recently into a premier live venue. White Lies is playing again and I get some of their lyrics stuck in my head—"let's go home together, but not at the same time." It's nonsensical and haunting at the same time.
On the final day in Dublin, I fall in love at Mulligans Grocery, which is awkward because I have a wife and two kids at home, but whatever—the heart wants what the heart wants. Mulligan's Grocery is quite possibly the greatest gastro pub I've ever set foot in, the menu is superb, and the beer list is out of this world. But what makes the place special is Seaneen—a small but wise woman who makes everything we eat or drink that afternoon so much better because of her breadth of knowledge. I don't know if she's the waitress or the owner or just some nice lady who knows a lot about booze. She's like a matchmaker, pairing porters with sandwiches and lagers with fish.
She brings out a cheese plate, but decides it's not complete so she goes back to the kitchen for a spoonful of a certain goat cheese and a glass of Middleton Very Rare. I put the cheese in my mouth and chase it with the Middleton Very Rare, and it's like I'm sucking on a honeycomb. Absolutely amazing.
Seaneen. I want to take her home with me. Put her in my bag and claim her at customs.
Of course, what I'm really planning on taking home is the knowledge to make my own whiskey in my basement. If there's one thing I learned from the Irish Whiskey Academy, it's that distilling spirit is a simple process. It's about separating water from alcohol by using different boiling temperatures. You boil the alcohol out of the water, then catch the gas and cool it so it turns back into a liquid. Does anyone out there remember Voyage of the Mimi? Ben Affleck basically did the same thing to purify salt water on one episode. If Ben Affleck can do it, then so can I.
The craftsmanship behind Jameson and the local artisan culture that's thriving in Ireland hit a chord with me. What better way to honor that artisan spirit than crafting my own whiskey still at home?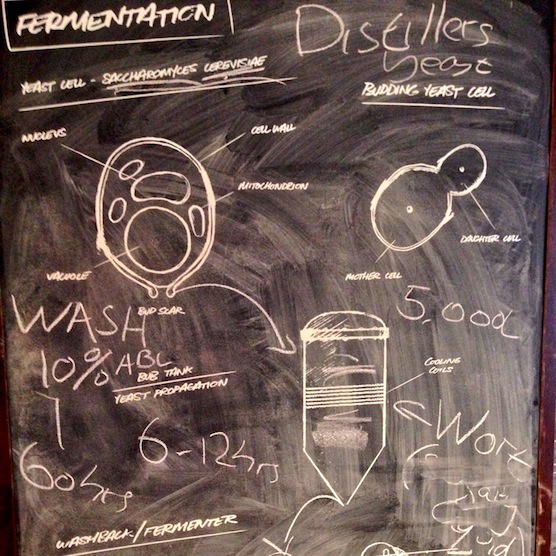 Ultimately a product is only as good as the people who make it, and Jameson is made by real people, for real people. The care that goes into each bottle ensures every glass is warm and hospitable – whether its neat, mixed, or on the rocks – just like those who enjoy it. There is hard work and humanity behind every smooth ounce.
Jameson lives beyond St. Patrick's Day through traditions held by groups of friends around the world. At family reunions and local dive bars, band practices and parties, in the happy hours and in the wee hours, Jameson brings people and communities together all year round.