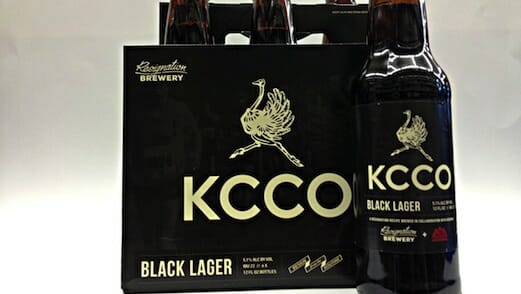 It must have just been time for the wildly popular website, The Chive, to dip their toes into the microbrewery pool. The premise of The Chive is simple: funny pictures, funny videos and attractive women. The site has blown up since its introduction in November 2008, and its college atmosphere lends itself well to making drinkable beers for the masses.
Founders of The Chive, John and Leo Resig, first brewed the KCCO Black Lager at their home offices in Venice, California for employees and fans that stopped by the office. But, Chivers, as they are called, wanted this in-house brew distributed to the fans in case they couldn't make the trip to Chive's California headquarters. Thus, Resignation Brewery was born. Resignation works with Red Hook in Washington to brew and distribute the beer.
Their first offering, KCCO Black Lager, may not be a homerun, but it is a sliding triple, just short of something really special.
The insanely, repeat, insanely drinkable Black Lager is dangerously smooth, pouring easy and drinking even easier. Hints of coffee dominate the palette early in the sip, only to fade into notes of dark chocolate that (thankfully) lack the bitterness typically associated with delicacy. And at 22 IBU's, the bitterness overall is kept at a quiet whisper. You also get toasted malt flavors and a caramel undertone with hints of nutty goodness on the backend of the sip.
The beer has some depth, but it's more of a crowd pleaser. You won't be contemplating the complexity of the beer following its completion, but it's good enough to make you want another, and then maybe another after that.
Resignation Brewery has more on the horizon. The website lists Gold Lager, White Wheat and Amber Ale as beers that are "coming soon," so be on the lookout for more from The Chive, as they continue to improve on their beers. Black Lager was an early success, and time will tell if these guys have the goods to "Chive On" and create another special brew.
Brewery: Resignation Brewery, in collaboration with Red Hook
Style: Black lager
IBU: 22
ABV: 5.1%
Availability: Year round, in select regions