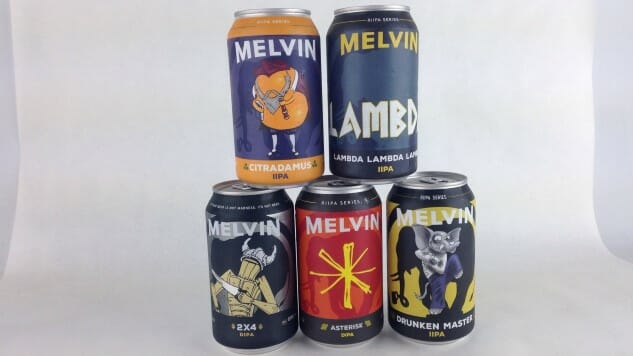 Melvin Brewing of Alpine, Wyoming, is one of those breweries I've been hearing about for a few years now. Their location on the western edge of Wyoming is pretty damn remote, but when you start taking home GABF medals—especially in IPA categories—people are going to sit up and take notice. Their 2×4 DIPA alone has taken home medals from GABF, Alpha King and more, so I was pretty excited when we recently received a box of beer from them for the first time.
What I wasn't expecting is that the beers would have a theme that makes for an obvious tasting: They were all double and triple IPAs. All five of them. I think that must be some sort of record; never have we been mailed five different imperial IPAs at one time from the same brewery.
Obviously this begged for a side-by-side tasting, and I was happy to oblige. What we found was a common thread of boldness and big flavors. All five are hop-driven beers that exemplify different aspects of IPA brewing.
As an aside: I must note that our more anal tendencies were severely strained by the inconsistency in how these beers are labeled. Two of them are "DIPA," while three are labeled "IIPA." At first we assumed that the "IIPA" was presumably meant to mean "imperial IPA" and imply stronger beers than the ones labeled "DIPA," but this isn't the case—several of the ones labeled "IIPA" are actually lower ABV than the "DIPA" ones. Simultaneously, there's one 13% ABV triple IPA in this group, which is still simply labeled "IIPA" like the others. I can only shrug and be confused on this one.
Now let's get on to the actual beers.
---
2×4 DIPA, 9.9% ABV
Melvin's most famous beer weighs in at 9.9% ABV, and makes its alcohol presence felt despite being very hop forward. This is sort of a classic West Coast DIPA, except turned up to 11—dank and resinous, "green" and catty hop character, combined with lots of grapefruit citrus. Nothing about this beer is shy; it's an ass kicker and a name taker. It's not completely without malt character, as there is a hint of some toasted, caramel maltiness, followed by dank hops and citrus. Bitterness is pretty strong; stronger than most of the other Melvin DIPAs that would follow. It's easy to see how it would perform well in a BJCP tasting type setting, because it checks off some of the boxes in the classical American DIPA flavor description, but does so with more bombast than most. In the end, it still tilts in favor of the hops in terms of balance.
---
Asterisk DIPA, 9% ABV
Asterisk is an immediate big departure from 2×4, and is much closer to the style of IPA that is currently in the vogue. Softer, less bitter and much juicier, it's a single hop Mosaic beer, and among the better Mosaic single hop beers I've sampled lately. The nose is all sweet, juicy tropical fruit and a hint of berries. Pineapple juice is big on the palate, and this beer has significantly more residual sweetness and less bitterness than the 2×4. It's definitely the most easily approachable beer in this lineup, although that doesn't necessarily equate to "best." One might call it slightly more one dimensional, but it's a very tasty dimension regardless. In a blind tasting of people who like juicy, fruity IPAs, I would expect this one to win easily.
---
Drunken Master IIPA, 9% ABV
See, same exact ABV as the last one, but this one is "IIPA." My brain is melting! Or maybe that's just from the hops. This one strikes me as a bit more of an old-school DIPA, with a more substantial malt presence, with comes with toast/bread crust flavors. Booze is a bit more apparent as well, which puts it closer to 2×4 than it is to Asterisk. Hops are slightly funky and a big oniony on the nose, which fades into pithy citrus zest. Overall this might be the most balanced of the beers in this lineup (except for Lambda Lambda Lambda), with flavors that are somewhat less hop driven, but moderate bitterness. Not bad, but of the five of them, this likely wouldn't be the one I'm reaching for.
---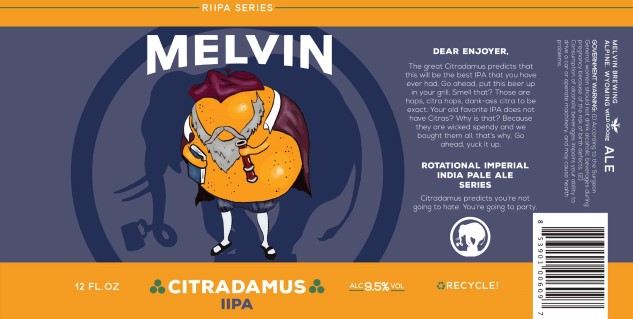 Citradamus IIPA, 9.5% ABV
I think this is my favorite of the group, combining the fruit of Asterisk with the resin and green flavors of 2×4. It's very grassy on the nose; the sort of smell that reminds me of a freshly mown lawn on a summer morning when the grass is just a touch too wet and leaves big clumps. That grassiness is joined by some very fresh, juicy orange citrus, and the two make an excellent tandem. This one is all Citra, which is interesting—despite the name, I don't always perceive single hop Citra beers as overwhelmingly "citrusy," because they often seem quite tropical as well. On the palate you get both the resin/grass character and lots of juicy orange, although it's less sweet and soft overall than the Asterisk, and more balanced. The nose is just great, although I recognize this is a fairly specific taste profile you either like or don't. It's like a glass of fresh-squeezed orange juice after cutting your grass. I love it.
---
Lambda Lambda Lambda IIPA, 13% ABV
By far the strongest at 13% ABV, Lambda Lambda Lambda actually appears to be the second lightest of the five in terms of color. It cuts a unique figure compared to the others, with a nose that is heavy in honey sweetness, floral and grassy hops, and doughy malt. On the palate there's a ton of malt, although it's lighter in character than many other triple IPAs—less caramel, more honey, and on the sweet side thanks to the higher ABV. It hides the overt booziness quite well, and might be easier drinking overall than the 2×4—only the sweetness really gives away the ABV. Moderate bitterness comes from hops that deliver mostly grassy/resinous/floral flavors, but overall the hops aren't as explosive in this one as they are in most of the others. I must say, this is among the easiest drinking self-described triple IPAs I've ever come across.
---
Jim Vorel is a Paste staff writer and beer guru. You can follow him on Twitter for much more beer content.