Metallica Team up with Stone Brewing's Arrogant Consortia on New Pilsner
Images via Arrogant Consortia
Drink
News
Metallica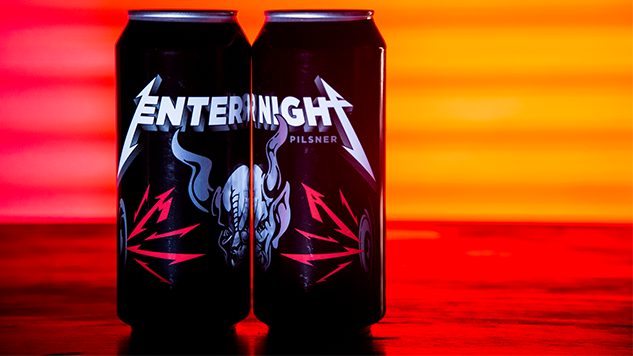 Heavy drinkers and fans of heavy metal, rejoice, for today (Jan. 14) a new craft beer has entered the world, thanks to the partnership between Metallica and Arrogant Consortia (a Stone Brewing imprint). Enter Night Pilsner, a clear tip of the hat to the band's hit "Enter Sandman," is launching in the U.S. in the first quarter of 2019 and will be released internationally come spring.
A press release describes the beer as a traditional Northern German pilsner combined "with Arrogant Consortia's modern overtones of aggression." Indeed, its 5.7 percent ABV and 45 IBUs are both on the high end for your typical German pilsner. Noted for its "intense drinkability," the beer is still heavy on the hops and includes a bitter finish.
It feels only appropriate that Metallica and Arrogant Consortia—both of whom pride themselves on being "fiercely independent, transcending genres, shattering preconceptions and challenging convention"—should reclaim German pilsner from "The Man," (read: Miller and Anheuser, who have slandered the good name of this beer style for many years). Apparently the members of Metallica and Stone Brewing's leadership joined forces at every step in the brewing process, combining their efforts with those of Stone's brewing team.
Metallica drummer Lars Ulrich said of their partnership in a statement:
The amount of ideals and outlooks that Metallica and Stone Brewing share are endless. I'm always blown away about how similar our paths forward have been. Our view of the worlds that we each inhabit, of creativity and process, and sense of place in relation to our peers and "The Man" are almost identical. This collaboration is beyond effortless and pure, and we can't wait to share this incredible beverage with everyone out there.
Stone co-founder Greg Koch echoed Ulrich's sentiments, stating that their similar approaches to craftsmanship made this collaboration unique:
I remember seeing Metallica on the cover of a magazine just after the Black Album was released. On the cover was a quote that resonated with me to this day: "Metallica didn't go to number one, number one came to them." I loved what that meant. Do it your way and never compromise your art. If you're great at what you do people will come. I view that simple quote as one of the founding philosophical elements of Stone Brewing.
Enter Night Pilsner will be available in 16oz six-pack cans and on draft—you can find a seller near you here. Sleep with one eye open, gripping your pilsner tight, and see Metallica play "Enter Sandman" circa 1999 below.