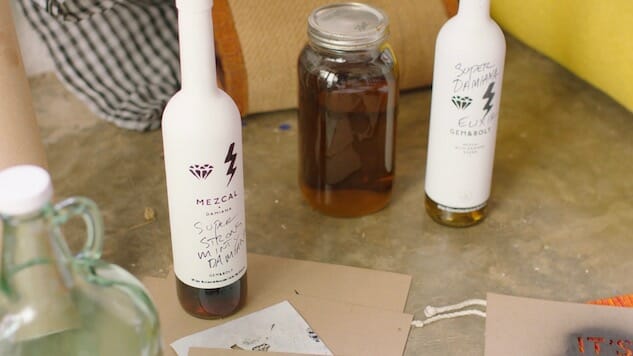 The paths that artists traverse while following the muse is often dizzying and serpentine, jumping not just geographic locales but also artistic mediums. And while famed artists like Picasso might've leapt from painting to collage, traditionalist to cubist, contemporary artists can make even bigger leaps as they follow the paths of inspiration. Witness the story of AdrinAdrina and Elliott Coon, the artistic duo behind the GEM&BOLT Mezcal. They both grew up in a self-described "bohemian" community in the mountains of Virginia, both daughters of bootleggers. That introduced them to the healing properties of plants and the concept of conscious celebration. It also fueled their combined love of creation, which sent them around the world; AdrinAdrina went to London to study fashion before curating large-scale art activities, while Elliott headed to Switzerland and then relocated to Amherst, Massachusetts, to secure a BA in Fine Arts, later collaborating on a range of design projects from restaurant and bar designs to large-scale festivals.
In 2010, the two reconnected and quickly relocated to Tulum, Mexico, for an art- and plant-inspired project. One year later, immersed in all things Mexico, GEM&BOLT Mezcal was born. Now based in Oaxaca, the duo follows the traditional method of mezcal production, which, along with providence, is required by the country in order to allow the spirit to be labeled mezcal. They source the key ingredient of the spirit from espadin agave plants that grow for up to 10 years and are pollinated by bats at night. After hand-harvesting the plant, it's slowly wood-roasted in earth-pit ovens and mashed by a tahona stone before naturally fermenting in wooden vats. Then it's distilled in small copper pot stills, a painstaking process that deliver's mezcal's signature smokiness.
And that's where their artistic bent inspired them to break from the mold of the traditional mezcal. Tapping their collective love of botany, the duo then distills the mezcal in a stainless steel still with damiana, a flowering bush native to Mexico long-revered by the Maya and Aztec for its mood-elevating properties and is today prized as an organic tonic and hyped as an all-natural aphrodisiac. This makes GEM&BOLT as distinctive as their striking white bottles and the bold lightning bolt graphic, a visual reference to the ancient Zapotec origin story of the spirit that describes how a bolt of lightning struck the heart of the agave plant, causing it to roast and its sugars to ferment. By using fair-trade espadin agave, fresh mountain spring water, and the medicinal plant, the mezcal is both clean and natural, free of additives, and as clear as water.
The inclusion of damiana does mellow the typical smokiness associated with mezcal. Smoke still dominates the nose, and when you first sip the spirit, it starts with that unmistakable smokiness before giving way to a more complex, herbaceous notes with a touch of spice that yields a slightly sweet, rich finish. In many ways, GEM&BOLT sits at the interesting intersection of a traditional mezcal and a botanical-forward gin, making it a solid sipping option and a fantastic way to edge into a mezcal negroni by subbing your go-to gin for this spirit, whose smoky sweetness nicely counterbalances the bitter qualities of that Italian cocktail.
True to the artistic spirit of its founders, events are still very much a part of GEM&BOLT's DNA. They hosted their first Dia De Los Muertos party in Oaxaca back in 2013, and drove 1,000 bootlegged liters of their mezcal to Tulum to fuel underground parties. You can now find the spirit in a handful of states, including Texas, California, Colorado, New Jersey, and New York. Admittedly, the brand is attempting to shoulder into an already-crowded field of mezcal, a spirit that has seen a surge in popularity over the last few years. But, as GEM&BOLT proves, there's always room for one more.