This is What Happens When a Neural Network Creates Craft Beer Names
Photo via Getty Images, Peter Macdiarmid
Drink
News
Neural Networks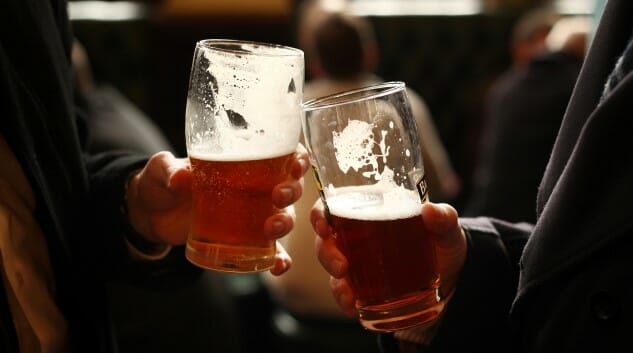 What hath science wrought? Answer: Theoretical beers. At least that's what was created by scientist Janelle Shane, a beer fan (presumably) who recently set a neural network to work creating new beer names. It's a noble and necessary pursuit: As Shane points out on her website, trademark disputes between craft brewers have been skyrocketing in recent years as the total number of U.S. breweries blows past 5,000 and the number of overall beers (and thus beer names) expands exponentially. Sometimes, there simply aren't enough beers to go around.
Thus, Shane thought she might see what happened if she set a neural network she's training loose on creating new beer names. In her words: "I knew I wanted to train the neural network separately for different kinds of beers. Different categories of beers have their own distinct naming conventions; in theory, you should roughly be able to tell a stout from an IPA from a double IPA by the name alone."
The results are … unusual, to say the least. They include the likes of "Binglezard Flack IPA" and "Pimperdiginistic The Blacksmith W/ Cherry Stout," and that's only scratching the surface. Check out the full lists of neural network-generated beer names below, and check out Shane's site here. In the past, she's used the same technique to create names for new Pokemon,new metal bands and more. All are quite entertaining.
Some of our favorites from below: "Devil's Chard," "Blangelfest" and "Oarahe Momnila Day Revenge Bass Cornationn Yerve Of Aterid Ale."
IPAs
Dang River
Earth Dock IPA
Yamquak
Bigly Bomb Session IPA
Binglezard Flack
Jain Is The Dog
Earth 2 Sanebus
Tower Of Ergelon
Toe Deal
Juicy Dripple IPA
Flying Rocks IPA
Yall In Wool
Earth Pump
Heaven Cat
Heart Compost
Wicked Geee
Text 5 Of The IPA
Cockamarin Hard IPA
Test Tha IPA
Yampy
Widee Banger Fripper IPA
Oarahe Momnila Day Revenge Bass Cornationn Yerve Of Aterid Ale
Strong Pale Ales (Doubles, Triples, etc)
The Great Rebelgion
Trippel Lock
Thick Back
The Fraggerbar
Dankering
Third Maus
Sip's The Stunks Belgian Tripel
Slambertangeriss
Third Danger
Track Of The Wind
Devil's Chard
Spore Of Gold
The Actoompe
Brother Panty Tripel
The Oldumbrett's Ring
The Vunker The Finger
Gunder Of Traz
Cherry Boof Cornester
Strange Fast
Drammnt
Humple La Bobstore Barrel Aged
Thrennt Rem Wine Barrel Aged Monkay Tripel
Amber Ales
Snarging Red
Warmel Halce's Comput Ale
Fire Pipe
Blangelfest
Stoodemfest
La Cat Tas Oo Ma Ale
Ole Blood Whisk
Frog Trail Ale
Ricias Donkey Brain
Sacky Rover
Gate Rooster
Cramberhand
O'Busty Irish Red
Helusto's Humpin' Red
The Hunty
Rickin Organic Red Deaath
River Smush Hoppy Amber Ale
Rivernillion Amber
Special North Wish Leifstic Imperial Red
Ambre O Woo's Omella Imperial Red Ale
Stouts
I The Moon
The Bopberry Stout
Cherry Coconut Mint Chocolate Stout
Black Morning
Sir Coffee
Shock State
Take Bean
Single Horde
Whata Stout
Shany Lace
Black Sink Stout
Barrel Aged Chocolate Milksmoke
Shump
Morning Dave – Vanilla Coffee Stout
Avidberry
Dark Thomblan
Jrankers Java Stout
Spulgican's Chocolate Coconut Pamper
Cherry Trout Stout
Bold Oot Stout
Pimperdiginistic The Blacksmith W/ Cherry Stout